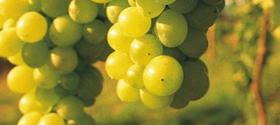 Langhe Chardonnay DOC
(d.o.c. D.M. 22/11/1994)
The wine regulations register imposes that Langhe Arneis presents the following characteristics when it is put on the market:
Colour
Light straw yellow with greenish reflections.
Bouquet
Soft and characteristic fragrance;
Flavour
Dry, velvety, soft and harmonious.
Minimum total alcohol content by volume: 10,5%;
Minimum total acidity: 5‰;
Sugarfree extracts: 15 g/litre.
Towns
where it's produced
Langhe Chardonnay DOC: Vines
The Langhe Chardonnay DOC is a single varietal wine, and therefore can be made exclusively by Chardonnay grapes
Originating in France, this vine is now grown all over the world. It is a vigorous, consistently productive species, which sprouts very early, with strong shoots. It grows in all types of soil, particularly clay, limestone or marl, and all types of climate – provided they are not wet – and is very resistance to chlorosis. The fruit ripens in... you can read more about Chardonnay here.
Recipes
to pair with Langhe Chardonnay DOC