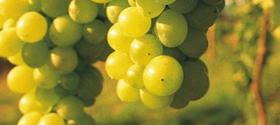 Langhe Chardonnay DOC
(d.o.c. D.M. 22/11/1994)
The wine regulations register imposes that Langhe Arneis presents the following characteristics when it is put on the market:
Colour
Light straw yellow with greenish reflections.
Bouquet
Soft and characteristic fragrance;
Flavour
Dry, velvety, soft and harmonious.
Minimum total alcohol content by volume: 10,5%;
Minimum total acidity: 5‰;
Sugarfree extracts: 15 g/litre.