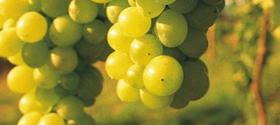 Langhe Chardonnay DOC
(d.o.c. D.M. 22/11/1994)
The wine regulations register imposes that Langhe Arneis presents the following characteristics when it is put on the market:
Colour
Light straw yellow with greenish reflections.
Bouquet
Soft and characteristic fragrance;
Flavour
Dry, velvety, soft and harmonious.
Minimum total alcohol content by volume: 10,5%;
Minimum total acidity: 5‰;
Sugarfree extracts: 15 g/litre.
Towns
where it's produced
Langhe Chardonnay DOC: Vines
The Langhe Chardonnay DOC is a single varietal wine, and therefore can be made exclusively by Chardonnay grapes
Originating in France, this vine is now grown all over the world. It is a vigorous, consistently productive species, which sprouts very early, with strong shoots. It grows in all types of soil, particularly clay, limestone or marl, and all types of climate – provided they are not wet – and is very resistance to chlorosis. The fruit ripens in... you can read more about Chardonnay here.
Get a bottle
directly from the producer
LoveLanghe Shop is a niche of great wines from the Langhe area: some unknown to most, some already quite recognized but perhaps hard to find in the big distribution, others in which we see potential but that have yet to grow.
Bottles are shipped directly from the winery to your home, with no intermediary.
Recipes
to pair with Langhe Chardonnay DOC