Lower Langa
Rusél
Winery
Wine Producer in Barbaresco
Business Hours
10:30 → 13:00
15:30 → 17:00
You'll find us in Frazione Tre Stelle, along the road which from Alba leads to Barbaresco and Neive.
Visitors will notice that the Rusél company's wine shop, which is also used as the tasting room, has large and bright panoramic windows.
The Rosselli family takes care of all aspects, from hospitality to production.
Visits and tasting sessions are carried out directly by Marco Rosselli.
Visits to the Winery
The Winery, built in 2000, is found underground and connected to the tasting room via an exposed brick tunnel. This same room is used as a Barriques cellar for aging.
Inside you'll find the steel tanks, connected to the refrigeration system which controls the fermentation and the bottling and packaging equipment.
From this point, we access the vineyard that overlooks the winery and find ourselves among the Nebbiolo da Barbaresco vineyards.
This land, which is well exposed, with marly and calcareous soil, is suitable for producing great aging wines.
2012 also saw the inauguration of the new wine shop-tasting room, next to the Winery which sells and offers tastings of company wines and a selection of local products.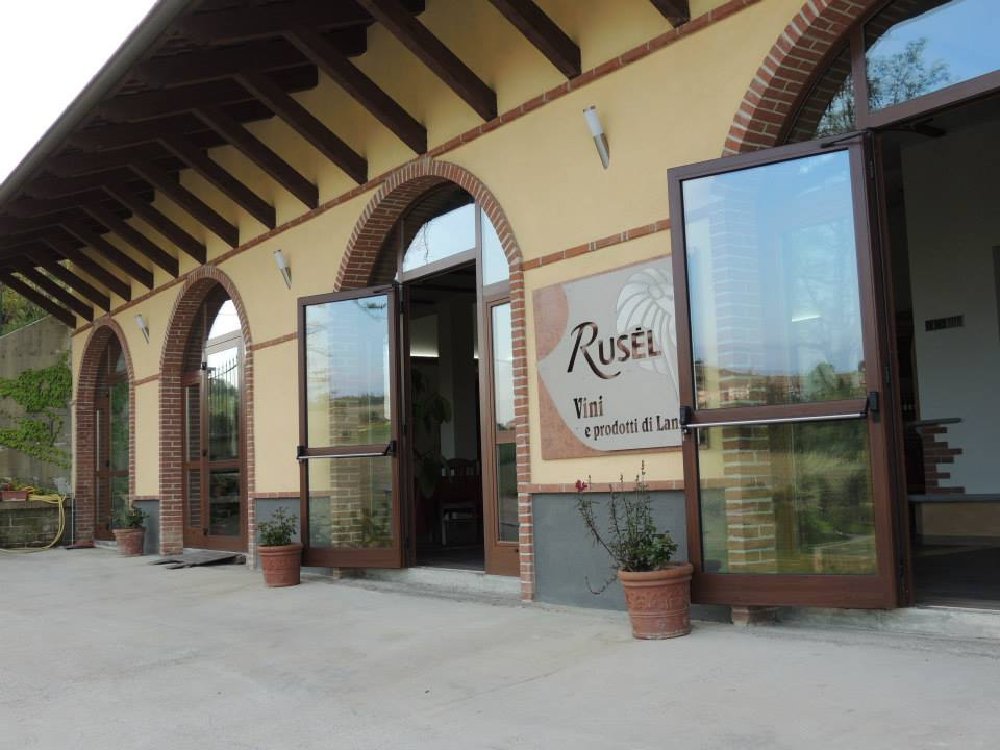 A story that
begins in 1950
in Barbaresco
Our wines, our story
The winery was founded by grandfather Mario during the 50s. Giuseppe, Marco's father, began wine-making in the 80s.
The family is closely bond to the Cantina Produttori del Barbaresco (Barbaresco Wine Producers). Giuseppe was its president from 1998 to 2012.
Rusél, still today, provides 100% of nebbiolo da Barbaresco grapes for producing a high quality Barbaresco DOCG.
The company changed when Marco joined. As of 2010 the old vineyards have been converted into new ones.
The Wines
The unmissable great wines of Langhe, produced in full respect of nature
Along with Barbaresco and Barolo, aged in large barrels, we find Nebbiolo, whose aging in barriques barrels gives it roundness and softness.
Moscato, Langhe Arneis, Barbera d'Alba and Moscato Passito are the other wines produced.
The Sparkling Wine Classic Method (50% Chardonnay and 50% Arneis) will be ready in 2018.
Produced Wines
Barolo DOCG, Barbaresco DOCG Produttori del Barbaresco, Barbaresco DOCG Produttori del Barbaresco Riserva, Langhe Nebbiolo DOC, Barbera d'Alba DOC, Dolcetto d'Alba DOC, Langhe Chardonnay DOC, Langhe Arneis DOC, Moscato d'Asti DOCG, Moscato Passito
Vineyards Extension
12 Ha
Vineyards Location
Barbaresco, Neive, Treiso, Serralunga d'Alba
Agricultural Method
Traditional
Visits & Tastings
An interesting and interactive dive into the world of Barbaresco
The Cellar observes the following visits:
10:30 am → 12:00 pm
3:30 pm → 5:00 pm
What you'll taste
Tasting of 5 wines: 1 white wine of your choice, a comparison between the important reds of Nebbiolo-based production to understand their diversity: Langhe DOC Nebbiolo, Barbaresco DOCG, Barolo DOCG.
The tasting ends with a glass of Moscato d'Asti DOCG, accompanied by hazelnut-based desserts of the local tradition: brutti e buoni, nougat or toasted hazelnuts. Remaining wines are available for tasting upon request.
Paired with: cooked and raw salami, bacon, lard, focaccia bread, cheese tastings, hazelnut cake and the hazelnuts by Nocciole d'Élite Cravanzana.
Nebbiolo-based wines can be tasted together with us so as to understand their diversity.
Tasting Price
Starting at 22€
In the vineyards
A healthy and sustainable production, for quality wines
We don't use chemical herbicides, thus fully respect the land and the vineyard; we only apply careful and targeted treatments.
The view extends over the neighboring Guarene, Magliano Alfieri and Govone towns, and reaches the Alpine chain overlooking the territory's most important cru.
The Company is a partner of the Lyoness business community and collaborates with Itaway Langhe, the electric bicycles rental company, to discover the Langhe effortlessly, in an ecological and fun way.
Discover Langhe on a bike
Thanks to their partnership you can request the rental of bicycles to move freely between the hills of Langa and Roero
Prices & Services
Our wines can be purchased in the cellar
Tasting and prices
The cost of the tasting is € 22.00 per person.
All wines can be purchased directly in the cellar and can be shipped to the chosen destination all over the world.
Langhe Chardonnay DOC
Dolcetto d'Alba DOC
Langhe Nebbiolo DOC
Moscato d'Asti DOCG
Langhe Arneis DOC
Barbera d'Alba DOC
Langhe Nebbiolo DOC -  1,5 litri
Barolo DOCG
Barbaresco DOCG
Metodo Classico Extra Brut Sarcastico
Uve stramature Lenitas 0,5 litri
Hazelnuts 250 gr
Hazelnuts cream 250 gr
It is possible to buy bulk wine from Arneis, Dolcetto, Nebbiolo.
Services
Pets Allowed Direct Sales WiFi Parking Lot
Frazione Tre Stelle, 18, 12050 Tre Stelle, Barbaresco CN, Italia
Discover ↝

Via Loggero, 28, 12050 Sinio CN, Italia
Discover ↝




Torre di Barbaresco, Barbaresco, CN, Italia
Discover ↝


Via Ferrero, 1, 12060 Novello CN, Italia
Discover ↝
For information and reservations fill out the following form, you will be contacted as soon as possible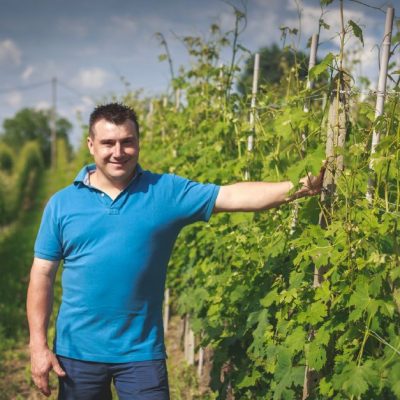 Business Hours
10:30 → 13:00
15:30 → 17:00