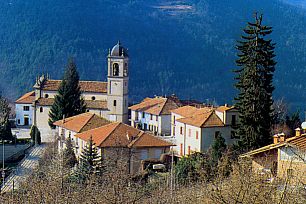 Bosia
The little town in the Belbo valley is one of the places where the game of the "elastic ball" is more enthusiastically played, in the so called "pantalera" way. The town is set above the Belbo valley.
It once stood in a different place, where today the Rutte village stands; it was rebuilt in a different place, where it today is, in 1679, after a landslide.
The parish church, dedicated to san Nazario, has a beautiful and majestic Neoclassical facade.
Two are the typical products: the hazelnuts and the white beans, or "queens of Spain". There are many farms where robiola cheese is made with goat's milk.
Events
in Bosia and around
Eat & Sleep
in Bosia and around


Via della Porta, 19, 12050 San Benedetto Belbo CN, Italia
Discover ↝