The town of Santo Stefano Belbo no longer preserves much of its natural purity and the predominantly rural atmosphere that sparked the imagination of Cesare Pavese, the famous writer.
Building development was greater here than in other centers of Langa and the tumultuous economic development linked to the industry of the Moscato wine, have partly distorted the ancient urban plan and with it many literary suggestions.
Nevertheless the market, which is held here on Wednesday mornings from 8 a.m. to 1 p.m, has about 80 stalls and is one of the most interesting and lively in the area and continues to recall Pavese's time.
A small market regularly frequented
The nearby Piazza San Rocco has ample parking and in just a few minutes you can reach the central Piazza Umberto I° which features a small covered area.
Here you'll find agricultural machinery on display and a couple of flowers and seeds stands amongst which is the van belonging to Piero from Santo Stefano Blelbo, who's been present at the Asti and Cuneo markets for numerous years now.
He has any type of tools needed for gardening and do it yourself work.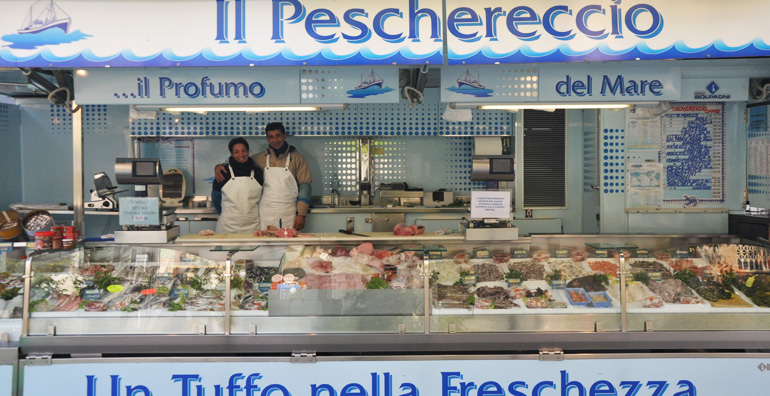 Upon crossing the square, going towards the town hall, you'll find stalls with clothing, shoes, leather and small trinkets.
The market is concentrated in the above-mentioned piazza and the three streets that surround it: Via Mazzini, Via Camillo Benso and Via XX Settembre, where you'll find fruit and vegetable stands, a rotisserie, and a display of cheeses.
Martino from Nizza Monferrato has a van here with numerous types of fish, both local and foreign, fresh, ready or salted: sea bass, swordfish, tuna, oysters and clams are always available.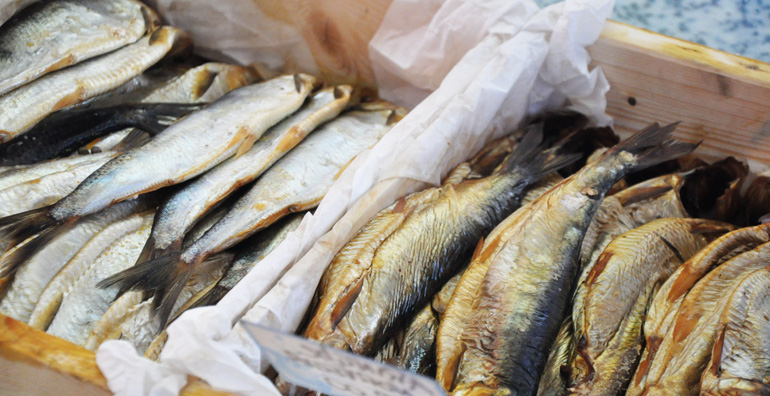 What's a market without an anchovy seller?
A stand where tastes and flavors have preserved their authenticity over time is that of Michele and Daniela's from Valenza. They guarantee a high level of quality and genuineness through their products, some of which are particularly sought after.
You can buy salted cod, Norwegian "Spider" stockfish, which is first choice stockfish, dried cod tripe, marinated fish, local and Spanish salted anchovies.
Many stop by their stand, which is simple and recognizable thanks to a Norwegian flag, to observe the products and have a chat.
It's a pleasure to chat with Michele and Daniela about their work, the traditions of the old Anciué piemontesi (Piedmont anchovy sellers), how recent trends have changed the consumption of fish, of salt and preservation and how fish products are valuable allies for one's health.
If you'd like to discover an interesting story on anchovies and anchovy sellers and how they established a strong link with the Langhe, we suggest you read the article which you'll find HERE.
And finally…
The Santo Stefano Belbo market has lost its typicality and is not particularly attractive for tourists, but it can be interesting for an early morning walk.
The cafes found on the piazza's perimeter, offer refreshment before setting out to discover the area.
Photo Credits: Federico Carpino
Are you planning a trip in the Langhe region?
Let us help you design the perfect vacation, and live your stay like a true insider
Ask us
For advice
Free Service
Ask us
For advice
Free Service
If you want locals people's guidance, and to plan your vacation in autonomy, fill out the form below. Tell us what you love and leave for an unforgettable trip!
Fill in the form
reporting your interests and preferences
Receive our suggestions
directly into your inbox
And if it's not enough
we'll design a personalized trip!