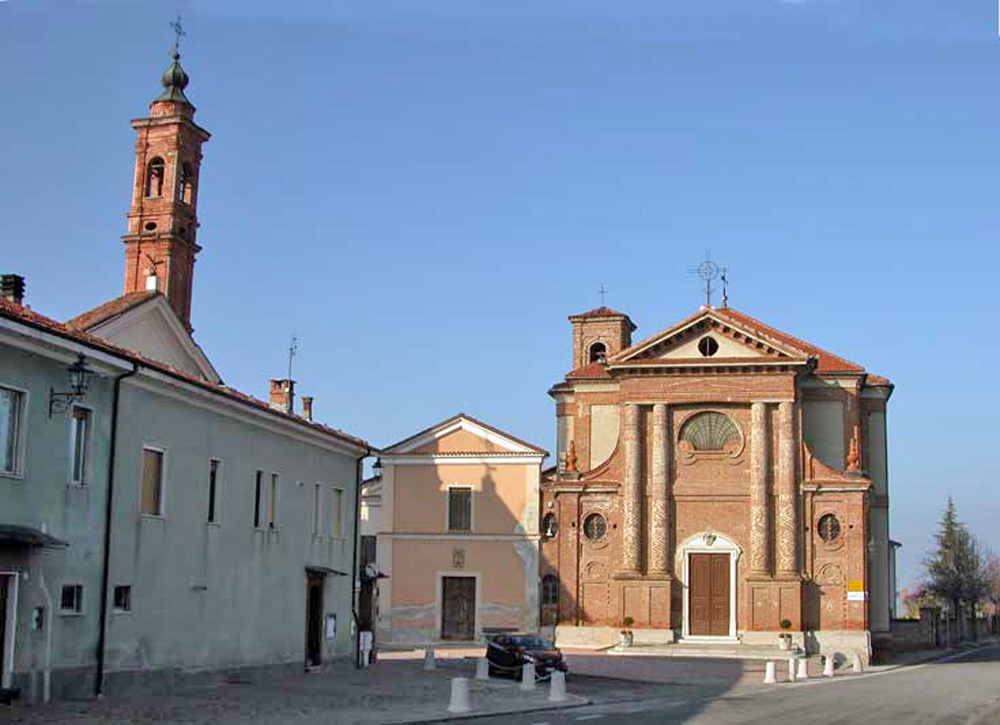 Briaglia
Briaglia is also known as the seven hills village (bricco* del Conte, bricco Rovei, bricco Messino, bricco dei fiori, bricco della Guardia, bricco del Soldo, bricco dell'Olla): a charming hillside location that offers breathtaking views of the Alps and the plain. (*bricco – or bric in Piedmontese dialect – means Top of the Hill -t.n.)
Overlooking the village square, there is the parish church of Santa Croce, built between 1882 and 1889 in Baroque style over the ancient eighteenth century church.
Inside there are three Baroque marble altars, an altarpiece depicting the Invention of the Cross and an altar by Bossi dated 1939.
Adjacent to it stands the former Confraternity of St. John the Evangelist, which today houses a collection of "megaliths" found in the region.
In the Briaglia region there are also two small lakes, artificially created for irrigation purposes.
History
The origins of Briaglia date back to ancient times.
These regions were first inhabited by the Ligurian tribe of the Bagienni who in 89 BC became part of the Camilia tribe and were subsequently subjugated by the Romans
The first records date back to 901 when in the county of Bredulo (comprised between the Tanaro, Corsaglia and Stura rivers), the bishops of Asti began ruling over the region.
Briaglia was subsequently part of the Vico fief to which it remained tied until 1796.
Thus, towards the end of the eleventh century, Briaglia participated in the founding of Mondovi.
For some centuries the history of Briaglia identified with that of Mondovi.
In 1621 the Briaglia inhabitants actively participated in the "War of salt", with not much luck.
The county of Mondovi was split into many small independent communes: Briaglia became part of the Commune of Vico and in 1722 was given in fief to Count Giuseppe Derossi of Usseglio; in 1794 it was bought by the Marquis of Ormea.
From the Colle della Guardia, on 21 April 1796, Napoleon Bonaparte witnessed the fighting that took place in Vico and the Bricchetto Hill, on the border of Mondovi, between his troops and the Piedmontese troops led by general Colli.
In the same year, on October 4th, Briaglia became independent, breaking away from Vicoforte, thanks to the intervention of Vittorio Amedeo, King of Sardinia.
The separation was facilitated by the intervention of the prior of Briaglia, Don Andrea Borsarelli, who gave his estate to the community which, at that time, consisted of 130 families and 700 persons.
Events
in Briaglia and around

Castello di Carrù, Via Stazione, Carrù, CN, Italia
Discover ↝

Piazza Castello, 12060, Cigliè, CN, Italia
Discover ↝

Piazza Maggiore, Piazza, Mondovì CN, Italia
Discover ↝




SP196, 1, 12060 Bastia Mondovì CN, Italia
Discover ↝
Are you planning a trip in the Langhe region?
Let us help you design the perfect vacation, and live your stay like a true insider
Ask us
For advice
Free Service
Ask us
For advice
Free Service
If you want locals people's guidance, and to plan your vacation in autonomy, fill out the form below. Tell us what you love and leave for an unforgettable trip!
Fill in the form
reporting your interests and preferences
Receive our suggestions
directly into your inbox
And if it's not enough
we'll design a personalized trip!