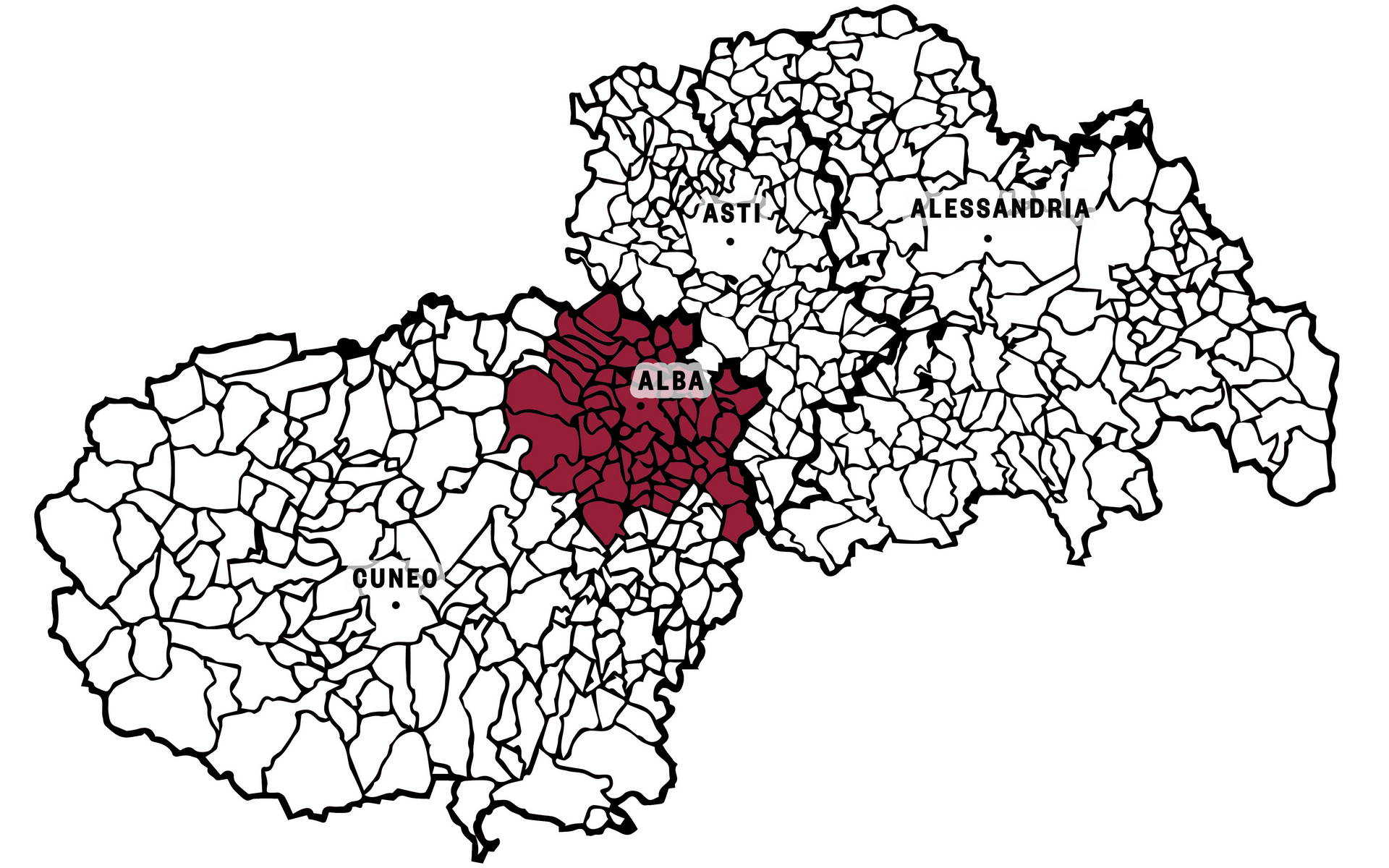 Barbera d'Alba DOC
Have you ever heard the expression, "This Barbera is Barolo-like?" If you have, it is very likely that they were referring to Barbera d'Alba.
A younger sibling (in quantity and diffusion) of Barbera d'Asti, Barbera d'Alba retains its best characteristics while pushing the accelerator on longevity, structure and that complexity typical of Barolo wines born on hills that are geologically quite different and more stratified than those of the Asti area.
That's right, because the best expressions of Barbera d'Alba have the good fortune to share the soils destined for great nebbiolo wines, those bluish-gray marls that emerged from the sea floor of the Cenozoic, rich in limestone, constitute the habitat of the best reds in the world.
So Barbera d'Alba-which also has a Superiore version aged for at least 12 months, four of them in wood-is a wine that manages to impress.
It rises in poise and finesse, managing to achieve important ageing and balsamic notes typical of the great Langa reds.
A Barbera that on the table can accompany, without disfiguring, the most sumptuous courses and serve, when necessary, as an excellent meditation wine.
Vines
Barbera (min. 85%), nebbiolo (max. 15 %)
Min. alcohol
12% vol. - 12,5 % vol
Established on
DOC dal 1970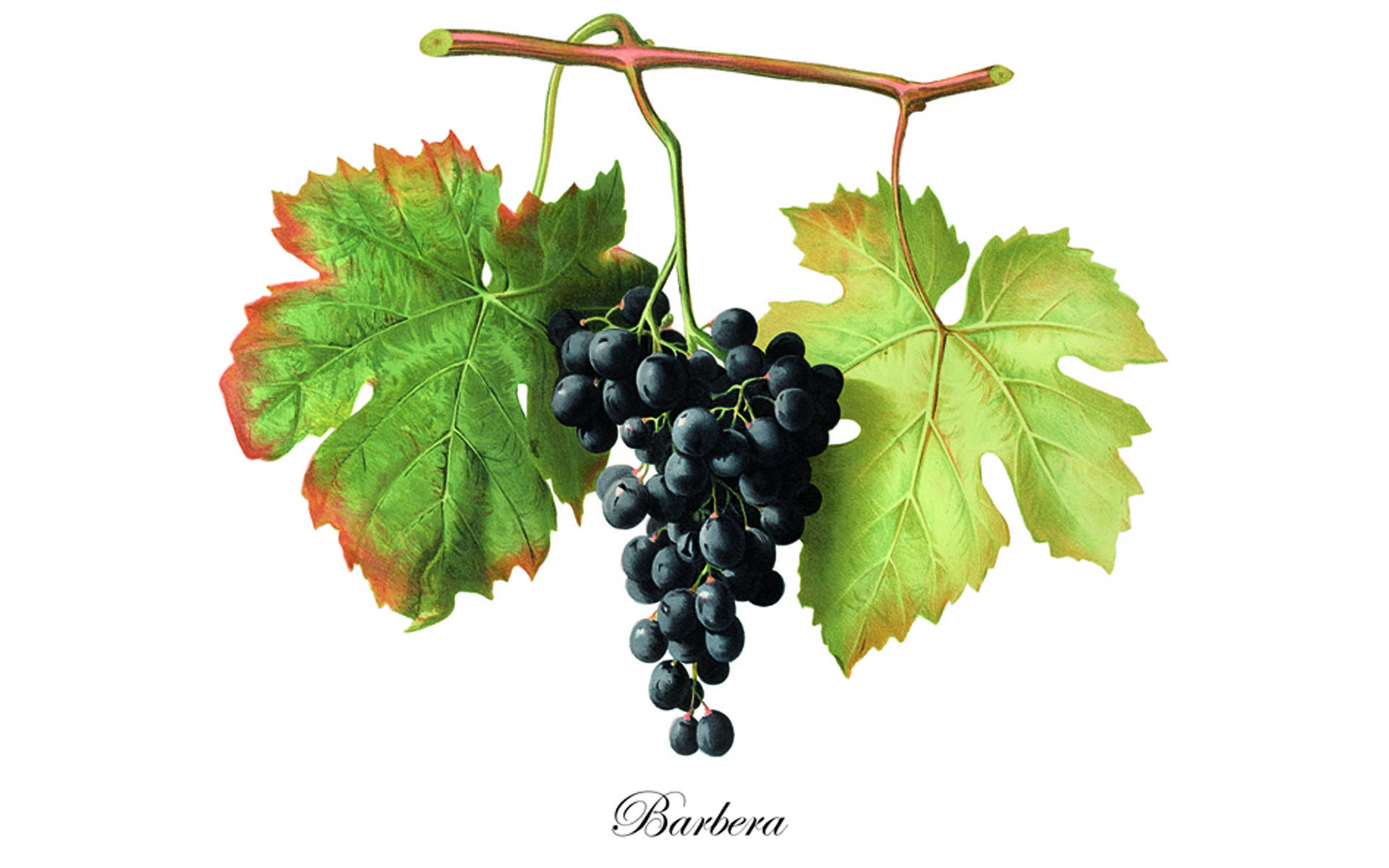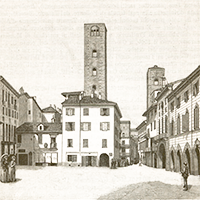 The history of Barbera d'Alba DOC
A noble supporting actor of nebbiolo
The adventure of Barbera d'Alba shares origins with that of Barbera d'Asti. The vine has an early medieval spread, especially in Monferrato, where, in a short time, it becomes the most cultivated variety.
The shared history, however, split in the late 1800s when barbera arrived in the hills of Alba.
The destruction caused by phylloxera helps the new plantings, which mainly conquer the positions on the left side of the Tanaro, that is, in the Roero.
In the Langhe, by contrast, the best exposures are given to nebbiolo so that it can express itself in Barolo and Barbaresco, thus making barbera a noble comprimario of its more regal "cousin."
Abundant production, high yields and consistent production make it preferred whenever the winemaker's goal becomes substantial quantity.
However, in this part of Piedmont, the "Barbera problem" (i.e., its spread to dance halls and taverns as a low-key wine, often blended with wines from southern Italy) is not as keenly felt, not least because, since its inception, Barbera d'Alba has been held in higher regard.
The soils of the Langhe give it a complex, deep structure that elects it as a splendid roast wine.
The history of Barbera d'Alba is thus relatively recent, but the enological quality is very high, exquisitely territorial.
If, in the Langhe, Barbera d'Alba competes in elegance with Nebbiolo (despite having far fewer vineyards available), in the neighboring Roero-especially in the area headed by Govone-it becomes a very fine wine, with particular ethereal notes, delicate fruity aromas and intense, delicate flavor.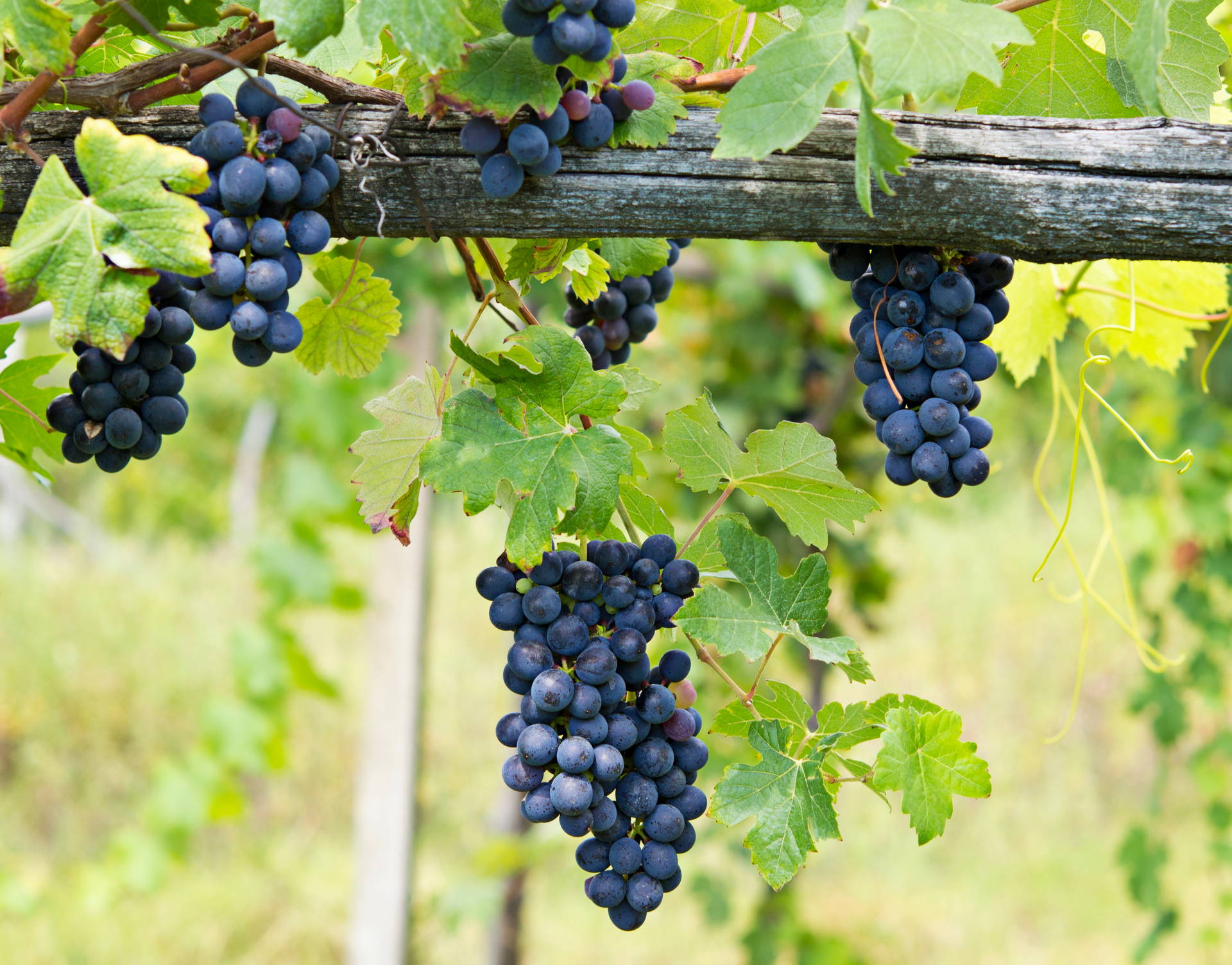 Barbera d'Alba DOC: Terroir
Barbera d'Alba originates on a wide hilly area that stretches between the right and left banks of the Tanaro River around the town of Alba.
It includes Langhe and Roero from Montà d'Alba to Roddino on the North-South directive; from Bra to Santo Stefano Belbo on the West-East directive. The specification includes some municipalities in the Alta Langa, along the Belbo Valley up to Cortemilia.
Geologically, the Langhe is of Cenozoic origin, which began almost 70 million years ago, while the Roero is of Pliocene age, or 5 million years.
The former have a composition of clays, sands and limestone that gives rise to the famous gray-bluish marls, with low, rounded hillsides that are very favorable for vine cultivation.
Barbera d'Alba wines from this area "baroleggiano," that is, they are loaded with typical Nebbiolo scents: great structure, velvety acidity and a deep and articulate sensory spectrum, excellent longevity.
Roero, on the other hand, is sandier, with mineral and chalky veins. The result is Barbera d'Alba that is less long-lived perhaps, but far finer and more perfumed, with a deep balance of freshness and body.
Whether grown in the Langhe or in the Roero, Barbera d'Alba attests in exemplary fashion to the expertise of local winemakers to an enjoyable wine, as much in its young, chiseled versions as in those for aging.
Preferred Altitude
Not exceeding 650 meters above sea level
Preferred Soil
Clayey, calcareous, siliceous and any combinations thereof
Towns
where it's produced
Barbera d'Alba DOC: Vines
The Barbera d'Alba DOC is a single varietal wine, and therefore can be made exclusively by Barbera grapes
Its sturdiness, and constant, abundant output is one reason for its popularity all over Piedmont, but it was used to replace the vines ravaged in the early years of the century by an outbreak of phylloxera. The grapes ripen in late September and early October. The bunch is pyramid shaped, and more or less compact depending on growing and environmental... you can read more about Barbera here.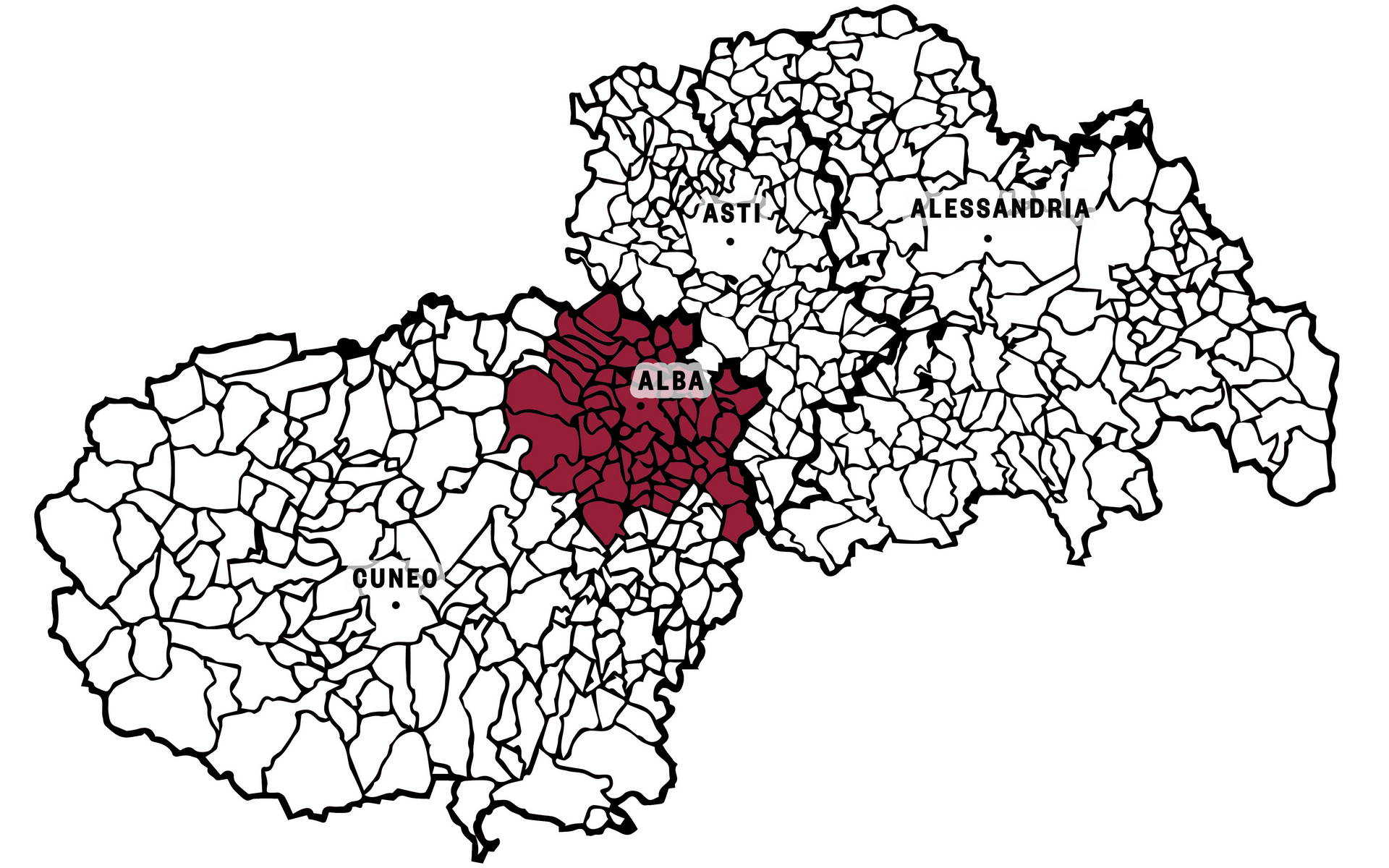 Barbera d'Alba DOC: Features
Barbera d'Alba is a wine very rich in color and fragrance, with a characteristic acid shoulder supported by a velvety body, very pleasant drinking.
The full-bodied flavor makes it particularly well suited to accompany meats, braised and roasted dishes, but there is nothing to stop it from accompanying fresh stuffed pasta, spaghetti with meat sauce, grilled meats and (why not?) pizza.
The natural acidity of the grape variety and the presence of delicate tannins make Barbera d'Alba a rather fresh wine, very easy to drink and pair.
Sight
Barbera d'Alba has an intense ruby red color that is impenetrable to light, with some purple hues.
With aging, the red tends to take on less intense hues, veering toward garnet hues.
Nose
The bouquet is broad and composite, with fruity notes reminiscent of blackberry, cherry, strawberry, and red fruit jam.
The Superiore version deepens its bouquet with spicy hints reminiscent of cinnamon, vanilla, and green pepper.
Taste
Barbera d'Alba offers an intense and full flavor spectrum, all played on red and dark-skinned fruit: plums, blackberries and cherries, plums.
The main characteristic is the acidity, which in the mouth means freshness, the almost absence of tannins, and the warm envelopment.
The Superiore version is loaded with vanilla, spicy and balsamic notes depending on the length of time spent in wood.
Official regulation
This DOC was established by DPR 27.05.1970
Color
Ruby red with purple-tinged highlights
Perfume
Fruity and characteristic. The Superior version may develop hints of wood
Taste
Dry, savory, harmonious
Service
Barbera d'Alba is served in large ballon-shaped glasses at a temperature of 18° to 20° C.
Barbera d'Alba DOC: what to pair it with
The soft envelopment, fruity hints, freshness and absence of astringency make Barbera d'Alba an easily paired wine.
It prefers stuffed pasta dishes, red meats, grilled meats and medium- and long-aged cheeses.
The Superiore and long-aged versions can easily replace Barolo with roasts, braised and boiled meats.
But a young Barbera d'Alba can easily go with pizza, preferably red.
Recipes
to pair with Barbera d'Alba DOC
Barbera d'Alba DOC: Production
Barbera grapes are harvested around mid-September.
After crushing and fermentation, Barbera d'Alba can take two paths.
The first is that of the base version, which is aged in steel tanks for a few months and, after bottling, is put on the market starting in the spring following the harvest.
Many producers, however, choose to wait longer, allowing Barbera d'Alba to age for one or more years, complexing itself.
The second way is through wood: Barbera d'Alba then becomes "Superiore" after aging for at least 12 months, 4 of which are spent in barriques or large barrels.
Time in wood
Barbera d'Alba Superiore: min. 4 months minimum
Time in bottle
min. 4 months minimum
Time to market
6 - 14 months minimum
Grapes Yield
10 tons per hectare
Curiosities
Over the centuries, Barbera has enjoyed even famous literary quotations, especially in contemporary times.
Giosuè Carducci wrote with his usual tragic transport, "Generous Barbera! Drinking it we seem to be alone at sea braving a storm."
Pascoli, on the contrary, suggests a more intimate and moving approach to Barbera, a wine to be sipped as a libation in honor of the hero Giuseppe Galliano, who died in Ethiopia during the first colonial war.
The poet from San Mauro reads as follows in his A Ciapin: "Save your purple barbera \ for when, one day that is not far off, \ all draped in its flag \ Galliano returns."
Of a different opinion and style is Francesco Pastonchi, a poet from Riva Ligure who died in Turin in 1953. Barbera is for him "maschio vin che a maschia gente s'addica," reminding us of Barbera's popular past, which was indeed a wine of deep taverns.
One of the most ironic definitions, however, can be attributed to journalist Paolo Monelli, who died in Rome in 1984. His Barbera is the "pistapauta (i.e., "mud-beater," "forerunner" ed.) of Piedmontese wines, "with a long breath and a vinous aphor that you can already guess from the stains it leaves on the tablecloths."
News
about Barbera d'Alba DOC