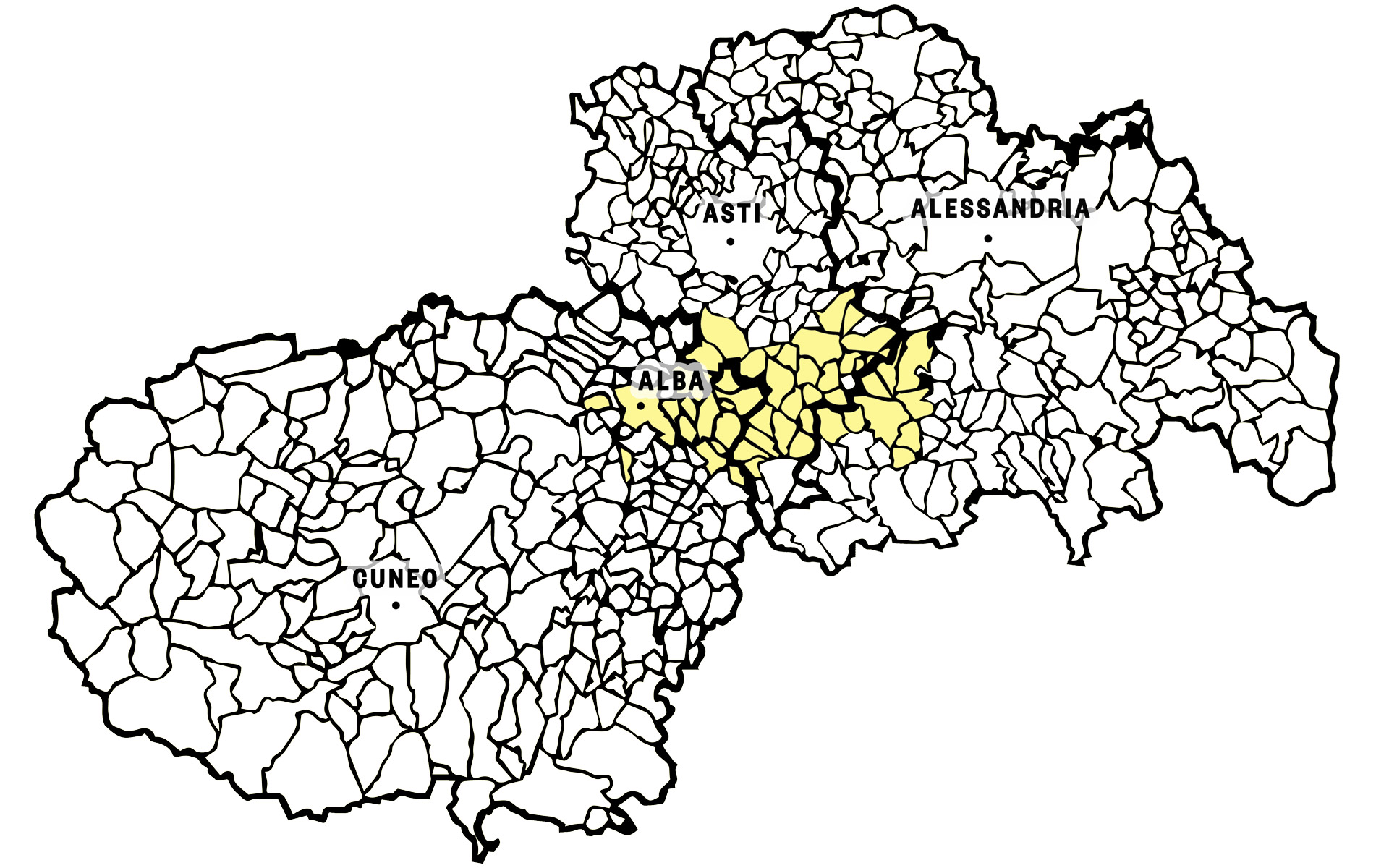 Moscato d'Asti DOCG
Sweet, but not cloying. Slightly sparkling. Fresh with a characteristic taste of freshly picked grapes. A low alcohol content and an exceptional drink, velvety and enveloping, good for summer afternoons, aperitifs on the terrace, evenings with friends.
Equally pleasant as an end to a meal, ready to accompany the great traditional desserts, fruit and panettone. Above all, an authentic son of its land, that comes out in the glass through notes of sunshine and nuances of terroir.
Is there anything Moscato d'Asti cannot do?
Without a doubt, it is Piedmont's most pop wine, the most versatile, a "four season" of pleasantness and territorial identity.
They have understood this abroad, where, in recent years, consumption has literally exploded. A "Moscatomania" that has pushed volumes through the roof and taken over the collective imagination, going so far as to colonize the verses of rappers such as Kanye West, Drake and Lil' Kim: a more understandable version of the Dom Pérignon that waters luxury cars, "intimate" Champagne for times of crisis.
In our house, unfortunately, nemo propheta in patria. Moscato d'Asti is crushed by a rhetoric of occasion, which wants it to be the handmaiden of table wines, the sugary fetish of the Christmas holidays, the bottle of the maiden aunt left on the cellar shelves after she, herself, has dabbled with the good ones.
Yet Moscato is anything but simple.
It is perhaps the most serious of Italian sweet wines, a type with an immense spectrum of nuances that discerning drinkers are slowly discovering.
Not only are there three subzones of Moscato d'Asti (unknown to most and communicated even worse):
Canelli
Strevi
and Santa Vittoria d'Alba
But surprising are the interpretations that the most attentive producers are delivering to the market.
Author versions that emphasize its single vineyard vocation, the reading of the soils where it is planted, the personalities it is able to take on according to cellar choices.
Above all, versions that connect the extreme sensitivity of Moscato d'Asti to the quality of the work done in the vineyard, to the selection of musts and respect for its natural expressiveness, which must remain as far away as possible from industrialization and chemistry.
The fortune of Moscato d'Asti, however, remains its enjoyability. Whichever interpretation comes to your glass – subject to respect for the grape variety and the wholesomeness of the drink – will be a pleasant discovery for you.
The most easy-drinking wine you have ever encountered: fresh, intense, sweet, never dull.
Vines
Moscato bianco 100%
Min. alcohol
4,5 - 6,5 % vol
Established on
DOC 1967
DOCG 1993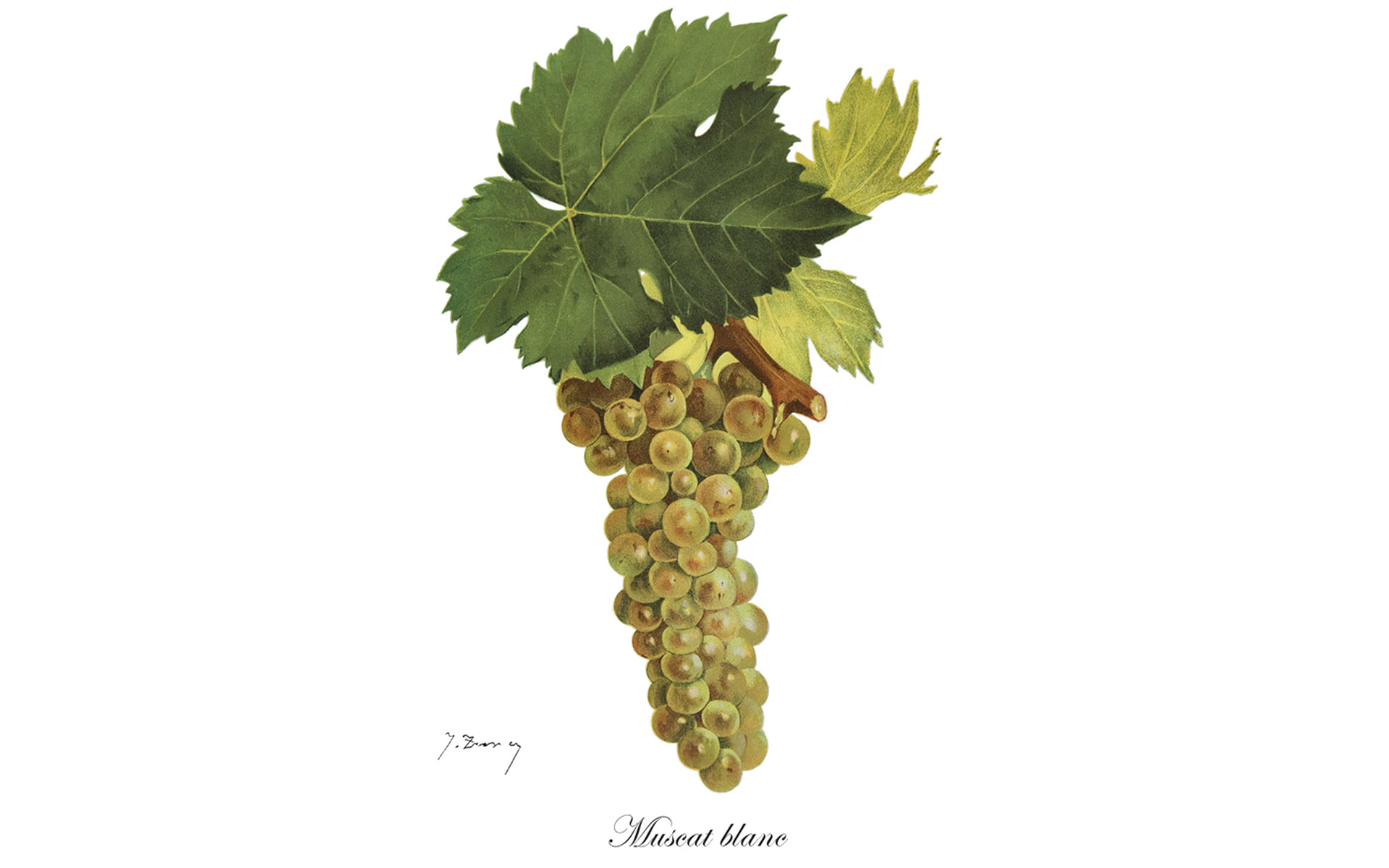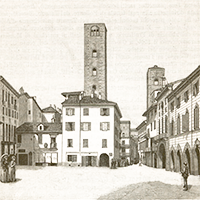 The history of Moscato d'Asti DOCG
Pop for over two thousand years
Very ancient is the origin of the vines from which sweet and aromatic wines, similar to Moscato d'Asti, were obtained. It is believed that they were imported from Greece to Italy, where they were apparently already cultivated from the 3rd century BC.
Ampelographers believe that the present vines are the direct descendants of the Apian grapes, so named by Pliny and Columella because they were favored by insects because of their sweetness. It was Lucius Junius Columella himself who distinguished the first subvarieties of Apian grapes, one of which, with glabrous leaves, would seem to correspond to our white Moscato.
There are in fact many varieties of moscato grapes grown in as many regions of Italy. But the white moscato is the one that, in the hills of southern Piedmont, has given the best results, so much so that it has been recognized with the place-name "di Canelli," a town around which the largest expanses of vines are still recorded.
Beloved by the Romans for its sweetness, Moscato is mentioned several times in medieval treatises. It was in this era that it took the name muscatellus, from muscum, meaning "musk," a direct reference to the "very sensitive aroma, as of musk" that characterizes its delicate fragrance.
The first certain traces of its cultivation in Piedmont date back to the 14th century and are located precisely in the territory of Canelli. Here stood a Consortile, that is, a group of feudal families who administered landed estates. In the Codex Astensis, some of these families were called Muscati, according to the custom of the time to attribute the surname from the vines pertaining to them.
That Canelli's Moscato bianco gained prestige is clear from documents from the Renaissance period.
In 1593 the Magistrate of Casale requested "Moscatello rooted vines" destined for the Duke of Mantua directly from Santo Stefano Belbo, a town near Canelli still famous today for the production of Moscato d'Asti.
Finally, in the 1600s, mentions multiply, and it is not uncommon to find Piedmontese Moscato accompanied by attributes such as "finissimo" and "delicatissimo."
It is, however, thanks to a jeweler that Moscato d'Asti today has taken the form we know. Giovanni Battista Croce, in the service of the Duke of Savoy Charles Emmanuel I in the early 17th century, in addition to his profession as a goldsmith was "most excellent in agriculture."
He is credited with the first scientific arrangement and codification of the complex process of making Moscato d'Asti wine, which was highly valued at the noble courts of the time and remained unchanged until the advent of contemporary technology.
Moscato d'Asti DOCG: Terroir
"Moscato bianco" or "moscato bianco di Canelli" is the second most cultivated grape variety in Piedmont after barbera and occupies more than 20 percent of the entire vineyard area.
The area with the highest vocation, however, remains the hills of southern Piedmont between the provinces of Asti, Cuneo and Alessandria, the only ones in which Moscato d'Asti DOCG can be produced.
The specification admits 51 municipalities for a total of 9,700 hectares, which, roughly speaking, can be included between the Tanaro and the valleys furrowed by the Belbo and Bormida streams. More than 4,000 farms are dedicated to the production of grapes suitable for the production of Moscato d'Asti for an annual output of nearly 40 million bottles.
The vast Moscato d'Asti district is characterized by an enormous variety of landscapes. The hills of the Astigiano and Monferrato alessandrino are rounded, soft and sinuous. The ridges of the Langhe, on the other hand, rise steep and craggy, giving rise to spectacular vertical vineyards where viticulture is called "heroic" because of the tremendous labor involved.
Along the Belbo and Bormida valleys, in particular, the vineyards climb up ridges of dizzying beauty, supported by miles of dry-stone walls, a mammoth work of human toil that UNESCO has recognized as an intangible heritage of humanity.
The soils of Moscato d'Asti, while different, represent good uniformity. They are soils of ancient marine origin, characterized by clay marls rich in sand and limestone, the perfect geological basis for the aromatic expression of this variety.
If the sandy part is more pronounced in the Asti area, the Belbo Valley on the border between the Langhe and Monferrato has soils consisting of deposits of calcareous conglomerates and whitish calcareous marls. A characteristic that, on the surface, presents itself in the appearance of the "limestone" described by the writer Cesare Pavese: a fine white powder that during the day glows red-hot and at night glows under the moon, rising in small clouds at every step.
Geological matrices with different composition (predominantly calcareous, clayey or sandy soils), microclimate, slopes and exposure to the sun give Moscato d'Asti unique characteristics, which enhance its aromaticity and finesse, while still maintaining a base of distinguishable elegance and freshness.
Preferred Altitude
Minimum 165 meters a.s.l.
Preferred Soil
Clayey marls rich in sands and limestone, calcareous conglomerates and whitish calcareous marls
Towns
where it's produced
Moscato d'Asti DOCG: Vines
The Moscato d'Asti DOCG is a single varietal wine, and therefore can be made exclusively by Moscato grapes
It is a fairly vigorous and prefers marly soil with plenty of limestone, interspersed with banks of sand and sandstone. It is prone to mildew infection and ripens in mid September. The bunch is fairly compact, and cylinder or cone shaped. The grapes are round, with a golden colour that can become amber when they are exposed to the sun. you can read more about Moscato here.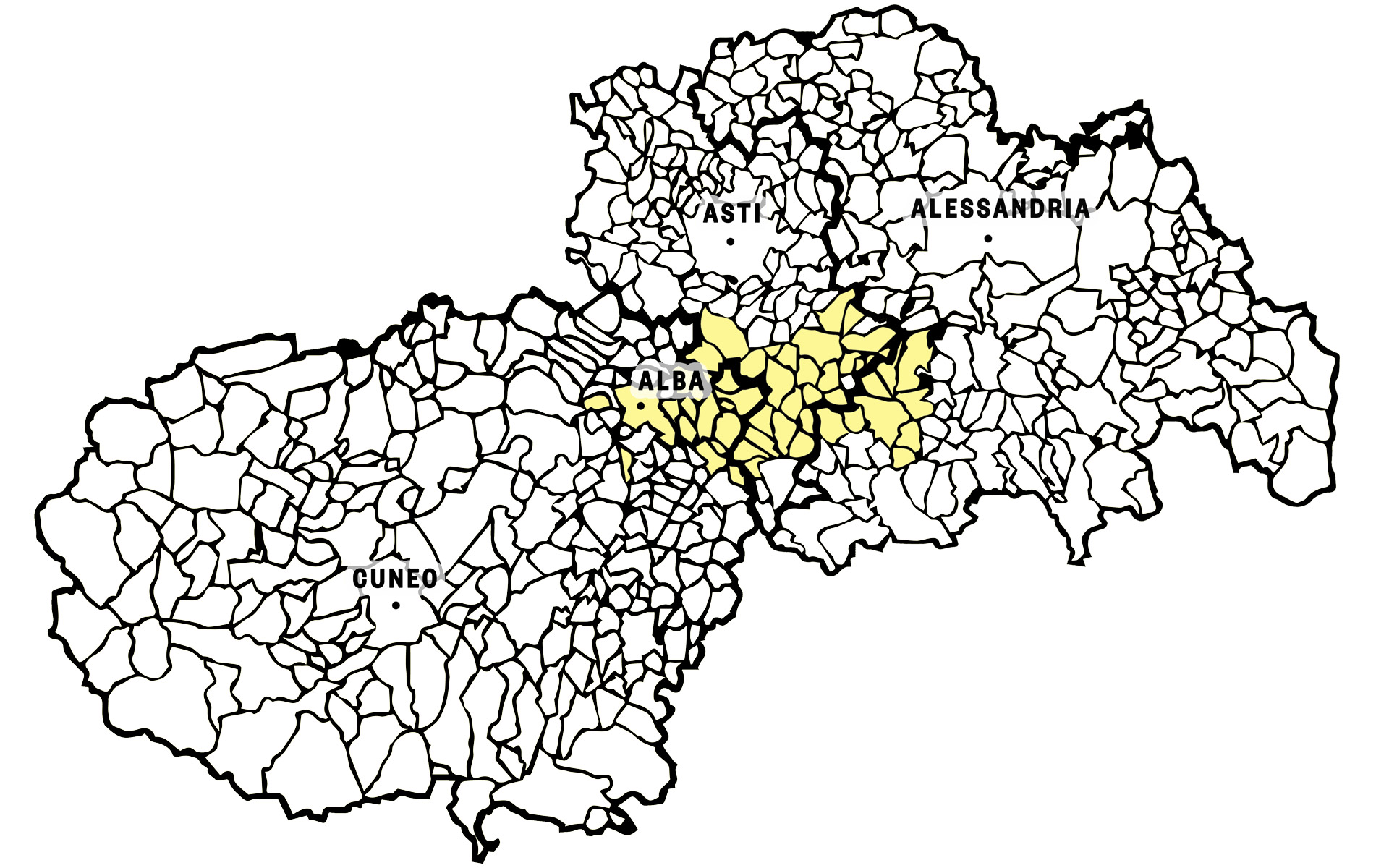 Moscato d'Asti DOCG: Features
All meal, every hour
It may sound like heresy, but Moscato d'Asti, especially abroad, is considered on a par with sparkling wine. They serve it with prosciutto crudo, with oysters, and with aged cheeses. Of course, also with desserts.
Moscato d'Asti is still a wine with good acidity and not too much sweetness, which with the right pairing can give enormous satisfaction. Above all, it can be drunk on its own, meditating on the incredible depth of its aromatic nuances, the spectrum of which ranges from white flowers to honey, from ripe grapes to sage, to delicate citrus notes.
Is it perhaps time to free Moscato d'Asti from the shackles of panettone and hazelnut cake and experiment with more daring and satisfying pairings?
Sight
Moscato d'Asti is more or less intense straw yellow in color, with brilliant golden hues. The golden tones may veer toward golden yellow in the Vendemmia Tardiva version, as Moscato d'Asti passito is called.
Nose
The great aromaticity of Moscato d'Asti is expressed in a broad and articulate spectrum, all played on freshness and hints of fresh grapes.
Thus, white flowers such as wisteria and acacia, the balsamic notes of sage or lemongrass, honey, light-fleshed fruits such as white melon, peach and green apple or pink grapefruit will prevail.
Taste
In the mouth, Moscato d'Asti is delicate, sweet and fragrant, slightly sparkling. Its extraordinary olfactory notes are reconfirmed, on which just the right hint of acidity is inserted, giving freshness and encouraging the desire for a new sip.
Official regulation
This DOCG was established by DM 29.11.1993
Color
More or less intense straw yellow
Perfume
Fragrant, floral with hints of sage
Taste
Delicately sweet, aromatic, characteristic
Get a bottle
directly from the producer
LoveLanghe Shop is a niche of great wines from the Langhe area: some unknown to most, some already quite recognized but perhaps hard to find in the big distribution, others in which we see potential but that have yet to grow.
Bottles are shipped directly from the winery to your home, with no intermediary.
Service
Moscato d'Asti should be served chilled. A temperature of 10-12°C is recommended.
The best glass for tasting is the coppa, whose wide goblet helps to capture the wine's exuberant aromatic expression without quickly saturating the sense of smell as would occur through a flûte or narrow tulip-shaped goblet.
Moscato d'Asti is a wine that should be drunk young, within a year of harvest.
Moscato d'Asti DOCG: what to pair it with
Let's face it, the best way to taste Moscato d'Asti is in its absolute form, that is, free from pairing. Try it as a meditation wine and it will give enormous satisfaction, especially on hot days, when you need a little freshness.
If you want to pair it, tradition recommends desserts. All are fine, but especially small pastries and baked goods. Its top is with hazelnut cake and eggnog.
That said, it is a must to try Moscato d'Asti with something innovative. It is perfect with aperitifs, aged meats and tasty cheeses.
Don't be afraid to offer it with oysters, with a nice slice of Jamón Serrano, with roasted hazelnuts and why not - trust me - truffles and foie gras.
Recipes
to pair with Moscato d'Asti DOCG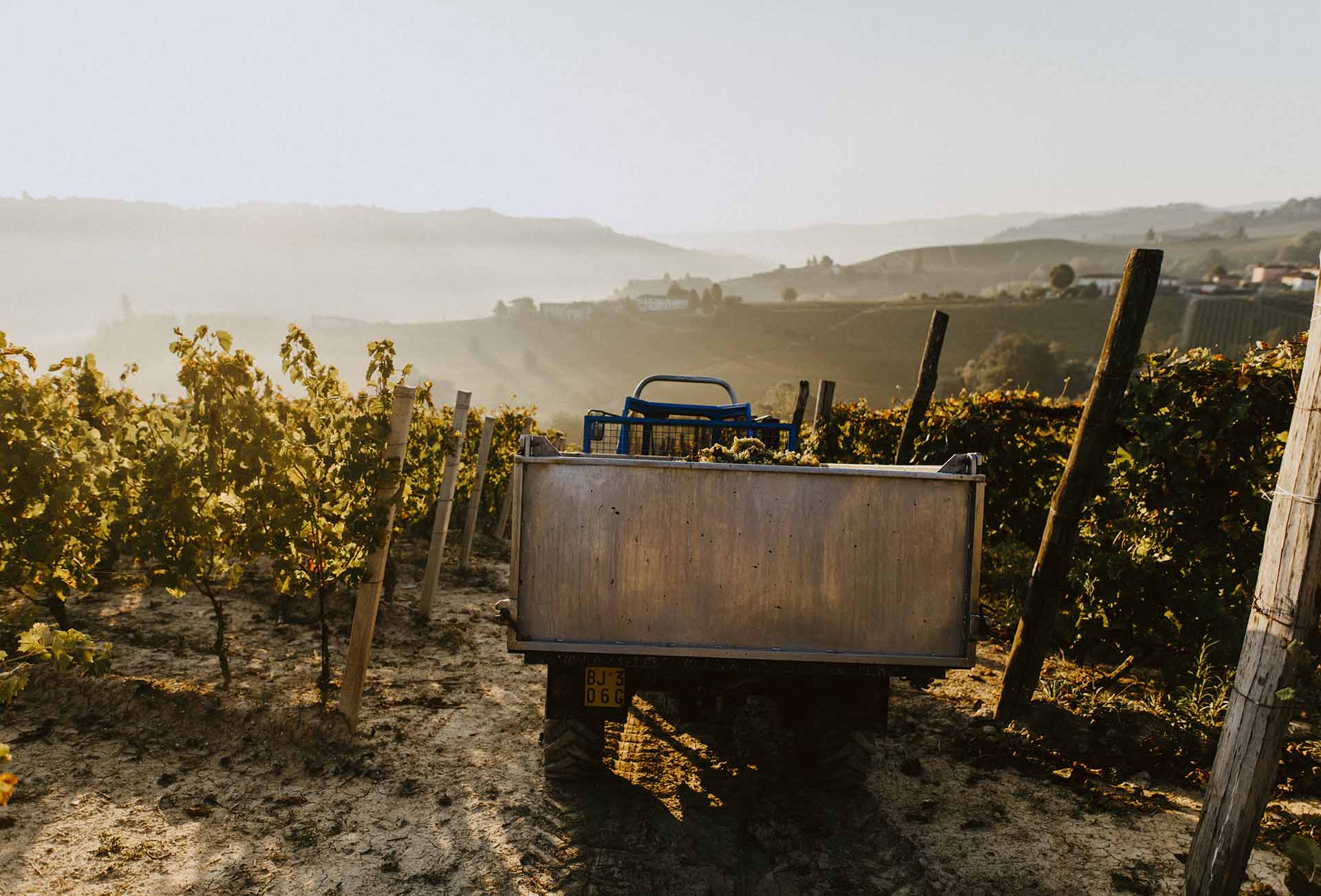 Moscato d'Asti DOCG: Production
From the very beginning of its winemaking, Moscato d'Asti has been a real challenge.
Technically, Moscato d'Asti is a partially fermented wine must, that is, a wine in which fermentation is stopped before the yeasts consume all the sugars in the must and turn them into alcohol.
Today, stopping fermentation is easy thanks to techniques such as centrifugation and temperature control, but it used to be much more difficult. It was necessary to subject the wine to periodic filtrations whose purpose was to reduce the "charge" of yeasts, keep the sugar level high and, above all, moderate the development of alcohol.
Today, the production of Moscato d'Asti makes use of technologies that make the cellarman's life a little less hard. However, the process is still very artisanal and relies on continuous human supervision.
After the white Moscato grapes are crushed, the must is immediately chilled to 0°C. This is followed by static decantation or centrifugation, which are designed to separate the lees (skins, seeds and solid residue from the pressing) from the wine.
The must is brought to 18° C and fermentation starts, which is stopped when the wine reaches the right alcohol content (between 4.5 and 6.5°) and adequate residual sugar (usually between 90 and 120 grams per liter).
At this point, the wine can be stored in steel tanks at low temperatures to avoid any fermentation restart. Finally, clarifications and filtrations are carried out and then bottling, conducted in maximum biological sterility so that re-fermentation in the bottle does not occur, which would compromise the taste and stability of the product.
Time to market
Same year as the harvest
Grapes Yield
9 tons per hectare
Curiosities
One of the great misconceptions about Moscato d'Asti is to mistake it for its sparkling wine version, Asti DOCG.
Although they are born from the same grape variety and belong to the same appellation, they are two very different wines.
Asti DOCG is a wine re-fermented in an autoclave, where frothing takes place with the addition of sugar and yeast. Re-fermentation gives Asti more fizz and the classic perlage.
Moscato d'Asti, on the other hand, is a naturally sweet and naturally sparkling wine. Its sweetness comes from the grape variety of origin and the Co2 present is only that dissolved in the wine during the interruption of fermentation.
The packaging is also different. The bottle of Asti is the typical sparkling wine bottle, made of heavy glass to withstand higher pressures. The stopper is mushroom-shaped, closed by the cage. Moscato, on the other hand, uses normal wine bottles and has a flush cork.