Distance: 4,5 km
Estimated time: 1h 20 min
The Trail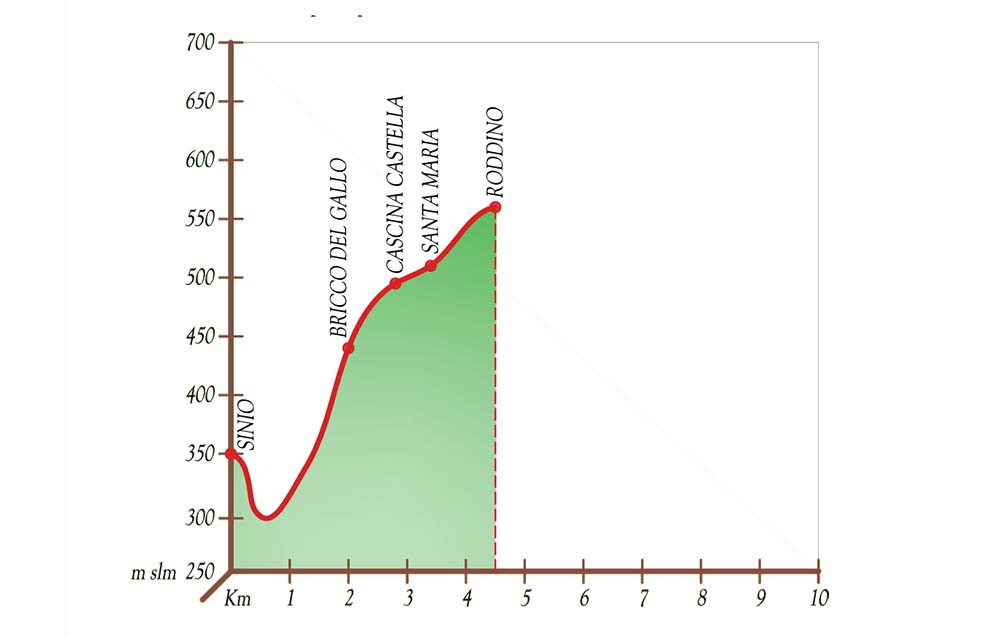 The trail begins from piazza Guglielmo Marconi, descends to Via Cavour, then to the right, on stairs, in order to reach the village of Borgonuovo.
First pass the county road and then the provincial road. Once you pass the bridge over the Talloria stream, in the direction of Roddino, continue left on a gravel road.
After about 1.5 km uphill on a dirt road, you will reach Bricco del Gallo, where you can take a break and taste local cheese.
Then continue on, turning right on a scenic paved road. After about 800 metres, turn left, and after 50 metres right, on a service
dirt road overlooking the Alta Langa of Serravalle Langhe.
After about 500 metres, you reach the Cappella di Santa Maria (Chapel of St. Mary), and a rest area with a fountain.
Continue on to the provincial road and, after about 1 km, you reach Roddino.
Click here to download the map of the trails of Sinio.
Witness to Popular Religiousness
Along the paths of the Sinio territory, in the streets or in the village, you can observe characteristic expressions of popular religious devotion.
For the most part, this cultural patrimony was restored in the 1990s by the Town Hall of Sinio or by its inhabitants.
An ancient noble oratory, the country sacellum or shrine, the "piloni" (votive pillars), the votive cross, and three sacred aediculae or niches distinguish the territory in particularly scenic locations, in homes, or on crossroads.
These constitute the explicit expressions of devotion to Mary, of "ex voto" (votive offerings), of collective or family invocations for the protection of individuals, as well as for crops.
Several were destinations for propitiatory processions (rogation days), others are still references for reciting the first-crop rosaries.
http://langhe.net/wp-content/uploads/2015/09/hotel-castello-di-sinio1407218019.jpg
366
550
Federica Crucitti
http://langhe.net/wp-content/uploads/2014/10/Langhe1.png
Federica Crucitti
2018-04-04 10:16:24
2018-04-11 22:51:37
Trail from Sinio to Roddino