Business Hours
10:00 → 12:00
13:00 → 15:00
17:00 → 19:00
15:00 → 17:00
Holidays
September 15-October 15
Wine is chemistry and marketing, but it is first and foremost the fruit of nature: Giorgio Barovero reminds us of this with his uncompromising sustainability approach.
The small farm in Monforte, literally built from the ground up three generations ago by his grandfather, received Bioagricert organic certification in 2002.
7.5 hectares of vineyards planted with Dolcetto, Barbera, Nebbiolo and Cabernet Sauvignon result in labels evoking the "peasant wine" that has always been drunk in our hills.
Giorgio really believes in bio, and takes it to the next level with a method even vegan-friendly: the vineyards, in which all jobs are manuals, are treated with herbs, seaweed extracts and meticulous care, eradicating all common diseases without using not only harmful chemicals but also animal products.
Events
at Giorgio Barovero
The Wines
Giorgio Barovero's wines are a healthy and transparent commodity serving the consumer.
From vineyard to goblet the influence is minimal and the product speaks for itself, with a simplicity that is repeated in each of the labels.
The art of the producer is not to overdo it, in a land that is increasingly in the spotlight and sometimes straying from its peasant origins.
The hectares of property best exposed to the sun, known as "sorì", are cultivated with vines in the following proportions:
Ha 3.50 Dolcetto
Has 0.63 Barbera
Ha 0.17 Nebbiolo
Ha 0.13 Cabernet Sauvignon
Produced Wines
Langhe Rosso DOC, Dolcetto d'Alba DOC, Barbera d'Alba DOC, Barbera d'Alba Superiore DOC, Nebbiolo d'Alba DOC
Vineyards Extension
7.5 Ha
Vineyards Location
Monforte
Agricultural Method
Bio-Dynamic
Visits & Tastings
This winery is ideal to visit for those seeking the ultimate expression of nature.
Giorgio will welcome you with enthusiasm, and build a tailor-made visit for you.
For those interested, it will begin with a tour of the vineyards, which is necessary to fully realize the health of its plants: an entire ecosystem among the rows, with birds' nests and ladybugs everywhere, testifying to the complete absence of chemical contamination.
The visit can take a technical approach if that is what you are looking for, or turn into an informative afternoon with friends: let the producer know your interests and he will know how to take it at the right pace.
One can then choose to visit the winery, with a more or less in-depth explanation of the production steps, or to proceed immediately with wine tasting.
Tasting Price
Starting at 20€
Prices & Services
The types of visit
The visit
Full wine tasting → 20,00 € per person
Tasting of the wine produced, paired with local cold cuts and cheeses.
As Giorgio is alone, booking at least an hour in advance is strongly recommended for the visit to ensure his presence and availability.
Please note
Tastings are currently bookable for the months of October, November and December.
Accepted Payments
Visa / Cartasi American Express
Via San Sebastiano, 27, 12065 Monforte d'Alba
Discover ↝


Via Umberto I°, 16, 12050 Neviglie, CN, Italia
Discover ↝


Palazzo Salmatoris, Via Vittorio Emanuele, Cherasco, CN, Italia
Discover ↝

Via Accademia, 2, 12051 Alba CN, Italia
Discover ↝

For information and reservations fill out the following form, you will be contacted as soon as possible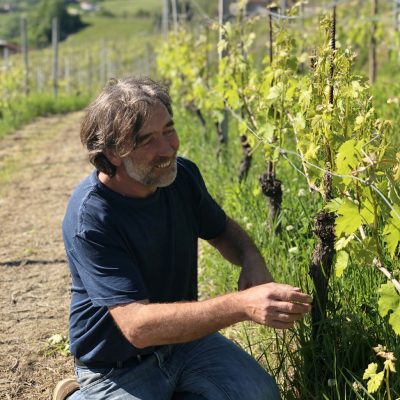 Business Hours
10:00 → 12:00
13:00 → 15:00
17:00 → 19:00
15:00 → 17:00
Holidays
September 15-October 15