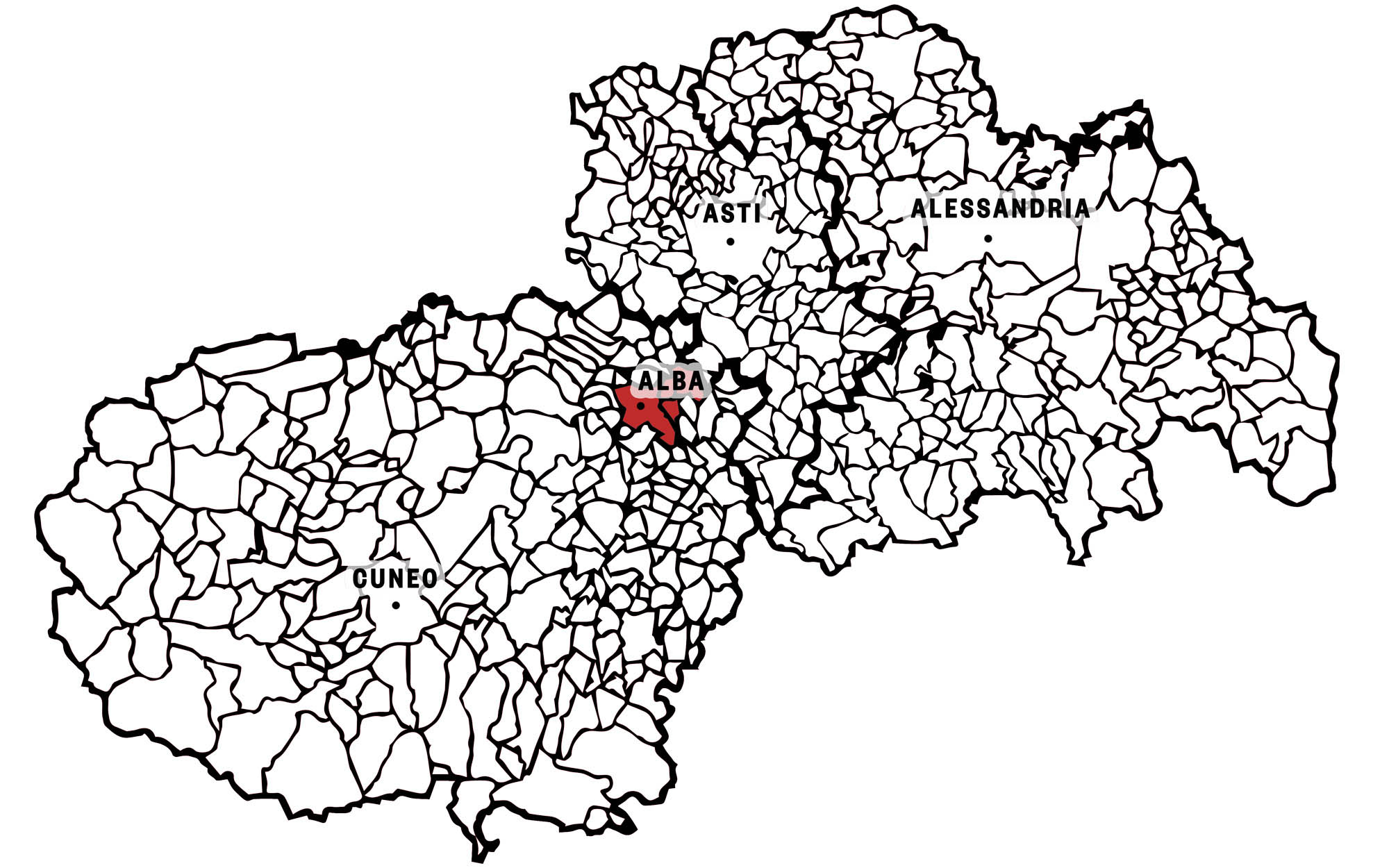 Barbaresco DOCG
If we used theoverused comparison with Barolo to understand Barbaresco, we would be doing both a disservice. Is it not time to say "wine to wine" and consider the wine icons of the Langhe two types similar in origin, but profoundly different in character and outcome?
Barolo, born noble, has on its side the blazon of the Marchesi Falletti and a whole aristocratic apparatus that wanted it to excel on the tables of decent people.
Barbaresco, on the other hand, was born poor, a well-successful winemaking experiment thanks to the extraordinary vocation of its hills. It was not austerity-as with Barolo-that made it famous, nor was it the definition of "King of Wines." But the visceral (and intellectual) love of the many producers who – starting with Professor Dominio Gavazza – continued to believe in its potential.
Barbaresco is what it is because of a collective elevation effort.
It was Gavazza himself who left his legacy as a dowry to the Cantine Sociali di Barbaresco and then, mutatis mutandis, to the Cooperativa dei Produttori del Barbaresco. A wine, then, that has really perfected itself in the field, a community effort at good drinking. As community is its nature, which has made it more amiable and jovial than Barolo anyway.
Capable of reaching heights of absolute quality, Barbaresco remains a wine played on finesse, femininity, and fragrance. Unimpeachable, yet accessible; elevated, yet always convivial: capable of condensing the best of the Langhe into a form that is never surly, open to bold pairings and the pleasure of drinking with friends.
As Gavazza himself wrote, falling into the everlasting error of comparison:
In you [Barbaresco] correct the austere qualities of your greatest brother: the Barolo. Thou softer, more mellow, more suave, almost of feminine voluptuousness suffused; thou delightest it with delicate fragrances; thou spreadest through its veins a healthy vigor, sweet persuader of love

D. Cavazza

from Ode to Barbaresco, 1897
Min. alcohol
12,50% % vol
Established on
DOC 1966 — DOCG 1980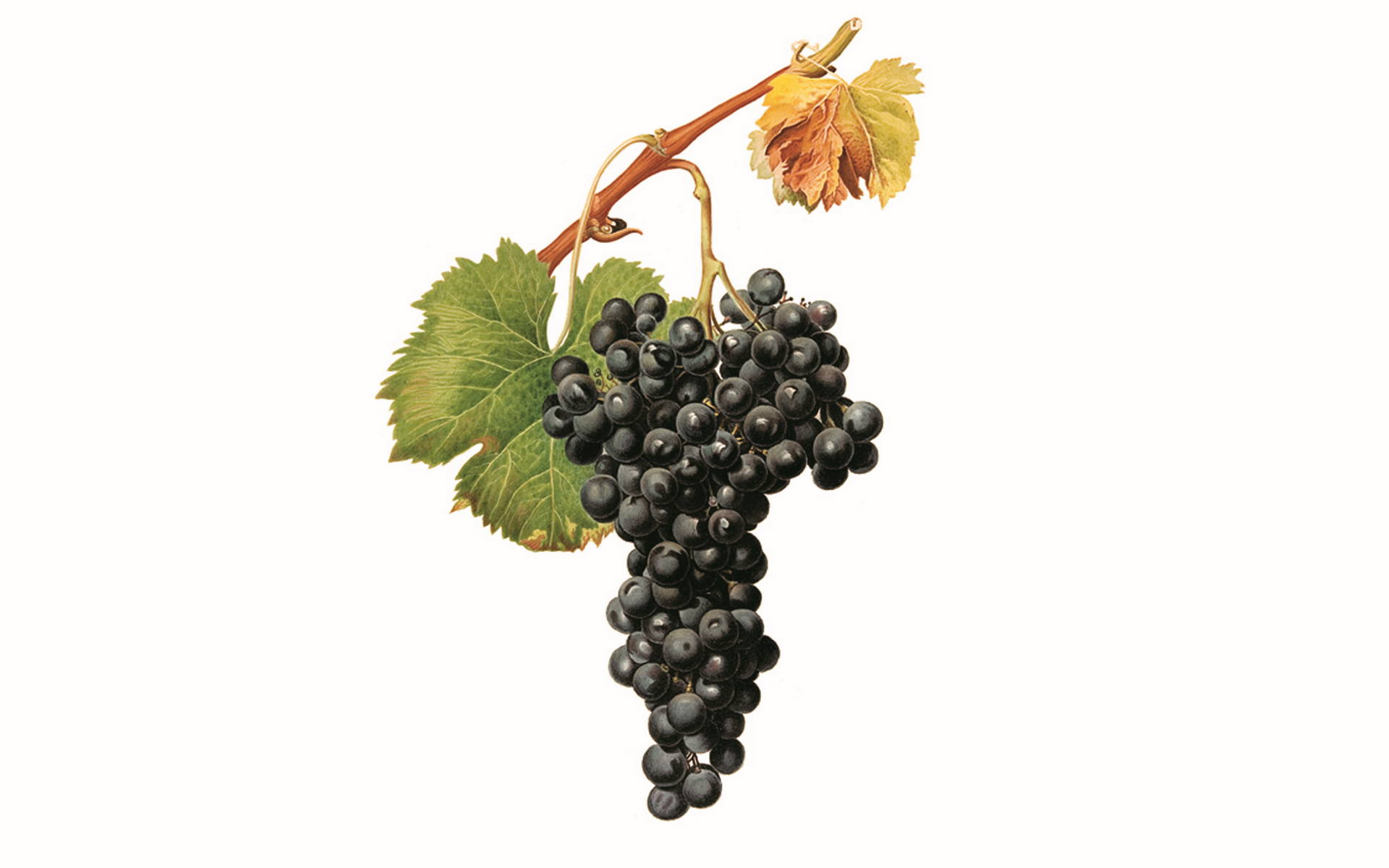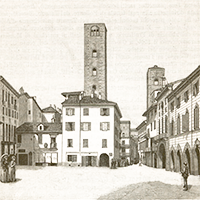 The history of Barbaresco DOCG
A tale of passion, love and community
Born as an experiment conceived by Louis Oudart to surprise the Savoy academics, Barbaresco crosses contemporary times and is transformed: from "poor" wine to celebrity of the Piedmont hills
Barbarians, Barbaresco & Empire
Legend has it that the Romans, where Barbarica Silva (hence the place name "Barbaresco") stretched, began to cut down trees, till the land and plant vines.
Impossible to say whether the tale corresponds to truth. Certainly, in Barbaresco, the Empire had one of its provincial estates. Here stood Villa Martis, a toponym for today's Martinenga, the first permanently inhabited nucleus in the area, inside of which was a taberna, or brick kiln.
Villa Martis is linked to the life of the Roman emperor Publius Elvius Pertinace (126 - 193 A.D.), who, according to the account in the Historia Augusta, is said to have been born in the hills of Barbaresco.
The Modern Age
To get firm news about the wine's production, however, we need to leap back more than a millennium and inconvenience a character who, for years, was linked to the invention of Barolo (wrongly, it seems, as Anna Riccardi Candiani has well demonstrated in her essay Louis Oudart and the Noble Wines of Piedmont).
He is Frenchman Louis Oudart, winemaker, vinegrower, shrewd trader. An expert connoisseur of French wines, it is certain that, in the first half of the 19th century, Oudart wanted to impress the Piedmontese wine environment and Savoy academics with some experiments on Langa wines. Over all, and here we come to his "real invention," a dry Nebbiolo from the vineyards of Neive.
A Nebbiolo that, with all due caution, was the first Barbaresco in history, however obtained and vinified as it had not yet been done before.
However, the oldest documented bottle of Barbaresco dates back to 1870: hand-labeled, it is kept at Cascina Drago.
Indeed, it was toward the end of the 19th century that wine from the eastern hills of Alba began to make a name for itself. Full credit should be given to Domino Gavazza, ampelographer and director of the Royal Oenological School of Alba.
After purchasing Barbaresco Castle and its vineyards, the professor began a far-sighted development effort, culminating in the founding of the Cantine Sociali di Barbaresco.
The fascist era and the postwar period
The work of an enlightened mind soon became a collective asset, a wine capable of giving identity and fame to a small hillside area east of the city of Alba. In 1934 the Consortium for the Protection of Barolo and Barbaresco Wine was founded, while in 1958 the Barbaresco Producers' Cooperative was established, still one of the most important in the Langhe.
The producers began a fundamental work of zoning Barbaresco, vinifying separately the most prestigious and historic areas of the district.
In the present day
In 1966 Barbaresco was awarded DOC status, and in 1980 it reached the top of the quality pyramid of Italian wines, namely Denominazione di Origine Controllata e Garantita. In 1997, among the first in Italy, the mapping of Additional Geographical Mentions (MGAs) was initiated in order to identify the most vocated areas and enhance the diversity of wines produced within the same appellation. A work that was completed in 2007, three years before that of Barolo.
Since then, Barbaresco has not ceased to amaze. Emancipated from the comparison with Barolo, today it is undoubtedly one of the icons of the Langhe, a wine that is probably emblazoned, but deeply loved by its producers who, in a way that is still entirely artisanal, produce it exalting the difference and quality of its Menzioni, within a small but highly vocated area of southern Piedmont.
Barbaresco DOCG: Terroir
The Barbaresco appellation covers the eastern hills of the Langhe.
The area, bounded to the north by the Tanaro River and to the east by the foothills of Monferrato, covers about 1,500 hectares under vine, 700 of which are planted with nebbiolo, the only grape variety allowed for winemaking.
There are only four municipalities in which it can be produced: Barbaresco, Neive, Treiso, and the hamlet of San Rocco Seno d'Elvio, which belongs to the district of the city of Alba.
Here vines grow luxuriantly and neatly at altitudes between 300 and 550 meters above sea level. They rest on soils that originated in the Tertiary era from the surfacing of ancient seabed. These are, mainly, marls rich in limestone and trace elements, with more or less prominent portions of sand.
Although fairly homogeneous, the Barbaresco area can be differentiated into two distinct areas: Treiso, San Rocco Seno d'Elvio and Neive (especially the part south of the town), belong to the so-called "Lequio Formations," characterized by layers of compact gray marls alternating with layers of sand.
The soils of Barbaresco and the part between this municipality and Neive, in contrast, show soils marked by bluish, calcareous marls, the famous "Marne di Sant'Agata Fossili."
While the Lequio Formation mainly affects the structure, giving full-bodied, austere and crisp expressions of Barbaresco, the Marne di Sant'Agata stands out for giving extremely elegant, fine wines with an almost "feminine" character.
Preferred Altitude
non superiore a 550 m.s.l.m.
Preferred Soil
Clay, limestone, and any combinations thereof
Crus / MGA
Meruzzano, Montersino, Rizzi, Rocche Massalupo, Asili, Cà Grossa, Cars, Cavanna, Cole, Faset, Martinenga, Montaribaldi, Montefico, Montestefano, Muncagota, Ovello, Pajè, Pora, Rabajà, Rabajà-bas, Rio Sordo, Roccalini, Roncaglie, Roncagliette, Ronchi, Secondine, Tre Stelle, Trifolera, Vicenziana, Albesani, Balluri, Basarin, Bordini, Bric Micca, Bricco di Neive, Canova, Cottà, Currà, Fausoni, Gaia-Principe, Gallina, Marcorino, Rivetti, San Cristoforo, San Giuliano, Serraboella, Serracapelli, Serragrilli, Starderi, Ausario, Bernardot, Bricco di Treiso, Casot, Castellizzano, Ferrere, Garassino, Giacone, Giacosa, Manzola, Marcarini, Meruzzano, Montersino, Nervo, Pajorè, Rizzi, Rombone, San Stunet, Valeirano, Vallegrande
Towns
where it's produced
Barbaresco DOCG: Vines
The Barbaresco DOCG is a single varietal wine, and therefore can be made exclusively by Nebbiolo grapes
Piedmont's noblest red grape needs to grow in a carefully chosen environment and growing conditions. It sprouts early and the fruit generally ripens in mid October. The bunch is medium to large, a winged pyramid shape with medium to small grapes having a consistent blue-black skin with violet nuances. This is the vine that produces Barolo and Barbaresco, Nebbiolo d'Alba... you can read more about Nebbiolo here.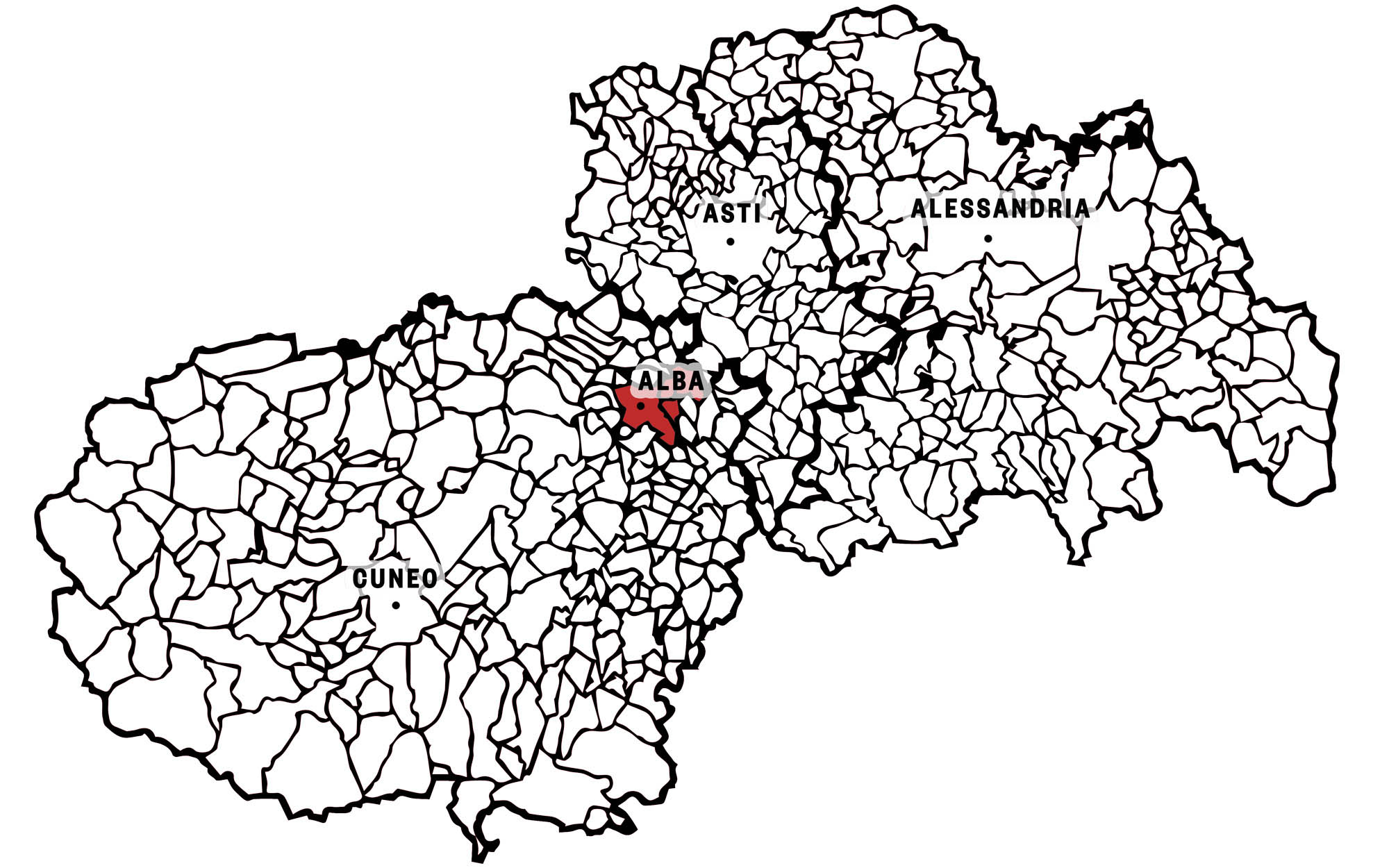 Barbaresco DOCG: Features
A great wine that doesn't need great bargains.
A wine of great class and yet never redundant, Barbaresco stands out among the great reds for its ability to be deep and fresh, complex and uncomplicated, noble but not snobbish.
It can be uncorked at any time because of its finesse, harmony of aromas and a structure that does not weigh down either the palate or the stomach.
As Dominico Gavazza wrote:
To you [Barbaresco] every hour is auspicious and every victuals good companion!
Reserve
The Riserva version, while maintaining the excellent drinkability, deepens the "blue" and "ripe" notes of Barbaresco by emphasizing the complexity of aromas through tertiary notes given by the long aging in wood.
Sight
Barbaresco is a beautiful bright red color with garnet highlights that become more pronounced as it ages.
Nose
Intense and deep, it is characterized by dark notes of violets and ripe fruit, morello cherry and currants.
With age, it develops spicy and balsamic scents, eventually expressing sensations of goudron (warm, ethereal note reminiscent of tar).
Taste
Rich and persistent palate, dry and harmonious, with soft but clearly recognizable tannins.
The main characteristic of Barbaresco is finesse, which, with aging, deepens hints of leather, licorice and pepper harmonized with notes of wilted violet and ripe plum.
Official regulation
This DOCG was established by D.P.R. 01.07.1980
Color
Bright red with garnet hues depending on aging
Perfume
Intense and distinctive
Taste
Dry, full, harmonious
Get a bottle
directly from the producer
LoveLanghe Shop is a niche of great wines from the Langhe area: some unknown to most, some already quite recognized but perhaps hard to find in the big distribution, others in which we see potential but that have yet to grow.
Bottles are shipped directly from the winery to your home, with no intermediary.
Service
Serve in large tulip-shaped glasses at a temperature of 18° to 19° C.
Barbaresco DOCG: what to pair it with
Considered among the best Italian roast wines, it accompanies braised meats, stews and game.
Although it is a gourmet wine, it adapts to virtually every savory dish: from stuffed pasta to ragu, to pumpkin risotto; from flame-roasted meats to boiled meats and well-aged cheeses.
It peaks with truffle, mushroom and stew recipes. Also excellent as a meditation wine.
Recipes
to pair with Barbaresco DOCG
Barbaresco DOCG: Production
Barbaresco is made from pure nebbiolo grapes.
Nebbiolo is theprince grape of the Langhe, the one for which the best locations, care and attention are reserved.
It is a robust and vigorous vine with good adaptability, capable like few others of reading-with extreme precision-the characteristics of the soils where it is planted.
In the hands of experienced agronomists and winemakers, capable of understanding and respecting the peculiarities of the places from which it comes, it can be transformed into labels of exceptional caliber, strongly identifiable by a series of "connotations" that lead back, unambiguously, to the vineyard to which it belongs.
Enhancing the ductility of nebbiolo and its ability to manifest the uniqueness of its vineyards is the challenge of contemporary producers, who can now indicate on the label the Additional Geographical Mention from which the wine comes.
Fermentation
At the production level, Barbaresco follows mostly traditional winemaking.
After crushing and destemming, the grapes are mash in temperature-controlled stainless steel vats, where a longer or shorter maceration on the skins begins, accompanied by alcoholic fermentation.
Many producers have adopted the technique of fulling and pumping over to seek an ennobling extraction until the sugars are completely transformed into alcohol.
Refinement
Fermentation is followed by aging in wooden barrels (minimum 9 months), which can be large or small depending on the oenological choices pursued.
Barbaresco Riserva must also age for at least 9 months in wood, but, usually, producers opt to much longer periods, in which the wine becomes complex, maturing tertiary and quaternary aromas (Typical of mature Barbarescos is the gudron, namely a warm and intense ethereal note reminiscent of tar).
Time in wood
Almeno 9 in botte di legno months minimum
Time in bottle
17 mesi, 41 per il Riserva months minimum
Time to market
Due anni, a partire dal 1° novembre dell'anno di raccolta delle uve. Quattro anni per la versione Riserva. months minimum
Grapes Yield
8 tons per hectare
Curiosities
Barbaresco is a wine of firsts.
In 1966 it was awarded, along with Barolo, the Denominazione di Origine Controllata: one of the first in Italy.
But it is by far the first wine in the Peninsula (before Barolo itself) to obtain in 2007 the recognition of Additional Geographical Mentions, or the official delimitation of production areas particularly suited for history, tradition and grape quality.
Finally, the Barbaresco Tower also wants its mention. It is in fact the largest tower in all of Piedmont, with a wall thickness of almost three meters.
Formerly covered by a roof, it was uncovered in 1821 to create a huge bonfire dedicated to the arrival of King Victor Emmanuel I.
The prestige of Barbaresco-and its Mentions-is also protected by the sales format. It is not possible to buy Barbaresco in bulk, but only in bottles ranging from 0.375 to 5 liters.
All stages of production, from growing the Nebbiolo grapes to bottling, must be carried out within the areas of the appellation: there are very few exceptions to this rule, granted for historical reasons to some wineries in Monferrato and Roero.