In the land of Barolo, in Serralunga d'Alba, under the shade of the castle there are the most important vineyards of the world.
Also the vineyards of family Porro stand in this area – "Lazairasco", "Santa Caterina" and "'l Pari" – in the "cru Lazzarito", an eviable position.
Exposed to south-west and south-east, the vineyards lay in the best sun of langa and produce high quality Nebbiolo, Dolcetto and Barbera grapes.
Work in vineyard
But many times being kissed by good luck and good sun is not enaugh to produce a wine of great quality.
It's also necessary a strong effort, a meticulous work between the lines and a loving care of every vine and its soil.
This proofs that the quality we find in the bottle is already born in the vineyard, before the grapes are transformed in the quiet atmosphere of the cellar.
The family
A solid family tradition, a lot of hard work and even more passion, a strong capability acquired as a kid among lines and barrels.
This scored the life of Guido Porro, like the one of his father Giovanni, of his grandfather Guido, his grandfather's father before him and his son Fabio.
Visit to the cellar
The visit to the winery, which was renewed and expanded in 2010, will allow you to discover the history of the family, the wine production and the surrounding area.
The company is located at the top of our vineyards and is surrounded by a unique panorama that embraces vineyard hillsides and snow-covered mountains in the winter: a real pleasure for the eyes and the spirit.
During the visit you'll discover the story enclosed in each glass of wine, its wonderful scents and experience the taste sensations.
There's no rush to taste the wines and you'll be guided by the producer who will explain every nuance.
The wines produced by the Porro family are: two types of Barbera d'Alba DOC, two types of Dolcetto d'Alba DOC and three types of Barolo DOCG.
Business Hours
9:00 → 18:00
Spoken Languages
Italiano
Produced Wines
Barbera d'Alba DOC, Barbera d'Alba Vigna Santa Caterina DOC, Dolcetto d'Alba DOC, Dolcetto d'Alba Vigna l'Pari DOC, Barolo Vigna Santa Caterina DOCG, Barolo Vigna Lazzairasco DOCG, Barolo Gianetto DOCG, Barolo Vigna Rionda DOCG
Cellar Visit
The visit to the winery is available in Italian, English and French, by appointment.
During the visit you'll be accompanied on a company tour that will enable you to discover how the wine is produced.
At the end of the visit, you'll be able taste the wines along with the producer who will guide you in recognizing the characteristics of each label.
The wines are available for direct sales in the company at prices reserved for visitors.
Those wishing to visit the Langhe can stay at the Cascina Santa Caterina farmhouse.
For reservations and information, please complete the form at the side.
Wines produced
Barbera d'Alba DOC
Barbera d'Alba Vigna Santa Caterina DOC
Dolcetto d'Alba DOC
Dolcetto d'Alba Vigna l'Pari DOC
Barolo Vigna Santa Caterina DOCG
Barolo Vigna Lazzairasco DOCG
Barolo Gianetto DOCG
Barolo Vigna Rionda DOCG (next 2018)

Via M. Baudana, 5, 12050 Serravalle Langhe CN, Italia
Discover ↝


Via Accademia, 2, 12051 Alba CN, Italia
Discover ↝



For information and reservations fill out the following form, you will be contacted as soon as possible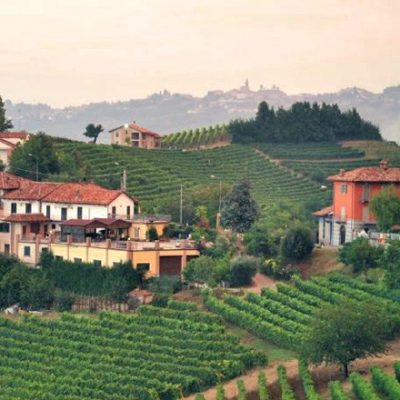 Business Hours
9:00 → 18:00