Business Hours
10:00 → 13:00
15:00 → 19:00
Holidays
1 January, Easter, 15 August, 25 December
Castagnole Lanze, a small municipality in the Asti area, is a borderland between the Langhe and the soft hills of Monferrato. Here, in an area with a strong vocation for wine production, stands Criolin, a historic family-run Piedmontese winery.
The history of this reality tells of a tradition handed down from father to son for four generations, made up of growth, evolution and a constant search for new techniques and improvements.
Integrated pest management is practised in the vineyard, as well as the use of non-invasive phytosanitary techniques, in order to safeguard this precious territory and reflect its identity in the wines produced.
The entire production comes from estate-owned vineyards, which today cover about 10 hectares. Each row, each plant, is looked after by family members with care, passion and dedication, respecting nature's time.
The winery is also in the process of acquiring organic certification and is a member of the Vignaioli Indipendenti (Independent Winegrowers) association.
The Wines
Independent Winegrowers, i.e. responsible for the entire production chain, from vineyard to bottle
This association represents the highest form of family management, in which the producers guarantee their direct involvement in all stages of the work.
This implies that family members personally oversee the vineyard, are involved in all choices in the cellar and finally deal with the marketing of the wine.
To date, there are about 1,300 members associated with FIVI throughout the country, a growing but still small number. The work of the Criolin winery is therefore to be recognized and supported.
The wines produced are the traditional ones of the area, those that find their highest expression here: Moscato d'Asti DOCG, Barbera d'Asti DOCG, Barbera d'Asti DOCG Superiore, Piemonte DOC Chardonnay, Monferrato Bianco DOC and Piemonte DOC Moscato Passito.
Produced Wines
Moscato d'Asti DOCG
Piemonte DOC Chardonnay
Monferrato DOC Bianco
Barbera d'Asti DOCG
Barbera d'Asti DOCG Superiore
Piemonte DOC Moscato Passito
Vineyards Extension
10 Ha
Vineyards Location
Castagnole delle Lanze, Costigliole d'Asti, Calosso, Castiglione Tinella
Agricultural Method
Conversion
Visits & Tastings
Those at the Criolin winery, rather than visits are defined as real experiences, moments of approaching wine.
There are four different experience proposals, differing in focus of interest and wines to be tasted.
Superior Experience → € 18,00 per person
welcoming and registration
explanation of the territory and company philosophy
guided tasting of 5 wines accompanied by breadsticks and cold cuts
wine shop purchases
Golden Experience→ € 23,00 per person
welcoming and registration
explanation of the territory and company philosophy
tour of the production process with a detailed description
a walk through the vineyards and the story of a vine's journey
guided tasting of 6 wines accompanied by breadsticks, cold cuts and cheese
wine shop purchases
Picnic Experience → price to be agreed on
welcoming and registration
explanation of the territory and company philosophy
tour of the production process with a detailed description
a walk through the vineyards and the story of a vine's journey
guided tasting of 6 wines
picnic with 'Casa Bongiovanni' basket directly from Chef Diego Bongiovanni's kitchen with a choice of 4 menus
wine shop purchases
Harvest Experience (harvest period only) → € 30,00 per person
welcoming and registration
explanation of the territory and company philosophy
harvesting activity in the vineyard
return to the cellar for pressing the harvested grapes
guided tasting of 6 wines accompanied by breadsticks and cold cuts
wine shop purchases
Tasting Price
Starting at 18€
Prices & Services
Visit a traditional and historical reality
Superior Experience → € 18,00 per person
welcoming and registration
explanation of the territory and company philosophy
guided tasting of 5 wines accompanied by breadsticks and cold cuts
wine shop purchases
Harvest Experience (harvest period only) → € 30,00 per person
welcoming and registration
explanation of the territory and company philosophy
harvesting activity in the vineyard
return to the cellar for pressing the harvested grapes
guided tasting of 6 wines accompanied by breadsticks and cold cuts
wine shop purchases
Golden Experience→ € 23,00 per person
welcoming and registration
explanation of the territory and company philosophy
tour of the production process with a detailed description
a walk through the vineyards and the story of a vine's journey
guided tasting of 6 wines accompanied by breadsticks, cold cuts and cheese
wine shop purchases
Picnic Experience → price to be agreed on
welcoming and registration
explanation of the territory and company philosophy
tour of the production process with a detailed description
a walk through the vineyards and the story of a vine's journey
guided tasting of 6 wines
picnic with 'Casa Bongiovanni' basket directly from Chef Diego Bongiovanni's kitchen with a choice of 4 menus
wine shop purchases
Services
Pets Allowed Terrace Direct Sales WiFi Parking Lot Garden Caravan Parking
Accepted Payments
Visa / Cartasi Mastercard ATM / Bancomat Satispay Cash
Azienda Agricola Criolin, Castagnole delle Lanze, AT, Italia
Discover ↝


Piazza Maggiore Hope, 1, 14010 Cisterna D'asti, AT, Italia
Discover ↝


Via del Castello, 25, 14051 Loazzolo AT, Italia
Discover ↝

Piazza Carlo Gancia, Canelli, AT, Italia
Discover ↝

SP56, 22, 14058 Monastero Bormida AT, Italia
Discover ↝

For information and reservations fill out the following form, you will be contacted as soon as possible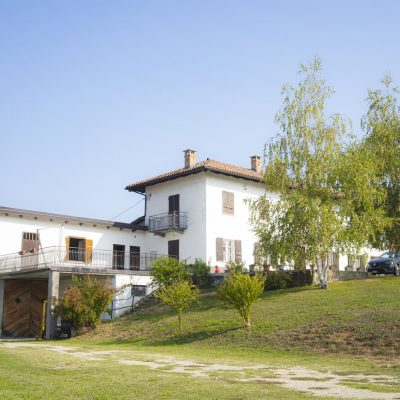 Business Hours
10:00 → 13:00
15:00 → 19:00
Holidays
1 January, Easter, 15 August, 25 December