Lower Langa
Agricola Molino
Wine Producer in Treiso
Business Hours
Monday through Friday
9:00 → 12:00
14:00 → 18:00

Saturday and Sunday
by reservation only
Closing Day
The Company does not receive on holidays
Agricola Molino is located in Treiso, near San Rocco Seno d'Elvio, an area of great Barbaresco, just 7 km from Alba.
The company's history began in the 1950s, when Virginio Molino, originally from San Damiano d'Asti, moved to Turin to market fruit and vegetables even though his passion led him to make wine in a facility near the big city.
In the 1980s he moved with his 3 sons to Elvio Pertinace where he began production of the classic Piedmont wines of the Langhe and then bought in 1991 with his 3 sons Tommaso, Franco, and Dario, a winemaking room and a small plot of land in Treiso.
Today the proudly family-run winery has grown considerably in production, the type of wines produced and the services offered, opening up to hospitality.
This is also happening thanks to the involvement of the younger generation-Marco, Francesca and Alessandro Molino.
The Wines
The winery is renowned for the production of its two types of Barbaresco
The wines are those of tradition, but made in a modern way, where the use of wood is balanced and does not overpower the flavor of the product.
Cement and steel tanks are also used in the winery.
In recent years, the use of terracotta to produce amphora wines is also being experimented with.
Currently, Agricola Molino is the only winery to make a Barbaresco with the Ausario geographical mention: the nebbiolo grapes come only from the Treiso locality, from this special vineyard planted in 1958.
This exclusive Barbaresco has firm tannins but already has spicy and balsamic hints in its youth.
Produced Wines
Langhe Arneis "Sibilla"
Langhe Chardonnay "Sofia"
Moscato d'Asti "Mistral"
Dolcetto d'Alba "Le Querce"
Barbera d'Asti "Loreto"
Barbera d'Alba Superiore
Piemonte Rosso "Selvaggia"
Langhe Nebbiolo "Vitalis"
Barbaresco "Teorema" DOCG
Barbaresco Ausario DOCG
Grappa di Barbaresco "Virginio"
Vineyards Extension
15 Ha
Vineyards Location
Treiso, Guarene, San Rocco, Costigliole
Agricultural Method
Integrated pest management
Visits & Tastings
Four different types of tastings starting with a simple one
If you don't have much time but are curious to discover the peculiarities of the wines produced by the winery, the quick tasting or the "Langa" tasting are the right choice for you: quick tasting with a short guided tour.
For those who want to take it slower and want to learn more about the Molino family and its production, there is the "wines of Langa" experience where there are five wines for tasting, including a Barbaresco.
The Nebbiolo full immersion is the exclusive tasting experience: Piemonte Rosso "Selvaggia," Langhe Nebbiolo, Barbaresco Teorema and Barbaresco Ausario from the vintage currently on the market and an old vintage Barbaresco.
All of course with local product pairings and a guided tour.
Tasting Price
Starting at 20€
Prices & Services
From simple tasting to Nebbiolo Full Immersion where you can discover Barbaresco
Simple tastings
Quick tasting ➝ 20,00 €
Includes tasting of 3 wines (Barbaresco is not included).
Taste of Langa ➝ 30,00 €
Tasting of 4 wines including a Barbaresco with accompaniment of local products.
Structured tastings
Wines of Langa ➝ 35,00 €
Tasting of 5 wines including a Barbaresco with accompaniment of local products and short guided tour.
Nebbiolo full immersion ➝ 80,00 €
Tasting with tasting of 5 Nebbiolo base wines of which three Barbaresco including one old vintage. Local product pairing and short guided tour.
Services
Pets Allowed Direct Sales Parking Lot Garden Caravan Parking
Accepted Payments
Visa / Cartasi Mastercard American Express ATM / Bancomat Satispay Bank Transfer Cash
Agricola Molino S.S.A., Via Ausario, Treiso, CN, Italia
Discover ↝

Auditorium Horszowski, Via del Carretto, Monforte d'Alba, CN, Italia
Discover ↝

Piazza Canonico Borgna Don Pietro, Verduno, CN, Italia
Discover ↝


Chiesa Divin Maestro, Corso Piave, Alba, CN, Italia
Discover ↝

Castello di Benevello, Via Scuole, Benevello, CN, Italia
Discover ↝


Via Accademia, 2, 12051 Alba CN, Italia
Discover ↝
Agricola Molino

Wine Producer in Treiso
Agricola Molino

Wine Producer in Treiso
For information and reservations fill out the following form, you will be contacted as soon as possible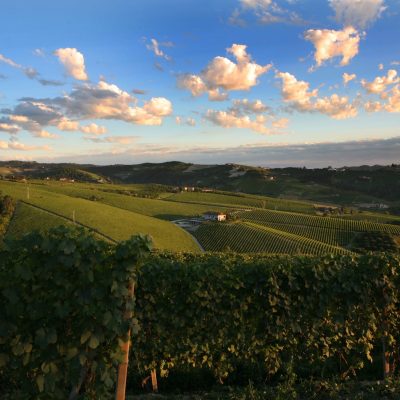 Business Hours
Monday through Friday
9:00 → 12:00
14:00 → 18:00

Saturday and Sunday
by reservation only
Closing Day
The Company does not receive on holidays