In telling the story of a wine or the story of a winery, one must always start with the vineyard: everything originates from the earth, where the production process begins. We know how much, as in a bit of everything, the first step is of paramount importance.
Curiosity about how vineyard techniques have changed, renewed or rediscovered, prompted us to question some of the producers in Langa, Roero and Monferrato about what natural remedies they use to take care of their treasure, because that is what it is all about.
As a result of the severe climate change taking place, winemakers must modify usual agronomic practices to help the vines better withstand these significant changes.
Integrated pest management: sustainable and environmentally friendly viticulture
A quality cluster comes only from a healthy soil, which needs care, sensitivity and attention to be such.
Applicare la lotta integrata significa lavorare insieme alla natura, alla terra in cui si opera: è uno dei valori fondanti della nostra azienda

Chiara LANCI

Dosio Vigneti
From this simple but essential premise, the constant commitment to the environment originates.
As Chiara Lanci of Dosio Vineyards explains, integrated pest management is a crop protection practice that aims to prevent and combat plant diseases by reducing the use of synthetic pesticides as much as possible.
This vineyard management makes it possible to apply asustainable agriculture and to low environmental impact through a series of best practices, from monitoring parameters through stations 4.0 to the pathogen control through sexual confusion implemented by means of pheromones, to agronomic practices of controlled grassing such as green manure.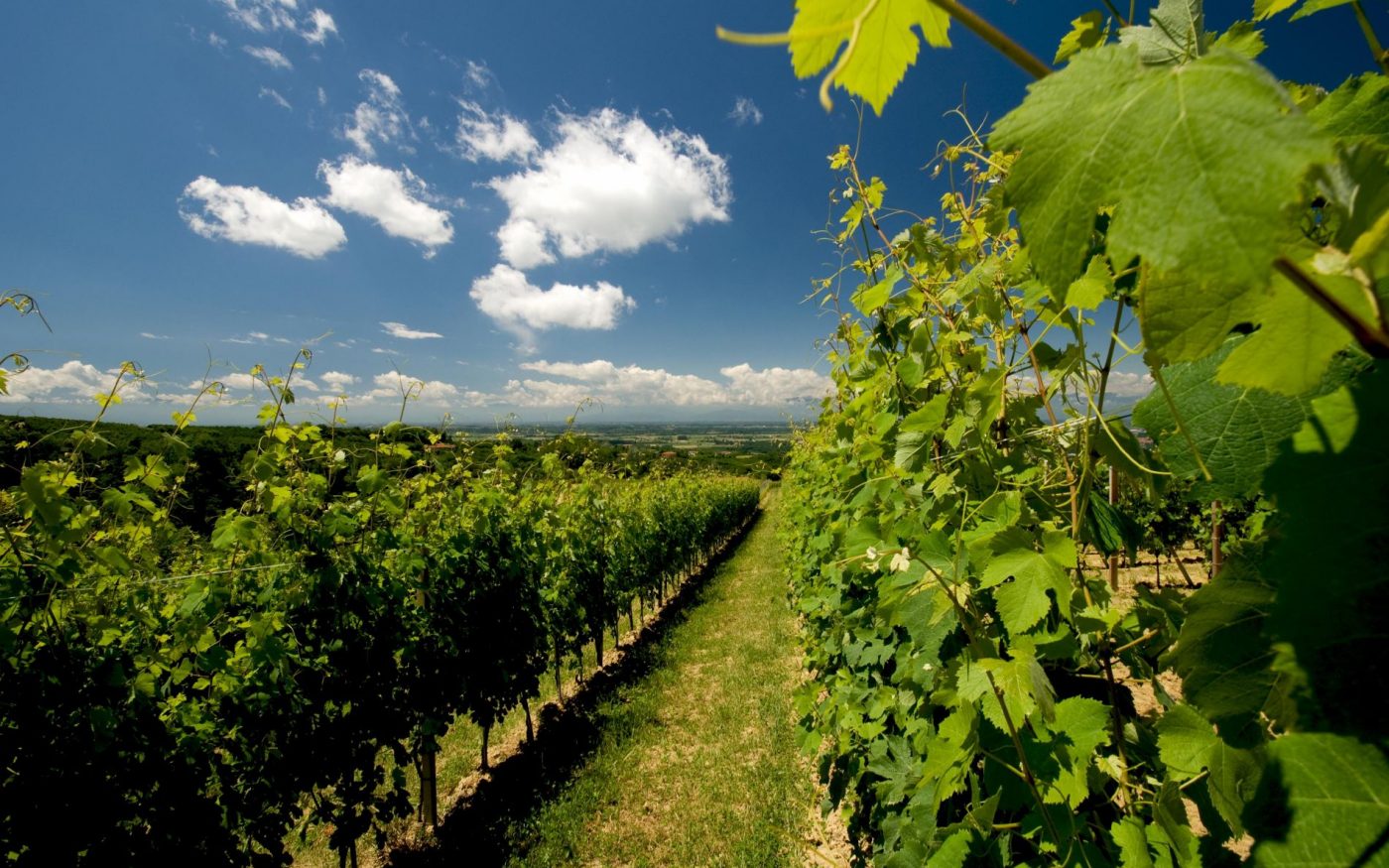 Sexual confusion implemented by means of pheromones
This is a biological control technique used in agriculture to manage pathogens affecting crops, particularly those in fruit and viticulture.
Synthetic sex pheromones are used, which are distributed on crops through special diffusers. The latter mimic the odor released by females of some species of harmful insects, attracting males to traps or diffusers.
In other words, normal mating of insects is prevented and fertilization of females is reduced, thus limiting the reproductive capacity of the harmful insect population.
A sustainable and environmentally friendly solution, as it reduces the use of chemicals and limits theimpact on the ecosystem.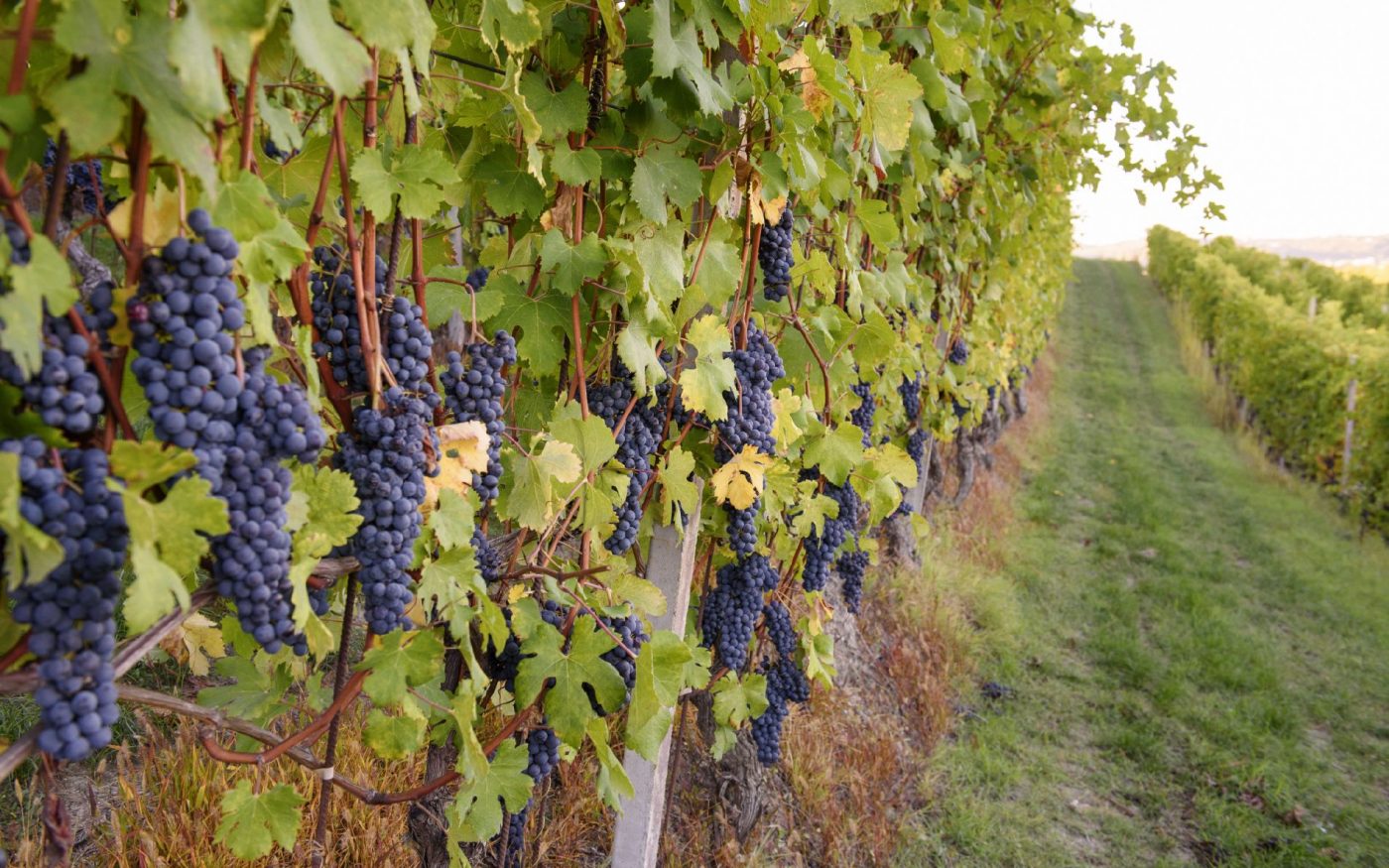 Green manure in the vineyard: a natural and ecological choice in the production of quality wines
The practice of green manure is one of the most natural and effective ways to fertilize the soil, one of the techniques in the vineyard is to cultivate between the rows of vines certain species capable of returning nutrients, such as nitrogen, to the soil that improve fertility.
At the end of the green manure crop cycle, green manure crops are buried, either completely or partially.
The practice also makes the soil softer: plant roots make the soil much more friable by promoting the passage of oxygen into the soil, retains water and has a key function in preventing erosion.
The most suitable plants for green manure are legumes, for example, cowpea, as they spontaneously produce nitrogen, carbon and other elements that they release into the soil through their roots, as Moscone wineries in La Morra and Ghiga wineries in Castiglione Tinella explain.
When alternatives to weed control were few and expensive
Alessandro of Cascina Goregn tells us that we used weed control because there were not many alternatives and certain machinery, which was anyway a prototype of what we have today, represented a not inconsiderable cost.
However, they have always worked with organic fertilizers such as manure and weeding only once a year, in the spring, when vigor is at its peak for both vines and weeds, but during the rest of the season the latter were weeded by hand, with a hoe.
Ogni anno utilizziamo pratiche agronomiche volte a favorire la proliferazione di insetti utili o erbe concimanti, così da avere un ecosistema il più naturale possibile in vigna

ALESSANDRO ALLERINO

Cascina Goregn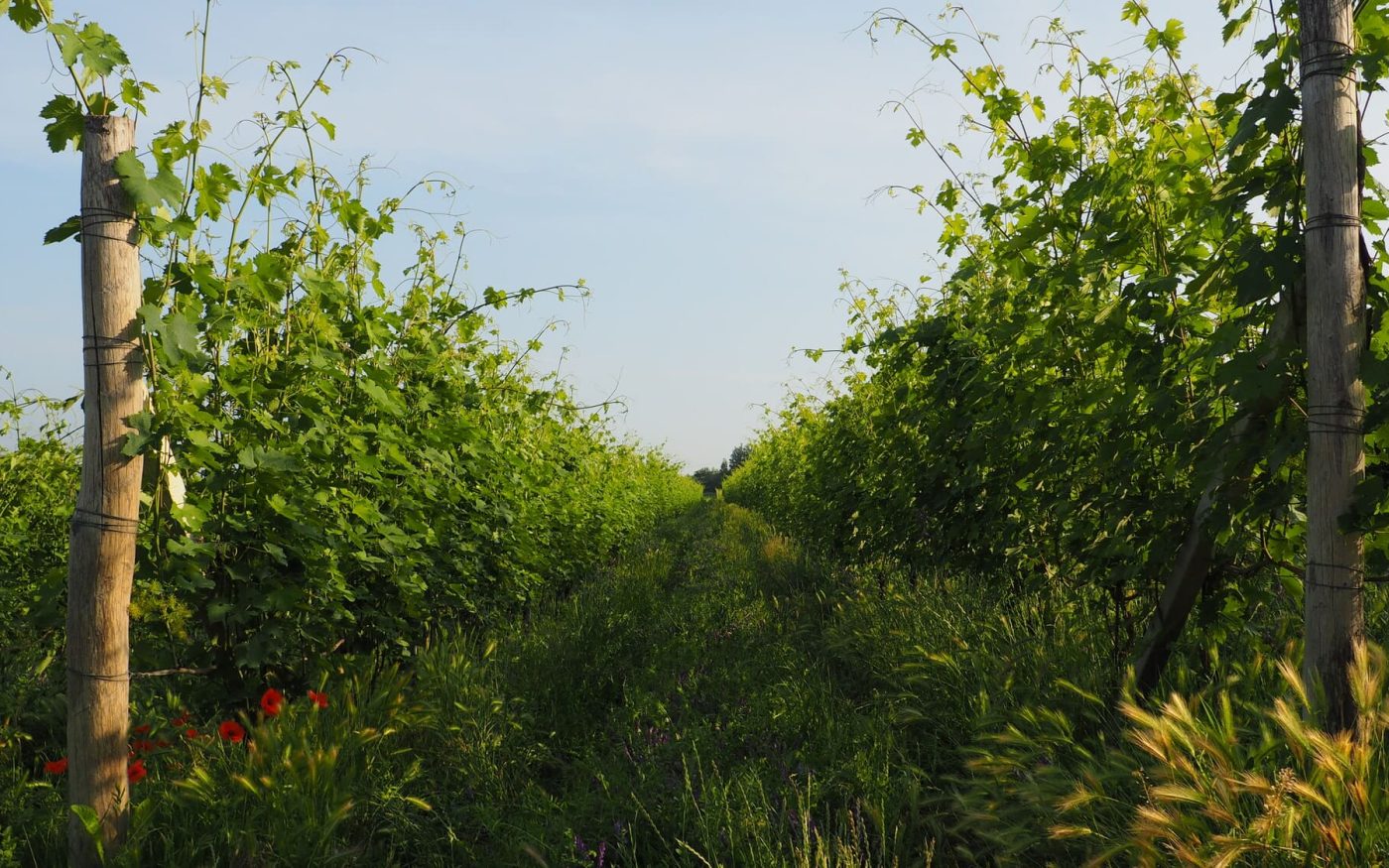 Creasing
Sometimes help comes to us from research, but it is often by looking back that we find the best solutions.
Cascina La Badia knows this well, and last summer it reverted to cordonage: the shoots once they reach a height above the row height are not cut (topping), but are taken and rolled around the last supporting wire.
Tante ore di lavoro sotto il sole! Sono convinto le viti abbiano apprezzato il nostro sforzo!

IVON PICOLLO

Cascina La Badia
Doing so forms a thick vegetative layer that creates a kind of "hat" and protectsthe clusters fromexcessive sun, providing them with some shade.
Topping is atotally mechanizable operation, while creasing is done by hand.
Pest management and pest control
Francesco Borgogno, a company in Barolo, has decided like many companies in the area to join the agri-environmental measure with SQNPI (national quality system of integrated production) certification.
Always mindful of the environment by eliminating chemical weed killers for years now, with this certification the company wanted to strengthen this commitment.
It involves applying production specifications in the vineyard related to tillage with pest defense and weed control through the use of specialized machinery.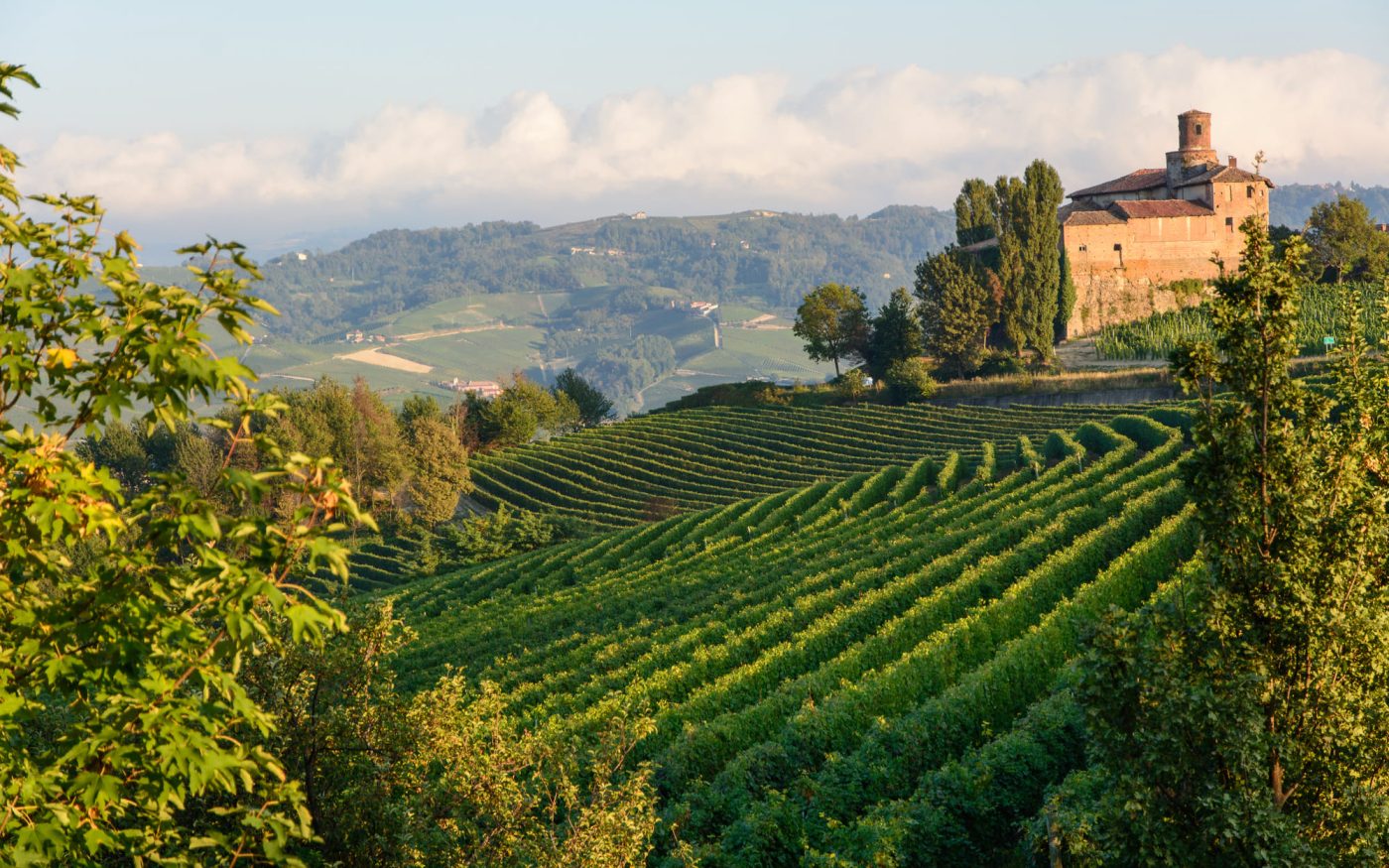 Rainwater and green roof lawn: the Pelissero method
The Pelissero Winery in Treiso started years ago with a corporate sustainability project involving all stages of production, not only the vineyard but everything that revolves around the winery.
Rainwater, stored in five collection tanks totaling about 10,000 hectoliters, is used for all treatments in the vineyards and for irrigation of the green areas surrounding the winery.
The ' electricity that is used on the farm is all certified to come from sustainable sources.
In addition, the roof has been covered with a green lawn to reduce environmental impact and save energy in air-conditioning the premises, and almost all the farm machinery is of the latest generation to reduce pollution.
Il mio obiettivo non è la comunicazione ma la sicurezza delle persone che lavorano quotidianamente in vigneto

GIORGIO PELISSERO
Harvesting the nightshades: Moscone Winery
Nightshades, for the uninitiated, are lepidopterans whose larvae can cause damage to the vineyard by feeding on buds and young shoots, impairing cluster formation.
The Moscone winery in La Morra conducts manual harvesting of insects in the vineyard for severalcontinuous days , at night, from ten o'clock to midnight, using flashlights.
This method is the most natural and least impactful way to combat the problem as it does not harm other pollinating insects such as bees, which is the case with the use of chemicals.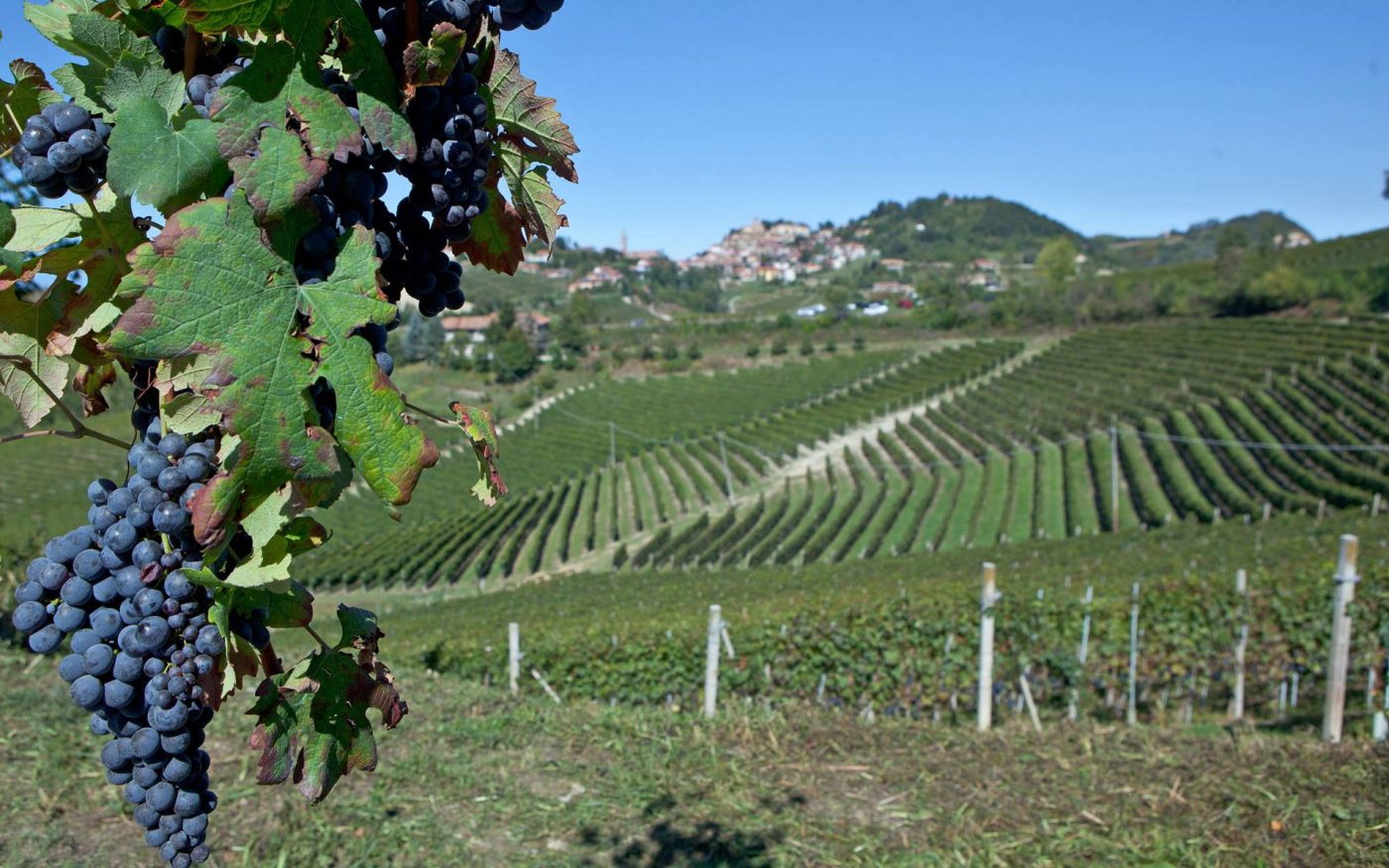 Agricola Marrone's Happy Vineyard
As Denise tells us,Agricola Marrone works for the vineyard to be happy. If the vineyard is not stressed and does not suffer, we can expect a favorable vintage and high quality wine.
Così facendo l'anno scorso ad agosto era ancora in vegetazione e abbiamo cimato ancora una volta prima della vendemmia: un successo enorme, considerata l'annata!

DENISE MARRONE

Agricola Marrone
Work is done to make sure to keep the soil soft and raised. This creates an "oxygen pocket" about 30 centimeters below the ground, which allows the roots to stay cooler and breathe. The soil is more porous and ready to store even the smallest drop of rain, which makes us sigh so much.
Then a leaf wall of a dozen or so leaves is left: these become the plant's lungs, and allow it to breathe better, while still going to lower it if the leaves should transpire too much and it should continue not to rain.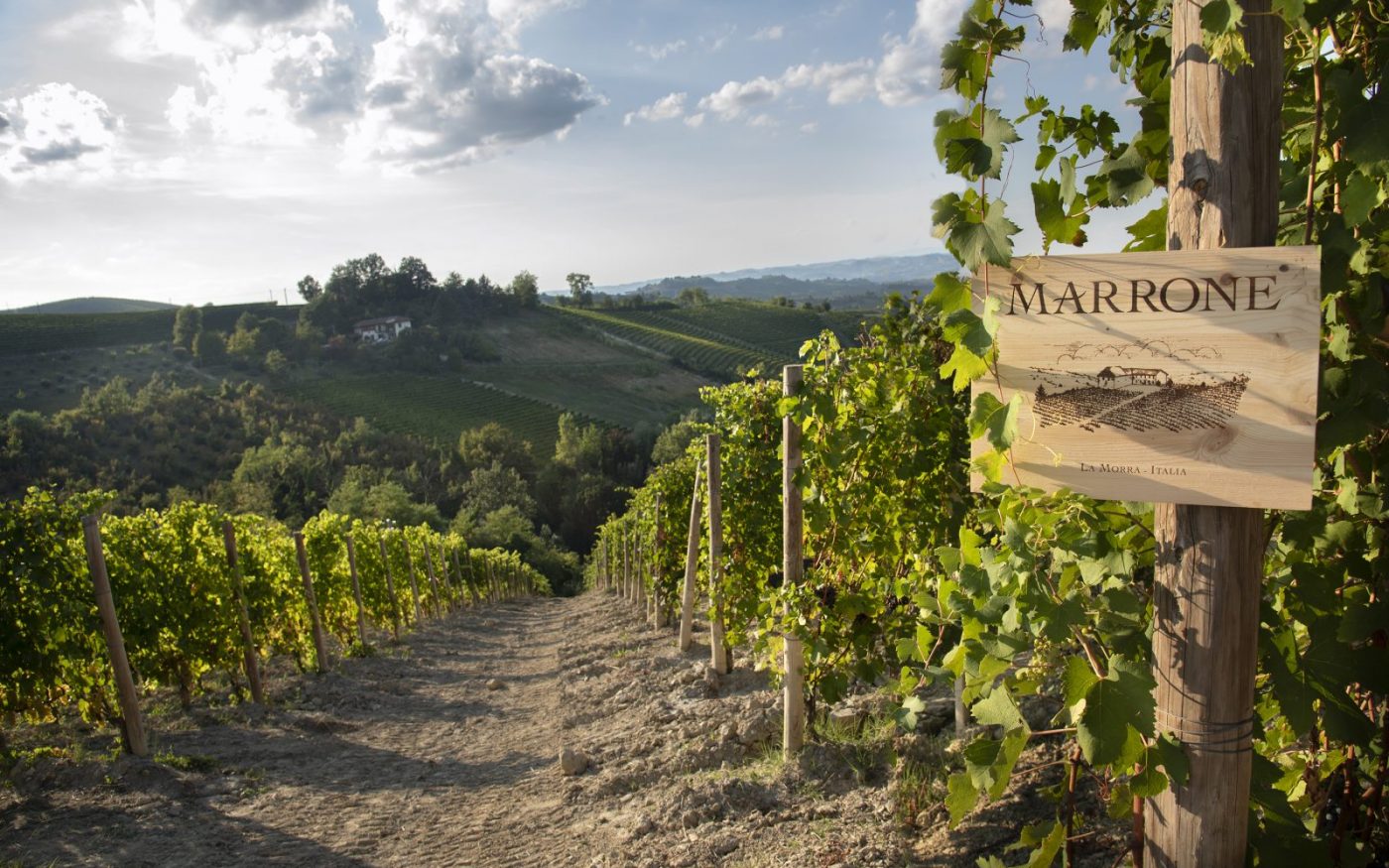 Avoiding plant water stress
Another practice is to leave fewer buds so as not to bring the plant into water stress.
Finally, by leaving fewer clusters even though the plant could manage to bring more to maturity, you make it vigorous and it will rest in winter charged with enough energy to endure the cold season even without rain or snow.
Living soils for quality wines
As Giorgio Barovero, producer of Monforte, says, the first impact, which would seem trivial, is the visual one: by not using herbicides "the vineyard is more beautiful."
There are growing varieties of insects present that are self-regulating and do no harm or at least these are greatly reduced.
Everything contributes to making the soils alive, then nourishing the vines with all the substances of the soil and finally finding in the glass a wine that better tells about the place from which it comes.
In short, the benefits are certainly qualitative on the final product but above all environmental to ensure our health and that of the many tourists who visit the Langhe each year.