Business Hours
Monday to Saturday
9:00 → 19:00

Sunday
9:00 → 14:00
Holidays
Christmas and Boxing Day
On the left bank of the Tanaro river, in the middle of the Roero, in the historic centre of Castagnito, is the family-run Cascina Goregn winery of Allerino Gaudenzio.
In Piedmontese "goregn" means tough, tenacious people with strong character.
This name was given to grandfather Francesco, born in 1898 and the company's first generation, and has remained with the following generations.
Passion, attachment to the land, and careful and scrupulous control of the vineyards, which enjoy privileged exposure and suitable soil, guarantee a solid basis for producing great wines.
The Wines
Roero pride in the marriage of tradition and modernity
The products are the fruit of a vineyard process that does not involve the use of herbicides or chemical fertilisers, with low quantities of dyes and preservatives.
Insect and bird houses are used in the vineyard with the aim of implementing agronomic control, i.e. favouring the proliferation of vine-positive animals.
Winemaking follows traditional techniques aided by modern technological machinery to maintain the highest quality with the use of state-of-the-art equipment.
The agricultural method is certified by The Green Experience, a Coldiretti certificate that highlights and rewards wineries committed to the practice of integrated production, aimed at protecting the environment and the surrounding territory.
Produced Wines
Barbera d'Alba DOC
Nebbiolo d'Alba DOC
Roero Rosso DOCG
Langhe favorita DOC
Roero Arneis DOCG
Piemonte Brachetto DOC
Vineyards Extension
10 Ha
Vineyards Location
Castagnito, Castellinaldo e Vezza d'Alba
Agricultural Method
Integrated pest management
Visits & Tastings
A sensory experience in a typical Roero wine cellar: from processing to tasting
The visit begins with a walk through the rows of vines, where the producer gives an on-the-spot account of the techniques used to work the vines in the different seasons.
After a tour among the barrels to discover the processing phases in the cellar and satisfy the visitors' curiosity, we move on to the tasting room for the most eagerly awaited moment, that of tasting.
Here you have the opportunity to taste and learn more about a variety of selected wines, exploring their organoleptic characteristics and the nuances that make them unique, paired with traditional dishes.
The winery offers two types of tasting: a classic one with a choice of three wines, breadsticks and hazelnuts, and a more elaborate one with four wines paired with four typical dishes.
Tasting Price
Starting at 15€
Prices & Services
Two types of tasting, from simple tasting to pairing with traditional dishes
Classic Tasting
3 wines of your choice accompanied by bread, breadsticks, nuts and snacks
Price 15,00 € per person
The tasting is similar to an aperitif during which the visitor has the opportunity to learn more about the different wines and their organoleptic characteristics.
Plus Tasting
4 wines for paired with 4 traditional cold dishes: cold cuts platter, cheese platter, Fassona raw meat and a fourth dish in rotation according to the season
Price 30,00 € per person
In this more complete experience, the focus is on food and wine pairing
Services
Air Conditioning Pets Allowed Direct Sales WiFi Kids Games / Playground Parking Lot Garden Caravan Parking
Accepted Payments
Visa / Cartasi Mastercard American Express Satispay Cash

Via Evaldo Cassinelli, 1 12050 Castagnito
Discover ↝






Castello di Govone, Piazza Vittorio Emanuele, Govone, CN, Italia
Discover ↝
For information and reservations fill out the following form, you will be contacted as soon as possible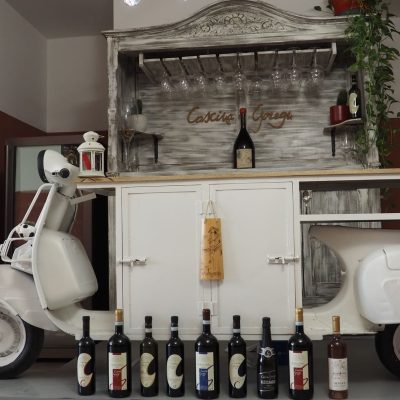 Business Hours
Monday to Saturday
9:00 → 19:00

Sunday
9:00 → 14:00
Holidays
Christmas and Boxing Day