Summer has arrived. The most glaring clue? The travel photos.
Some by the sea, some in the mountains, we challenge each other with Caribbean destinations or spiritual retreats away from the crowds.
And we, who choose the magic of the hill, are, however, forced to break out imaginative tricks to find some freshness in our daily routine.
We recently gave you some advice on the best native whites, but you need another ingredient to relieve heat fatigue: water.
Yes, we may not be on the white beaches of Sardinia, but we do have our options, and we are not necessarily limited to the crowded public swimming pools.
Discover with us the most beautiful pools in the area, hidden among the hills of Langhe, Roero and Monferrato.
Villa Fontana
This charming relais with a 19th-century structure is a charming residence as well as a spa and restaurant.
Overlooking the UNESCO hills of the surrounding Agliano Terme (AT) area, it is an ideal destination for couples seeking relaxation in a well-kept environment.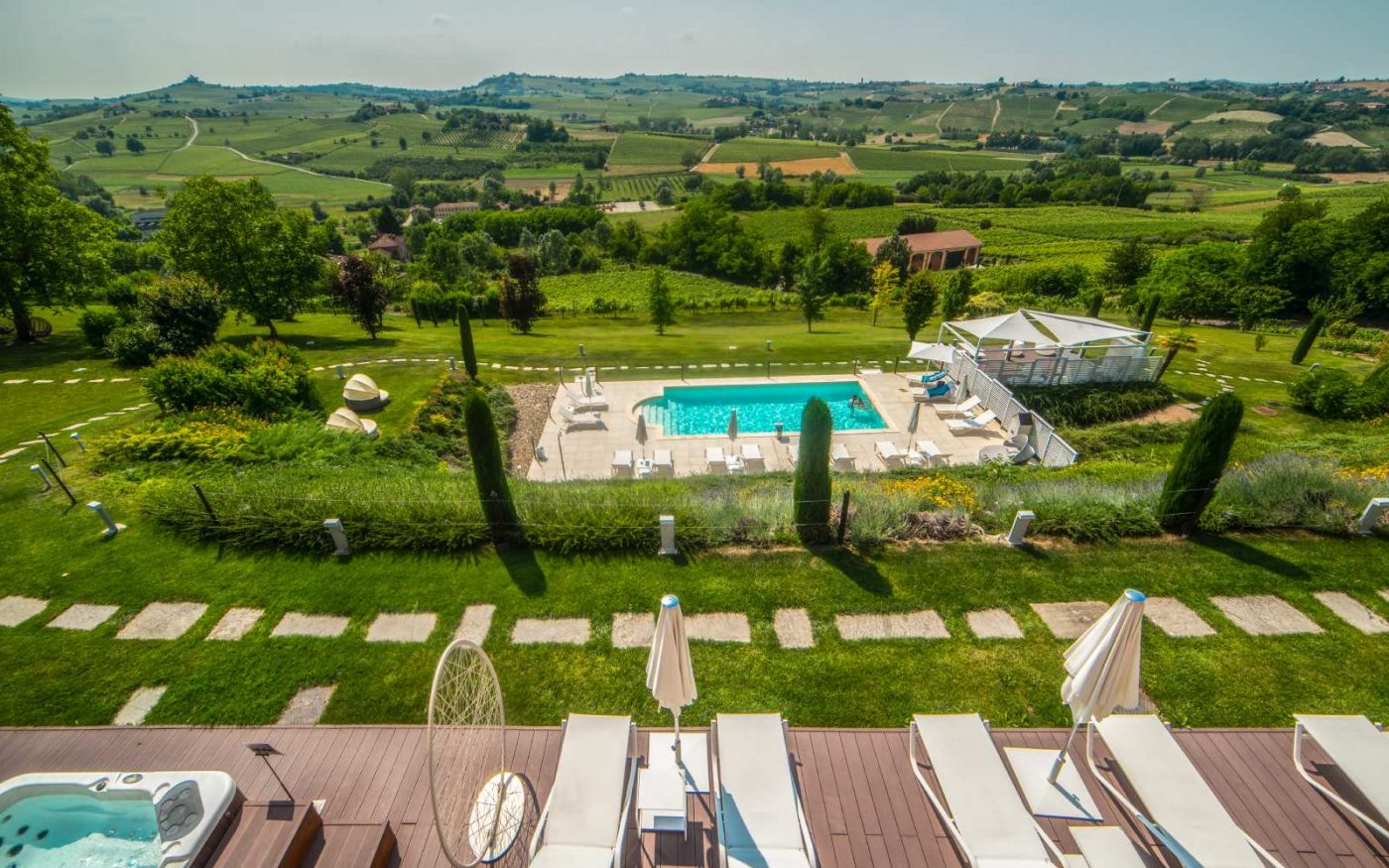 Access to the beautiful swimming pool surrounded by greenery, which is also available by reservation for outside guests, also includes the spa path, with sauna, steam bath, emotional shower, Kneipp path and heated pool with indoor and outdoor whirlpool.
At the entrance, guests are provided with a bathrobe, towel and slippers.
This is the best solution for those who want to spend a few hours away from the crowds, sunbathing in a quiet environment.
Rates
Monday through Friday: 35,00 € per person
Saturday and Sunday: 45,00 € per person
entrance fee of 2h.30: 29,00 € per person
Find out more about Villa Fontana!
I Tre Poggi
The Dimora di Charme I Tre Poggi is an eco-sustainable structure located between Langhe and Monferrato, in the hills of Canelli (AT).
The business started as a Biodynamic Farm in 2006 from the passion of two young entrepreneurs: today it has turned into a refined agritourism, restaurant and wellness center.
Set on a natural terrace with stunning views of the surrounding vineyards, the rooftop pool is also available by reservation to outside visitors, who can enjoy its perfect temperature from 10 a.m. to 7 p. m. every day of the week.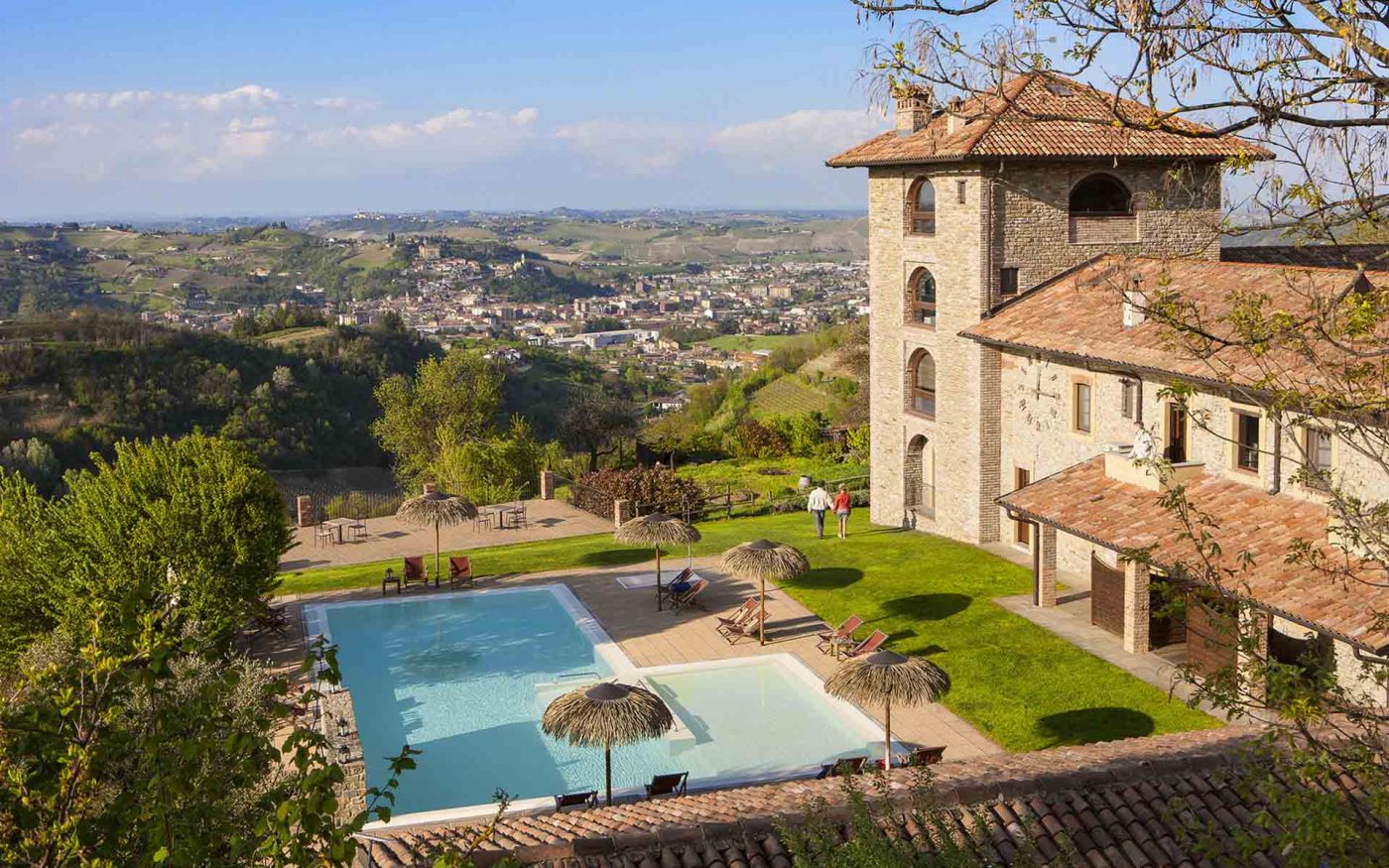 Open from May to September, it is surrounded by a relaxation area with a solarium equipped with sunbeds, chairs, deckchairs and umbrellas.
Rates
Monday through Sunday: 25,00 € per person
Le Ginestre
We are cheating a bit here, because exactly private this pool is not.
Let's treat it a bit like theexception that proves the rule: a public pool where you can still enjoy water and sun in serenity, without the prices of private ones and with less crowds than other similar facilities.
An organized and functional facility, two fully equipped swimming pools tucked away in the hills of Monforte, complete with a good restaurant and bar area. In short, a non-circle circle.
We recommend this facility because it is the kind of place where you can spend all day without worrying about anything, feeling a bit like home, but with a couple of extra pools.
Rates
Monday through Sunday: 12,00 € per person
Find out more about Le Ginestre!
Villa Prato
The historic residence Villa Prato is a relais with ancient charm dating back to the early 1200s, located in the Asti town of Mombaruzzo.
The villa has eight enchanting suites, terraces with striking views, spa and swimming pools.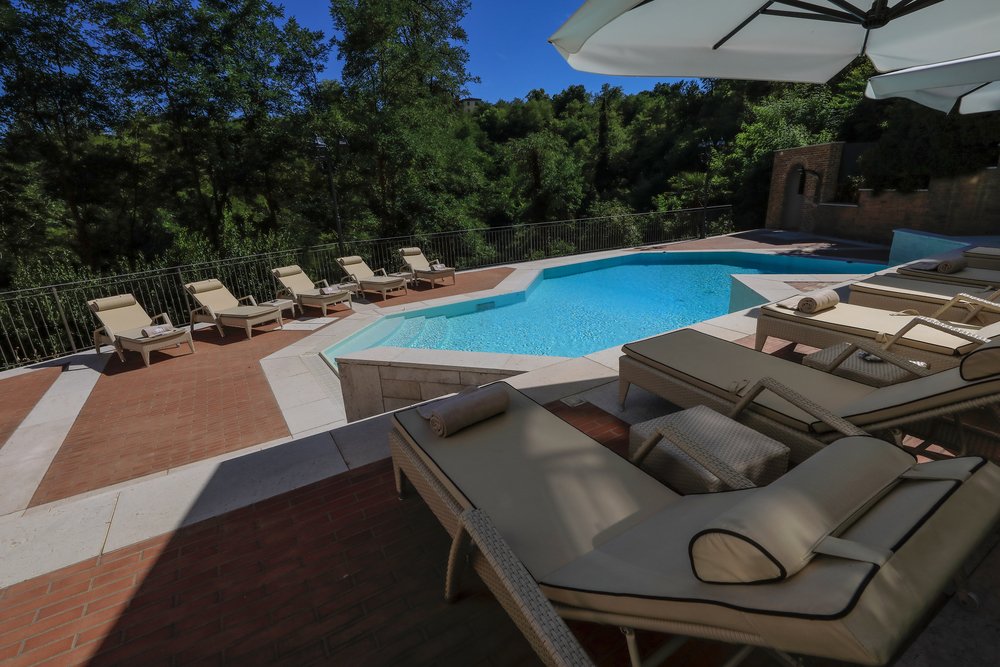 In this case, two, to be exact: a secret saltwater oasis hidden among the steam and aromas of the spa, and another overlooking an expanse of rooftops and vineyards, in the full glare of the sun's rays and protected by ancient neoclassical walls.
This is the perfect option for those looking for anexclusive experience, who instead of just swimming in the pool want to pamper themselves and feel a little special.
Entrance to the pools is reserved for spa guests, which includes a steam bath, sauna, experience shower and Kneip path.
Rates
Monday through Sunday: 50,00 € per person
Find out more about Villa Prato!
Ai tardì
The swimming pool, located on the enchanting hills of Diano d'Alba and open to the public, is a place of privileged positioning.
Here you can have a pleasant, relaxing day, offering visitors a cozy bistro right next to the pool.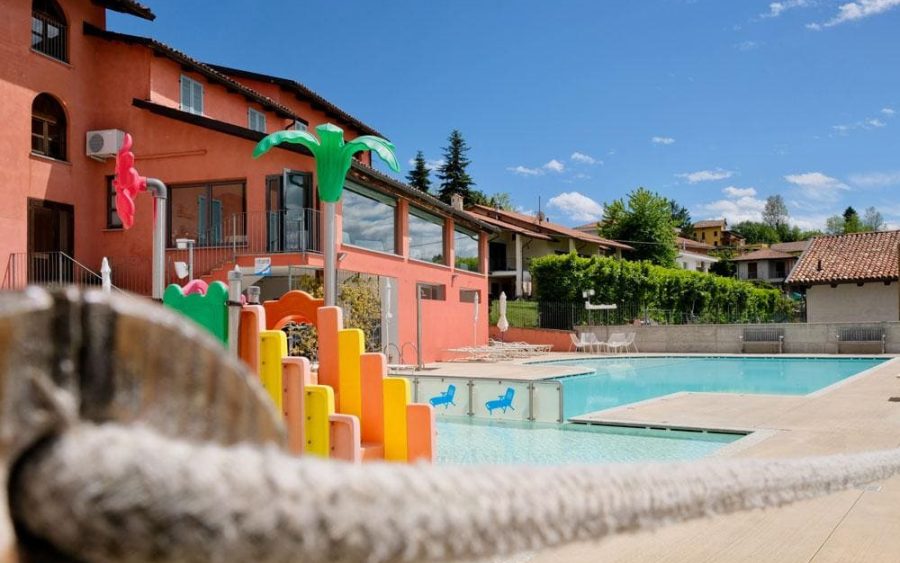 To ensure the safety andhygiene of all swimmers, wearing a swimming cap is mandatory.
In addition, to maintain a high standard of cleanliness, no food or beverages are allowed to be brought into the pool from outside.
Rates
Monday through Friday: 15,00 € for adults, reduced price (ages 4 to 14) €8.00
Saturday and Sunday: 20,00 € for adults, reduced price €10.00
L'Oasi
We are in Bossolasco, in the upper Langa region. Here the facility offers an ideal setting for refreshments and a distinctive L-shaped swimming pool whose dimensions are 17.50 by 8 by 6 meters.
The depth varies from 110 cm to 210 cm. A separate pool with dimensions of 5 by 5 meters and a depth of 50 cm is available for children.
In addition, there is aspecially dedicated area for relaxation, where you can quietly enjoy your days under the Bossolasco sun. On cooler days, the pool water is heated by a heat pump to maintain a temperature of about 25-26°C.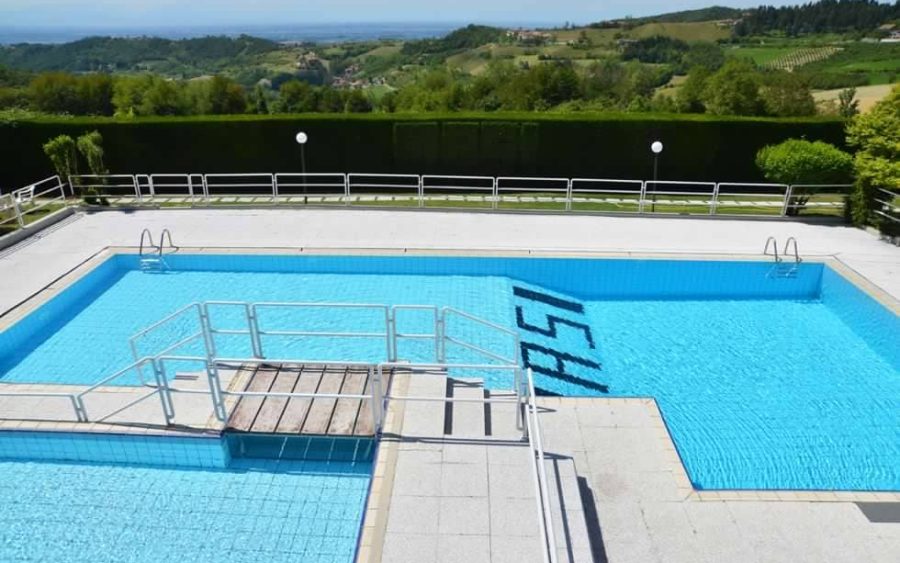 To satisfy small snack cravings, the pool bar offers a variety of delicacies including flatbreads, pizzas, sandwiches, bruschetta, salads, and other treats to be enjoyed on the terrace overlooking the pool.
The complex is distinguished by itshomely, quiet and welcomingatmosphere, making it a true "oasis" of pleasure.
The facility is open from the beginning of June until August 31, daily from 10:00 am to 6:30 pm.
Learn more about L'Oasi swimming pool!
La Madernassa
One of the most prestigious properties in the Roero, a resort with a top restaurant in Guarene.
Immersed in the beauty of the Resort Park, you find yourself surrounded by greenery, lying on comfortable loungers by the pool or in the shade of cherry trees, enjoying the spectacular views of the Langhe, Roero and Monviso.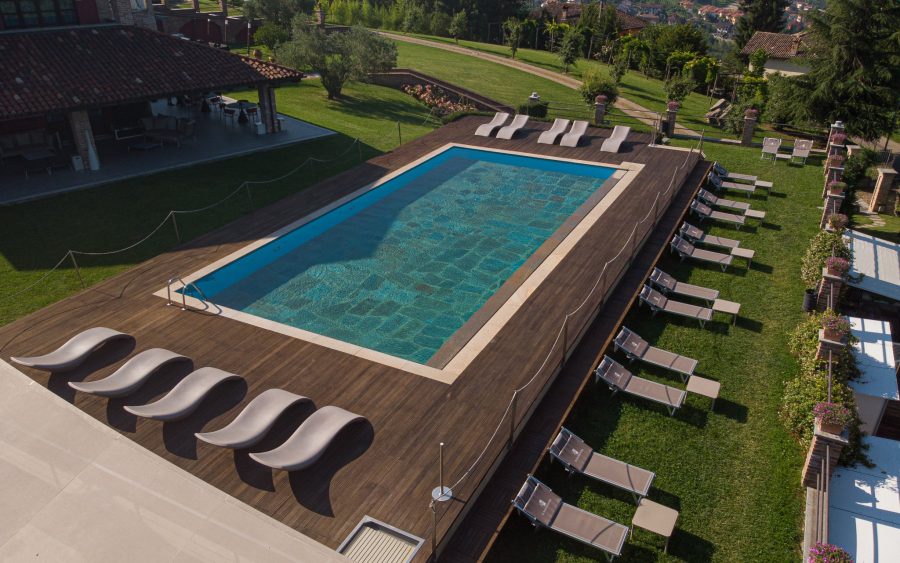 In this idyllic setting, a uniquely designed wooden solarium awaits you. Made of Luserna stone base, it blends perfectly with thenatural surroundings, enriched by the fragrances of different essences grown along the paths.
As evening falls, the sunset transforms the atmosphere giving new emotions and magic.
Rates
Weekdays per person 20,00 €
Saturday and Pre-holidays 30,00 € per person
Sunday and Holidays 40,00 € per person