Lower Langa
La Volpe e l'Uva
Agritourism
Farmhouse in Cherasco
Business Hours
Hotel:
Check-in → by 22.00
Check-out → by 11.00

Restaurant:
Open by reservation (at least one day before)
Closing Day
Restaurant:
Closed on Sunday evening, Monday and Tuesday
Holidays
December 21 → January 31
The La Volpe e L'Uva agritourism, immersed amongst the woods and hazel groves on Langa's gentle hills, was established 18 years ago stemming from the desire to change lifestyle, and to allow visitors to discover a new perspective, far from the city chaos.
It is the ideal place where to find the utmost contact with nature, where one can hear the song of the cicadas once again, the scent of black locust trees in bloom or enjoy a book on the porch in the company of a cat sleeping on your slippers; it is also, however, a place of experimentation, both from an environmental sustainability point of view and culinary proposals.
Numerous solutions were put into practice by the owners to reduce the ecological footprint: alternative energies, horticulture and orchards with integrated pest control, recycling of waste and a cuisine that is attentive to proximity and seasonality.
Despite being surrounded by peace and silence, the agritourism farmhouse is located just 2 km from the A33 Cherasco exit, in an optimal position which enables to discover the Langhe and Roero area and reach many other places of interest in the province of Cuneo, relatively quickly.
The Kitchen
Home cooking based on fresh products from the garden and little else, only from the local market.
The owners grow hazelnuts, fruit, vegetables, aromatic and medicinal herbs and small fruits: all these ingredients are offered and highlighted in the farmhouse's dishes.
The few ingredients that aren't self-produced are purchased from trusted local suppliers: cheeses from Giolito in Bra, flours from Mulino Marino in Cossano, spices from the grocer's shops in Bra Sardo and Quaglia and so on.
The culinary proposal aims to be part of a sustainability project that characterizes the entire farmhouse, without however compromising the quality of the dishes, both traditional and creative.
Since the farmhouse is purely family-run, reservations are required at least one day in advance.
Tasting Menu
Not available
Wine by the Glass
Not available
Special Menu
Vegetarian: Yes
Vegan: Yes
Celiac: No
The Rooms
The rooms as well reflect the style of the farmhouse, with an intimate and welcoming atmosphere.
There are 4 double rooms and one quadruple room, each with a private bathroom and every service necessary for comfort.
Your stay at La Volpe and L'Uva will be full of colours: each room has a different theme, all you have to do is choose between yellow, red, blue and green.
Furthermore, to start your day in the best way possible, you can choose to include breakfast with homemade sweet and savoury products such as jams, cakes, fruit juices, pancakes and many other buffet delights.
Double Room
Starting at 70€
Additional Bed
Starting at 18€
Prices & Services
Prices for the stay
The rooms
Double room: € 70 including breakfast (€ 65 from 1/6 to 31/8)
Quadruple room: € 100 including breakfast
Additional bed
Full price: € 18
For children from 5 to 12 years: € 9
For children from 0 to 4 years: free
Services
Pets Allowed WiFi Parking Lot Garden Cafeteria Gift Shop Restaurant
Accepted Payments
Visa / Cartasi Mastercard American Express Satispay Bank Transfer Cash
Via Meane, 1, 12062 Cherasco CN, Italia
Discover ↝



WiMu Museo del Vino a Barolo, Castello Comunale Falletti di Barolo, Piazza Falletti, Barolo, CN, Italia
Discover ↝

SP157, 19, 12060 Grinzane Cavour CN, Italia
Discover ↝


Torre di Barbaresco, Barbaresco, CN, Italia
Discover ↝

Castello di Benevello, Via Scuole, Benevello, CN, Italia
Discover ↝
La Volpe e l'Uva
Agritourism
La Volpe e l'Uva
Agritourism
For information and reservations fill out the following form, you will be contacted as soon as possible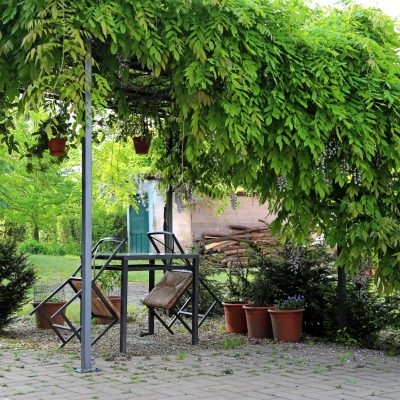 Business Hours
Hotel:
Check-in → by 22.00
Check-out → by 11.00

Restaurant:
Open by reservation (at least one day before)
Closing Day
Restaurant:
Closed on Sunday evening, Monday and Tuesday
Holidays
December 21 → January 31