Asti Langa
I Tre Poggi
Charming Residence
in Canelli
The Charming Residence I Tre Poggi is an eco-sensitive hotel facility located between Langhe and Monferrato.
The business was established in 2006 as a Biodynamic Farm stemming from the idea of two young entrepreneurs who decided to get away from life in the city.
The aim is to create a wellness farm in Piedmont, capable of representing a reference point for modern tourism.
Guests will find a peaceful haven where they can reconcile with nature, finding simpler and sincere relationships with both themselves and others.
Rooms
The Residence is composed of various accommodation solutions: Comfort rooms, Romantic, Deluxe, Superior, a Suite and a mini apartment with kitchenette.
Created for those looking for a refined and comfortable stay; the rooms are equipped with chromotherapy showers, vaulted ceilings, parquet, cotto tiles and fireplaces.
I Merlini 22 Restaurant
Comfortable and cozy rooms, with exposed bricks; the result of conservative restoration work aimed at preserving the original Langa features and materials.
Chef Mauro creates tasty and well-balanced dishes that are part of local tradition; they're prepared and presented with care and will leave an impression on both mind and palate.
All the ingredients used are carefully selected so as to create refined and genuine menus.
I Merlini 22 is also open to external clients.
The panoramic swimming pool
Set on a natural terrace with stunning views of the surrounding hills and vineyards; the panoramic pool with heated water is nestled in a relaxation area and offers a solarium, sunbeds, chairs, sun loungers and umbrellas.
The Wellness Center
The Wellness Center, located in the farmhouse's old barrel cellar, offers an emotional path with its 33°C pool, whirlpool, counter-current swimming, Turkish bath, chromotherapy, Swedish shower and aromatherapy.
Let yourself be pampered by treatments and massages created specifically for body and soul care, using natural cosmetic products and local ingredients.
Business Hours
8:30 → 20:30
Closing Day
wWednesday (only the restaurant)
Holidays
1st of December — 28th February
Spoken Languages
English, Italiano
Rooms
Prices per room per day (two persons) included:
Overnight
Breakfast
Check- out up to 10:30 am
Outdoor swimming pool (from May to September)
If you stay more than 5 days we can apply a 10% discount on the room price.
| | | |
| --- | --- | --- |
| | Low Season | High Season |
| Comfort | 130,00€ | 140,00€ |
| Romantic | 140,00€ | 150,00€ |
| Deluxe | 170,00€ | 180,00€ |
| Superior | 180,00€ | 190,00€ |
| Suite | 200,00€ | 210,00€ |
| Mini-Apartment | 200,00€ | 210,00€ |
High Season: from 1st June to 31st August.
Low Season: from 1st March to 31st May and from 1st September to 30th November.
Closed December-January-February
Half board and Full board are 35,00/70,00 € per person per day and include: 1 appetizer, 1 first dish,1 second dish, 1 dessert (drinks not included).
Additional bed: 30,00€
Extra bed for children: 6,00 € (sheets not included)
You can book your visit at the Wine-Cellar just filling the form beside.
Business Hours
8:30 → 20:30
Closing Day
wWednesday (only the restaurant)
Holidays
1st of December — 28th February
Wellness
The abode's Wellness Center is open to guests and external clients.
The Center is open every day from 10:30 a.m. to 7:30 p.m.
Children under 14 are not allowed.
Entrance includes the use of a bathrobe. Guests are kindly asked to bring bathing suits and slippers.
Internal guests: for stays during the week, except for other promotional offers, entry to the Center is included in the room rate. During the weekend a 25€ supplement per person per day is applied.
External guests: the cost for external guests is 30€ per day per person.
Wellness under the Stars
You'll have an unforgettable evening by booking the Center exclusively for your own usae. Evening access is ideal for celebrating your personal events.
Evening entrance is only available through bookings from 9 p.m. to 11 p.m.
For reservations and for more information please fill in the form.
Regione Merlini, 22, 14053 Canelli AT, Italia
Discover ↝

Via XX Settembre, 12, 14058 Sessame AT, Italia
Discover ↝



Cappella di Sant'Eusebio, SP126, Rocca Cigliè, CN, Italia
Discover ↝

Corso Carlo Testa, 3, 15012 Bistagno, AL, Italia
Discover ↝

Chiesa di Sant'Ilario, Via Castello, Cassinasco, AT, Italia
Discover ↝

Via del Castello, 25, 14051 Loazzolo AT, Italia
Discover ↝
I Tre Poggi
Charming Residence
I Tre Poggi
Charming Residence
For information and reservations fill out the following form, you will be contacted as soon as possible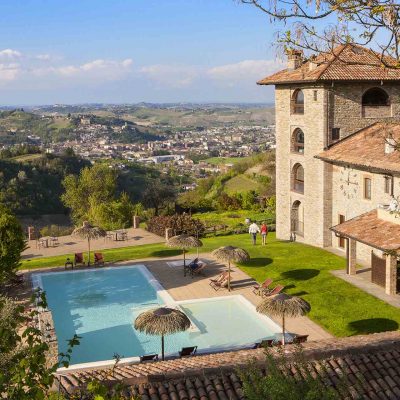 Business Hours
8:30 → 20:30
Closing Day
wWednesday (only the restaurant)
Holidays
1st of December — 28th February