The white truffle, with its earthy aroma and unique flavor, is considered a gastronomic treasure by many.
In the kitchen, this underground mushroom gives dishes an exceptional elegance, turning them into unforgettable culinary experiences.
But what is the secret to fully appreciate it? How does it pair masterfully with other ingredients to create extraordinary dishes?
We interviewed three experienced Langa chefs to discover their secrets and tips on how to consume, eat, and pair white truffles in ways that tickle the palate and the soul.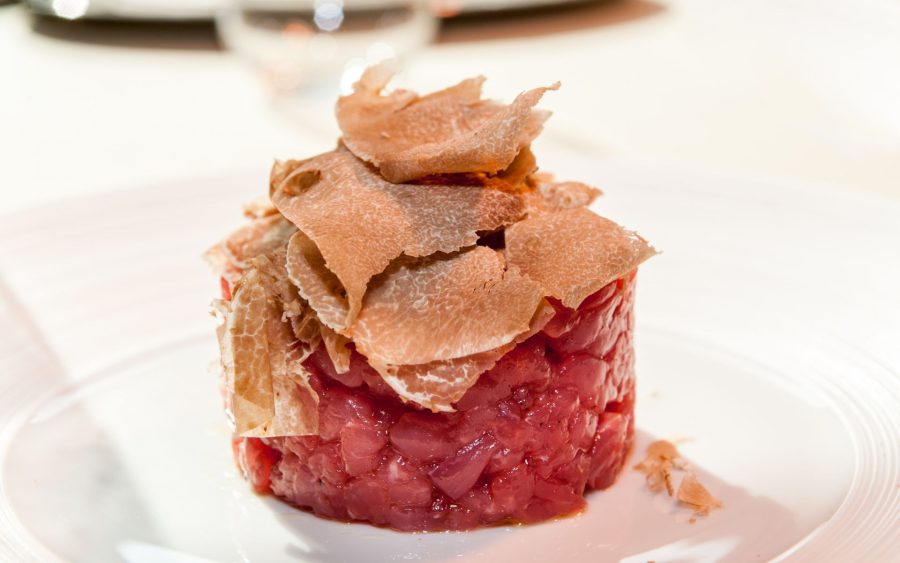 So here are responses from Mimmo Pavan of Il Banchetto in Novello, Giovanna Aceto of Agriturismo Piccolo Principe in San Damiano d'Asti and Carmela Straniero of La Sbornia in Verduno.
Happy reading!
What ingredients are suitable for white truffles?
Carmela Straniero, La Sbornia a Verduno — The substances responsible for the aroma of Tuber Magatum Pico are thermolabile and water-soluble.
Consequently, the white truffle detests cooking, heated it loses much of its aroma, and it gives its best when combined with animal fats.
The important thing is to avoid overly salty or spicy foods (such as, for example, Colonnata lard) so that its scent is not masked.
I advise readers to unleash their whimsy and imagination by trying the most creative pairings, taking into account the premise just made: green light to cheese-based creamsand sauces (excluding blue cheeses and overly savory ones).
With side dishes, words are wasted; white truffle pairs perfectly with vegetable casseroles (being careful with bitter leafy ones and tomatoes that are too acidic), potatoes, in all variations, and polenta.
Mimmo Pavan, Il Banchetto — The products of the area particularly lend themselves to white truffles.
Among the best preparations, which in my opinion enhance its qualities the most, are tajarin, veal battuta, vegetable flan with fondue, and last but not least, poached egg.
Giovanna Aceto, Agriturismo Piccolo Principe — How can we not mention the great ingredients of the Piedmontese tradition, known for their delicacy?
Raw fassona meat, fresh pasta, specifically tajarin topped with creamy butter, but even a simple egg or melted cheese are capable of bringing out the best in white truffles.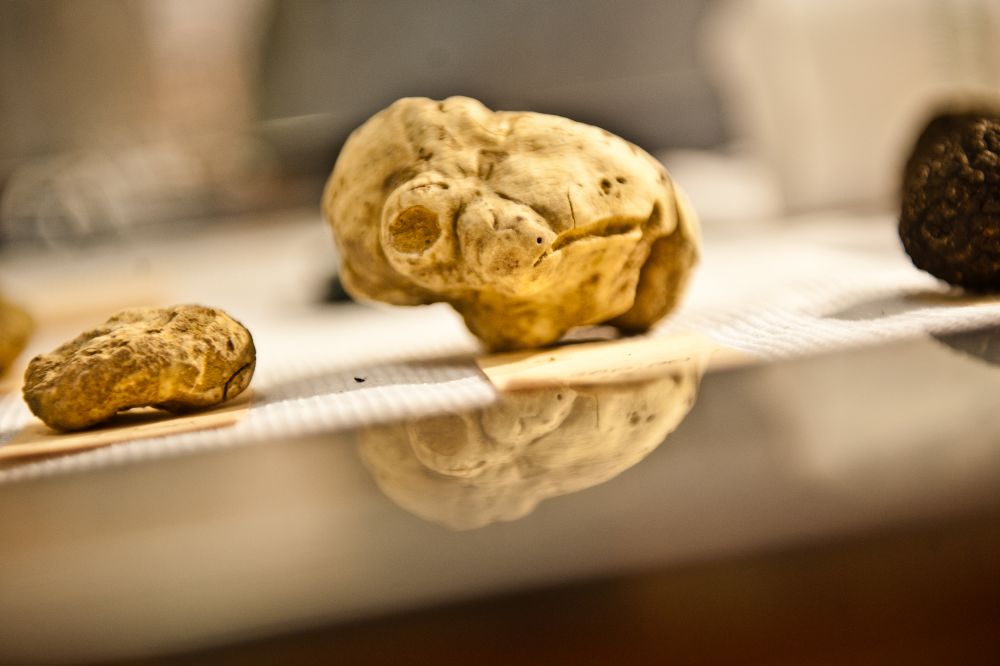 What is your favorite dish to grate truffles on and why?
Carmela Straniero, La Sbornia a Verduno —I try to offer the great classics without revisiting them while paying attention to excellence in the quality of raw materials.
I also love experimenting and letting our customers try new combinations; the dish we are currently offering is a foie gras ganache, quince pear, cocoa gruè and, of course, white truffle!
Mimmo Pavan, Il Banchetto — Tajarin with clarified butter are definitely my favorite, as I think the truffle aroma comes through in all its nuances in a warm dish.
Among the cold dishes, I would opt for a battuta di fassona, a timeless dish, as well as fresh, raw ovules. These are definitely tasty pairings.
In the past, when the truffle was plentiful, it was also grated on the bagna cauda: a full grating was made and then the sauce was poured over it.
Giovanna Aceto, Agriturismo Piccolo Principe — I particularly like it on pasta dishes, the classic tajarin for instance.
On the other hand, if we want to opt for a different first course, I like to pair it with risotto alla parmigiana: I find that the sweetness of the rice and the taste of the Parmigiano blend well with the aromatic notes of the white truffle.
With a pumpkin flan, which is most typical of this season, I find it to be very good indeed!
A particularly curious pairing, however, is cream ice cream on warm zabajone, with a nice grating of white truffle.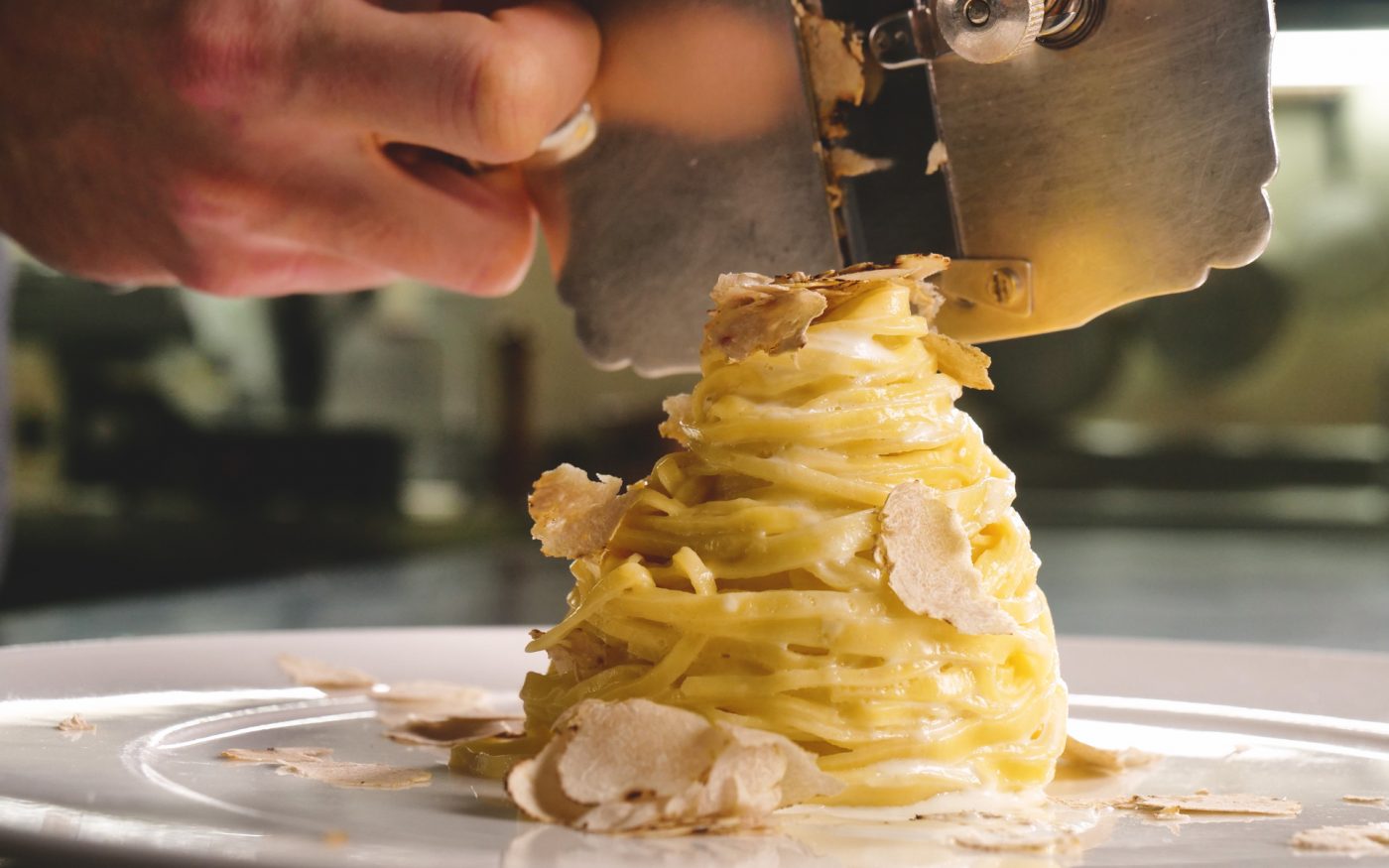 What advice would you give readers on how to cope well with a home menu?
Carmela Straniero, La Sbornia a Verduno — To never make a mistake and bring out the best in white truffles?
Unsalted bread and butter crouton, 40-yolk tajarin with butter, Raschera fondue, and fried eggs with bread croutons.
To end on a sweet note, freshly whipped zabajone, also accompanied by excellent freshly laminated white truffle.
The ideal amount? 7-10 grams per serving!
Mimmo Pavan, The Banquet — For butter tajarin, I usually use clarified butter in my restaurant preparations, but good mountain butter, which is easier to find and use at home, is fine too!
For those of you readers who would like to experiment with fassona battuta, a dish that is easy to make, be sure the quality of the meat and truffle must be excellent!
Giovanna Aceto, Agriturismo Piccolo Principe — To cook the Parmesan risotto, I would not add too many flavorings, so I would make a very light broth, almost neutral on the palate.
If I wanted to overdo it, I would insert a raw egg yolk in the center of the risotto on which I would grate abundant white truffle. Enjoy your meal!
Now it's your turn…
Thanks to the advice of the chefs, we shed light on a world in which the white truffle, with its unique fragrance, becomes the undisputed protagonist of simple preparations that, if executed with the right proficiency, can reach levels of excellence.
Whether it's a fresh fettuccine, a fried egg, or a rich fondue, truffles turn every bite into a celebration of the senses-now it's up to you to try your hand at your favorite dish!