Business Hours
13:00 → 17:00
20:00 → 24:00
Piccolo Principe is hidden on the top of a hill, surrounded by green woods, orchards and vineyards.
Giovanna and Clotilde are the sisters who in 2008 saw the potential of an old farmhouse and are now ready to welcome you among the elegant hills of the Langa Astigiana.
The structure that is shown to guests once through the elegant gate is that of an 18th-century farmhouse, kept similar to its original appearance but with all the necessary renovations to ensure high standards of hospitality.
In addition to comfort and good food, the Agriturismo Piccolo Principe also offers what is needed for relaxation and entertainment.
In fact, guests have at their disposal a games room with billiards, a large terrace for sunbathing and a park with tall trees to immerse themselves in nature.
Relaxation is also ensured by a small, comfortable hammam or Turkish bath complete with chromotherapy and aromatherapy and two reading areas.
The Restaurant
Ground floor and dehors are used as a restaurant and bar of the same name, offering traditional cuisine revisited to a high standard
The place, thanks to an enchanting winter garden in the old greenhouse, lends itself to romantic dinners.
A play of light from dawn to dusk and the crackling of the fireplace in the winter evenings marry the panorama that can be appreciated from the windows.
In summer, it is possible to eat outdoors on the terrace, which gives guests coolness and a view of the lush surrounding forests.
The meal structure is proposed as a tasting menu, with a good number of starters followed by a first and second course of your choice.
The various menus use products from the farm, such as compotes and jams made with fruit and vegetables from their fields.
Cooking courses, tastings and food and wine events are also available by reservation at the farm.
Specialties
Three roasts plin
Tasting Menu
Starting at 30€
Wine by the Glass
Starting at 3€
Special Menu
Vegetarian: Upon Request
Vegan: Upon Request
Celiac: Upon Request
The Rooms
The farmhouse has 5 rooms of varying sizes, each made of environmentally friendly materials.
Giovanna and Clotilde thought about every aspect of hospitality to offer a high quality stay.
Each room is in fact equipped with private parking, air conditioning, free Wi-Fi, satellite TV, sound system, minibar, bathroom with hydro-massage and balcony overlooking the garden.
The rooms have very different characteristics and everyone can find the one closest to their own taste.
The drawing room, for example, has a Florentine terracotta floor and a large terrace with direct access to the park.
The billiard suite, on the other hand, is perfect for a family or a group of friends: a billiard table, a Turkish bath and easy access to the outside of the building.
Double Room
Starting at 100€
Single Room
Starting at 70€
Additional Bed
Starting at 25€
Prices & Services
Room prices according to season
It is also possible to choose half or full board
Single room
High season (11 March/9 January): 90,00 €
Low season (10 January/10 March): 70,00 €
Double room
High season (11 March/9 January): 120,00 €
Low season (10 January/10 March): 100,00 €
Triple room (2+1)
High season (11 March/9 January): 130,00 €
Low season (10 January/10 March): 90,00 €
Services
Air Conditioning Pets Allowed Terrace Direct Sales WiFi Kids Games / Playground Parking Lot Garden Private Park Caravan Parking Cafeteria Gift Shop Elevator Minibar
Accepted Payments
Visa / Cartasi Mastercard American Express Diners ATM / Bancomat Cash
Agriturismo del Piccolo Principe, San Damiano d'Asti, AT, Italia
Discover ↝


Via Brofferio, 18, 14059 San Giorgio Scarampi AT, Italia
Discover ↝


Torre di Castellino Tanaro, SP115, Castellino Tanaro, CN, Italia
Discover ↝

Chiesa di Sant'Ilario, Via Castello, Cassinasco, AT, Italia
Discover ↝


Piazza Vittorio Emanuele II, 12, 14055 Costigliole d'Asti AT, Italia
Discover ↝
For information and reservations fill out the following form, you will be contacted as soon as possible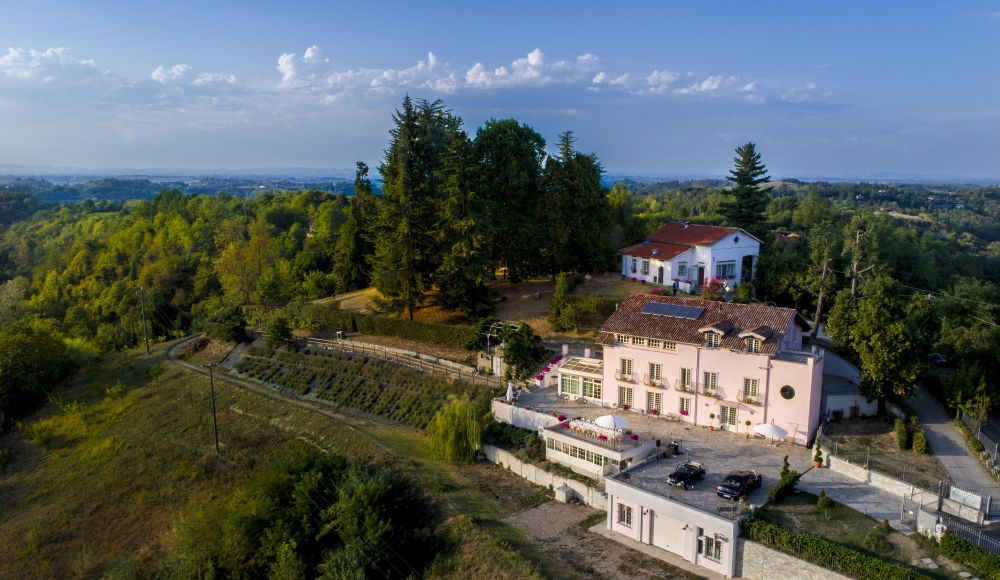 Business Hours
13:00 → 17:00
20:00 → 24:00