Lower Langa
Rusél
Winery
Wine Producer in Barbaresco
You'll find us in Frazione Tre Stelle, along the road which from Alba leads to Barbaresco and Neive.
Visitors will notice that the Rusél company's wine shop, which is also used as the tasting room, has large and bright panoramic windows.
The Rosselli family takes care of all aspects, from hospitality to production.
Visits and tasting sessions are carried out directly by Marco Rosselli.
Its history
The winery was founded by grandfather Mario during the 50s. Giuseppe, Marco's father, began wine-making in the 80s.
The family is closely bond to the Cantina Produttori del Barbaresco (Barbaresco Wine Producers). Giuseppe was its president from 1998 to 2012.
Rusél, still today, provides part of its grapes for producing a high quality Barbaresco DOCG.
The company changed when Marco joined. As of 2010 the old vineyards have been converted into new ones.
The unmissable wines
Along with Barbaresco and Barolo, aged in large barrels, we find Nebbiolo, whose aging in barriques barrels gives it roundness and softness.
Moscato, Langhe Arneis, Barbera d'Alba and Moscato Passito are the other wines produced.
The Sparkling Wine Classic Method (50% Chardonnay and 50% Arneis) will be ready in 2018.
Visits to the Winery
The Winery, built in 2000, is found underground and connected to the tasting room via an exposed brick tunnel. This same room is used as a Barriques cellar for aging.
Inside you'll find the steel tanks, connected to the refrigeration system which controls the fermentation and the bottling and packaging equipment.
From this point, we access the vineyard that overlooks the winery and find ourselves among the Nebbiolo da Barbaresco vineyards.
This land, which is well exposed, with marly and calcareous soil, is suitable for producing great aging wines.
2012 also saw the inauguration of the new wine shop-tasting room, next to the Winery which sells and offers tastings of company wines and a selection of local products.
For more information regarding tasting sessions and prices please refer to the box on the right.
In the vineyard
We don't use chemical herbicides, thus fully respect the land and the vineyard; we only apply careful and targeted treatments.
The view extends over the neighboring Guarene, Magliano Alfieri and Govone towns, and reaches the Alpine chain overlooking the territory's most important cru.
The Company is a partner of the Lyoness business community and collaborates with Itaway Langhe, the electric bicycles rental company, to discover the Langhe effortlessly, in an ecological and fun way.
Book your tasting session through the appropriate form on the bottom right and discover more about Winery's tasting sessions and sales.
Business Hours
10:00 → 13:00
15:30 → 18:30
Spoken Languages
English, Italiano
Marco Rosselli riceve gli ospiti nella sala degustazione con vista sulle Langhe presentando i suoi Barbaresco, Barolo e Nebbiolo
Produced Wines
Barolo DOCG, Barbaresco DOCG Produttori del Barbaresco, Barbaresco DOCG Produttori del Barbaresco Riserva, Langhe Nebbiolo DOC, Barbera d'Alba DOC, Dolcetto d'Alba DOC, Langhe Chardonnay DOC, Langhe Arneis DOC, Moscato d 'Asti DOCG, Moscato Passito
Vineyards Location
Barbaresco, Neive, Treiso, Serralunga d'Alba
Tasting
Use the relevant form to book your visit! Reservations are preferred and improve our welcoming reception.
Wine tasting in the Winery
The tasting room can accommodate up to 50 people.
Cost: € 18.00/person.
Spoken languages: English
Duration: 1h – 30 minutes.
Tasting of 7 wines: 1 white wine of your choice, Dolcetto, Nebbiolo, Barbera, Barbaresco, Barolo, Moscato Passito.
Paired with: cooked and raw salami, bacon, lard, focaccia bread, cheese tastings, hazelnut cake and Company hazelnuts

Nocciole d'Élite by Cravanzana.
Nebbiolo-based wines can be tasted together with us so as to understand their diversity.
Business Hours
10:00 → 13:00
15:30 → 18:30
Buy
All the wines can be purchased directly in the Winery and shipped anywhere throughout the world.
Langhe Chardonnay 2016 DOC: € 7,00
Dolcetto d'Alba 2016 DOC: € 7,00
Langhe Nebbiolo 2016 DOC: € 10,00
Moscato d'Asti 2018 DOCG: € 7,50
Langhe Arneis 2016 DOC: € 7,50
Barbera d'Alba 2017 DOC: € 9,00
Langhe Nebbiolo 2016 DOC 1,5 litri: € 25,00
Barolo 2012 DOCG: € 25,00
Barbaresco DOCG Riserva 2013: € 40,00
Barbaresco DOCG 2015: € 25,00
Sacchetto nocciole da 250 gr: € 7,00
Crema spalmabile di nocciole da 250 gr: € 7,50
You can buy Arneis, Dolcetto and Nebbiolo wine in bulk.

Frazione Tre Stelle, 18, 12050 Tre Stelle, Barbaresco CN, Italia
Directions ↝





Chiesa Divin Maestro, Corso Piave, Alba, CN, Italia
Discover ↝

Via Accademia, 2, 12051 Alba CN, Italia
Discover ↝

For information and reservations fill out the following form, you will be contacted as soon as possible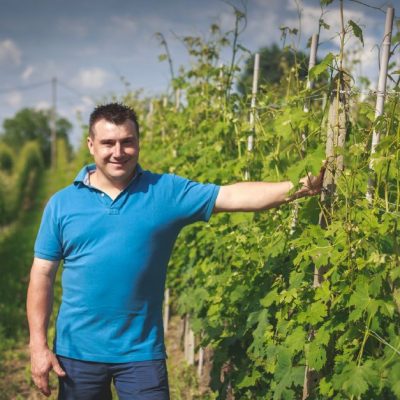 Business Hours
10:00 → 13:00
15:30 → 18:30