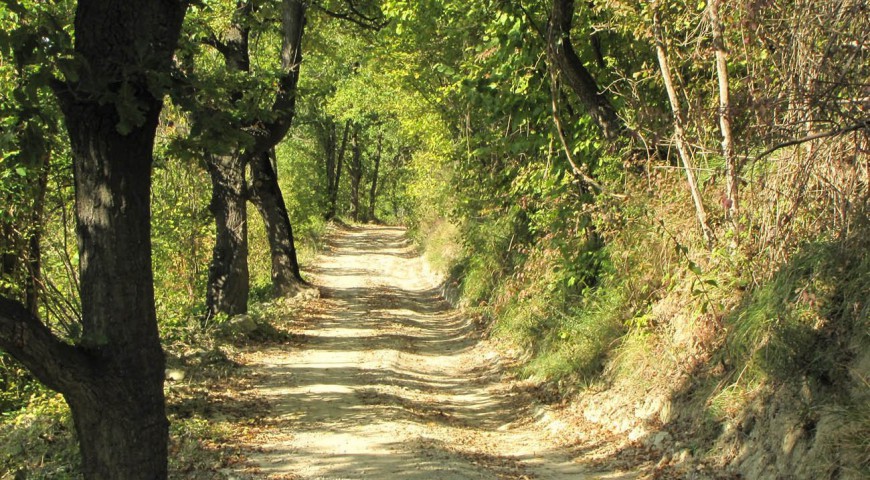 From Torresina (which you can reach by car on the Ceva to Murazzano road) walk through the village and then continue along the narrow carriage road for Murazzano.
Walk along the ridge of the hill and turn into the first of two cartroads leading off to the left of the asphalt road. The footpath goes down through a shaded area.
Turn right and cross the Villaretti rivulet. Go down along a lane through the fields and cross the Cusina rivulet, keeping to the right of the valley. Walk through a group of rural buildings until you reach the carriage road by the cemetery.
After crossing the asphalt road, follow the track road and then turn into a muletrack before reaching a group of houses. Cross a beautiful stone bridge and walk up to the Igliano square. Continue for a short distance along the main road.
After a bridge, near a group of houses, turn right and then left into a muletrack. You will come to a farmstead, turning right to cross the asphalt road and then turning along a muletrack. Go up to Langa di S. Sebastiano and continue along the carriage road until you reach a chapel, where you turn into a cartroad. Continue through the woods until you come to the ridge, just before the Monte Rotondo house Torresina cemetery.
http://langhe.net/wp-content/uploads/2013/11/Igliano-boschi.jpg
975
1300
Corrado Morando
http://langhe.net/wp-content/uploads/2014/10/Langhe1.png
Corrado Morando
2013-11-15 10:23:32
2018-04-11 23:27:37
On foot from Torresina to Igliano