Azienda Vitivinicola Bianco Angelo e Figlio s.s., Via Lovetta, 26, 14041 Agliano Terme (Asti), Italia •
Request a visit
• Tel: +390141954075 / +393480085060 / +393388110168 • Fax:+390141954075
In Agliano Terme, which is part of the UNESCO territory dedicated to producing Nizza and Barbera d'Asti, you'll find the Azienda Vitivinicola Bianco Angelo e Figlio company.
Even though the history of the Winery dates back to the early 1900s, it is through Angelo Bianco that it takes on its present connotation.
It has now reached the third generation. The Winery is represented by Piero Bianco, who is an enologist, assisted by his wife Nuccia and their son Paolo, who graduated in viticulture and oenology.
The family run company, owns 6 hectares of vineyards and produces roughly 8,000 bottles yearly.
The vineyard grapes typology cultivated are: Barbera, Pinot Nero, Dolcetto, Freisa, Grignolino and Manzoni Bianco, and a blend of Pinot Bianco and Riesling Renano.
Working the vineyard is based on an integrated or reasoned agriculture philosophy: a low impact environmental agricultural system combined with processes aimed at producing good and original wine.
The visit
You reach the Winery via panoramic roads which offer breathtaking views, particularly during autumn and spring days.
The owners Piero and Paolo welcome guests and offer guided tours and tasting sessions.
The stroll among the rows of Pinot Nero and Barbera grapes introduces the company.
We'll discuss climate, terrain composition and wine-processing: starting with the vine shoots right up to the harvest.
Grassing the soil allows us to obtain a better quality grape and to fight soil erosion.
Dry pruning is combined with green pruning along with the ongoing summer work: trimming, creasing, pruning, thinning.
You can take part in the vineyard work and help out with the work among the rows (manual harvest).
In the winery
The guided tasting session is lead directly by the producer in the Winery, in the cozy tasting room, and upon request among the rows of grape-vines.
Worth the visit are the three Barbera typologies: Bruma Basse, La Salterina and Lovetta, because they're produced in our sixty-seventy year old vineyards; vineyards that form part of the company's history.
There are two types of tasting sessions. You'll find more information in the relevant box below on the right.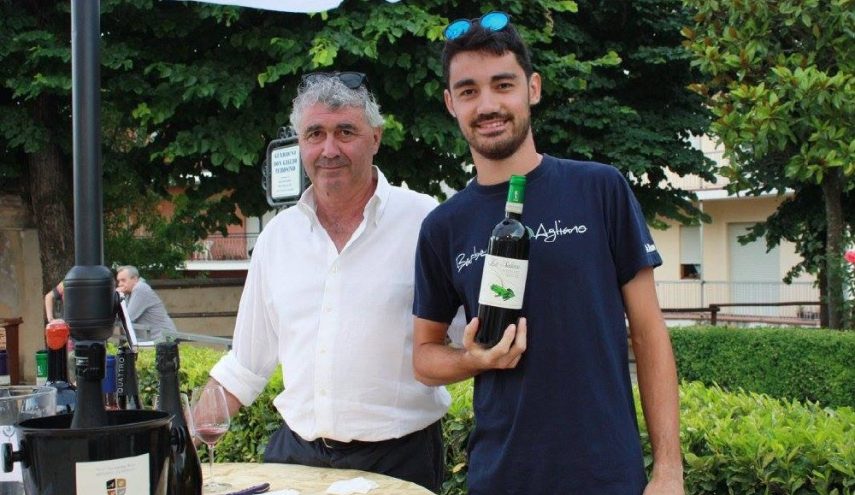 Information
Business Hours: from 9 a.m. to 1 p.m. and from 2:30 p.m. to 6:30 p.m.
Closing Day: -
Holidays: -
Email | Website
Tel: +390141954075 / +393480085060 / +393388110168
Fax: +390141954075
Cellar
Vineyards: 6 ha
Wines: Nizza D.O.C.G., Barbera d'Asti D.O.C.G., Monferrato D.O.C. Rosso, Monferrato D.O.C. Bianco, Vino Rosato, Vino Spumante Brut Metodo Classico
Bottles: 8.000
Vineyards location: Agliano Terme
Method: Guyot
Biologic Method: No
Services
Direct
Sales
Accessible

Animal
Friendly
Parking

Pagamenti