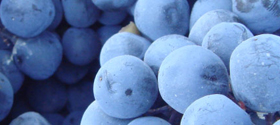 DOC Dolcetto di Diano d'Alba
(d.o.c. D.P.R. 03/05/1974)
The concentrical Diano d'Alba district is located on a hilltop which is among the highest in the Langhe zone.
Here, dolcetto grows untiringly in the best exposed slopes, becoming an important economic resource.
Wine regulations regarding Dolcetto di Diano d'Alba (or Diano d'Alba for short) establish that it must offer the following characteristics when released for marketing.
Colour
Ruby red.
Bouquet
Winey and pleasantly characteristic.
Flavour
Dry, almond-tasting and harmonious with moderate acidity and good body.
Minimum alcohol content by volume: 11,5%.
Minimum total acidity: 5‰.
Minimum dry extract: 22 g/litre.
When Dolcetto di Diano d'Alba has a minimum alcohol content by volume superior to 12,5% and one year's ageing it can bear the inscription "superiore" (i.e. superior) on the label.
Towns
where it's produced
DOC Dolcetto di Diano d'Alba: Vines
The DOC Dolcetto di Diano d'Alba is a single varietal wine, and therefore can be made exclusively by Dolcetto grapes
Recipes
to pair with DOC Dolcetto di Diano d'Alba