On the occasion of Kid Pass Days 2023, the Castile, the exhibition venue for Start/Antiques, on Sunday, May 14, becomes a place for creativity and experimentation on the theme of antique paper.
Starting with some reproductions of Saluzzo maps preserved in the city's Historical Archives, young participants will be taken on a journey to discover the history of maps and their preservation.
The activity will then be an opportunity to experiment with aging techniques of different paper media.
Recommended activity for children 6 to 12 years old!
Organized by
MuSa - Musei di Saluzzo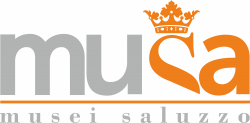 Begins
14 May 2023
at 16:00
Ends
14 May 2023
at 17:30
How to participate
5.00 € per participant
Time: 4:00 p.m. with meeting at the Castile ticket office
Indirizzo: Piazza Castello, 1, Saluzzo, CN, Italia