Cherasco — downtown
Giro d'Italia Next Gen
Giro d'Italia Next Gen stage, hothouse of future champions, passes through the city
from Thursday
18 May 2023
at 08:00
to Thursday
18 May 2023
at 12:00
Cherasco is ready to welcome the great cycling of the present and future
A new cycling event involves Cherasco with the Giro d'Italia Next Gen, forge of future champions.
The organizational structure is the same as that of the professionals in the famous Giro d'Italia, which is starting this very week; the famous "pink race" will pass through the streets of Cherasco on Thursday, May 18, in the 12th stage from Bra to Rivoli: right after the Via runners will climb into the downtown passing under the Civic Tower and then descending toward Moglia.
In June Cherasco will be even more involved as the arrival site of the 2nd stage out of the 8 scheduled.
The young stars of world cycling will compete on a course that offers opportunities for all types of riders from the opening time trial in Agliè to the finish in Trieste.
Also planned are two mountain stages with arrivals on the Stelvio Pass and in Pian del Cansiglio.
President of the Piedmont Cycling Committee Avv. Massimo Rosso comments on the assignment to the City of Cherasco where he serves as President of the City Council:
A center of history and culture-known as the City of Paci, famous for its antique markets, a municipality of Barolo-Cherasco is also confirmed as a focal point of high-level cycling: after the finish line of the 2010 Gran Piemonte we recall the start of the 2012 Giro d'Italia, with the caravan set up between the Torre Civica and the Belvedere Arch; the following year Corso Einaudi was the protagonist of a gripping sprint finish of the Corsa Rosa, with Mark Cavendish's winning sprint in the shadow of the Arco di Porta Narzole. It was the 13th stage of the 2013 Giro, which saw the final triumph of Vincenzo Nibali. Last year a big return for Cherasco in the national spotlight as host of the 2022 Italian Junior Championships for men and women
Mayor Carlo Davico adds.
A thread now woven over time with a strong character with a distinct propensity to welcome and host cycling talents launching them into a bright future: Cherasco with these values offers its territory as a focal point of the international cycling scene of the present and future.
Organized by
Comune di Cherasco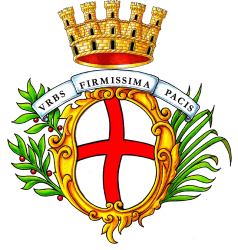 Indirizzo: Cherasco, CN, Italia