Castagnole delle Lanze — piazza Giovannone
Festival Contro: Francesco Gabbani
Francesco Gabbani in concerto per una delle sue tappe del tour estivo "Ci vuole un fiore"
from Saturday
19 August 2023
at 21:30
to Saturday
19 August 2023
at 23:00
Castagnole delle Lanze è pronta per ospitare una nuova edizione del festival che anima le serate estive con la buona musica.
L'ospite della serata del 19 agosto sarà il cantante Francesco Gabbani con una tappa del suo nuovo tour estivo: Ci vuole un fiore.
Francesco Gabbani
Francesco Gabbani è un cantautore e polistrumentista.
Nel corso della sua carriera ha vinto per due volte il Festival di Sanremo, rispettivamente nel 2016, anno in cui ha vinto come esordiente nella categoria "Nuove Proposte" con il brano Amen, e nel 2017 nella categoria "Big" con il brano Occidentali's Karma, diventando il primo cantante nella storia del Festival di Sanremo ad aver vinto nelle due principali categorie della manifestazione canora in due edizioni consecutive.
Nel 2017 è stato scelto come rappresentante dell'Italia all'Eurovision Song Contest 2017, dove si è piazzato al sesto posto. Si è poi classificato al secondo posto al Festival di Sanremo 2020 con il brano Viceversa, ottenendo il Premio TIM Music 2020. Continua a leggere su Wikipedia…
Organized by
Pro Loco Castagnole Lanze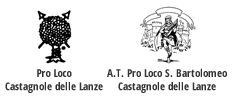 Begins
19 August 2023
at 21:30
Ends
19 August 2023
at 23:00
How to participate
Biglietti telefonando al +39 360 440 660 o su TicketOne.
Indirizzo: Castagnole delle Lanze, AT, Italia