On the way to the town of Monforte d'Alba, just passed Perno hamlet you reach Località Castelletto, where Cascina Gramolere stands surrounded by the silence of Langhe.
This small family run business owned by the agrotechnic Claudio Pressenda produces typical red Langa wines in the traditional way, selling them in Italy and abroad, also loose.
The Farmhouse has 4.5 ha of vineyards in half hill, cultivated in red grapes as Nebbiolo, Barbera and Dolcetto. The average annual production is 20.000 bottles.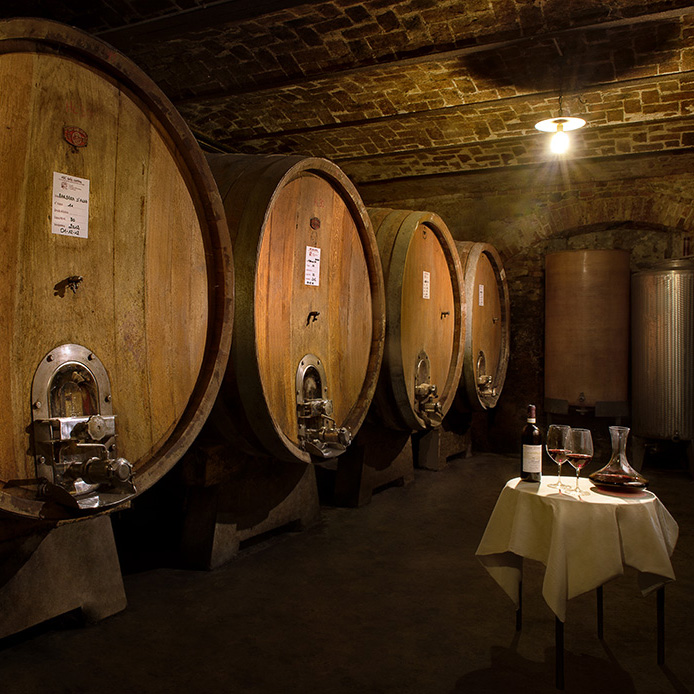 A story that
begins in 1966
in Monforte d'Alba
The name of the company, which correspond to the toponym of the location, it's said to come from an event which dates back to the XIX century, when a group of paesants bought these lands.
At the time the soil was still uncultivated and while they were tilling and plowing it, they faced many difficulties, mainly due to the presence of large number of rocks and graminia (garmin, which is a highly resistant and coriaceous weed).
At some point one of the peasants, throwing away his hoe, exasperated by the fatigue exclaimed: "Ei sun mac gramun e père!", which means, roughly translated from the piedmontese language of the time, "There are only garmin and rocks".
From the mixing and distortion of the two words "gramun e père" is born the term "Gramurere", later italianized in "Gramolere".
The Wines
The traditional red wines they produce are genuine and authentic
In the cellar Claudio works according to tradition and his wines prove it.
Soft pressing, submerged cap fermentation with frequent pumping over and racking to keep the wine as clean as possible.
The Dolcetto d'Alba is aged in stainless steel or cement tanks, while Barolo and Barbera d'Alba age in large oak barrels.
The Barolo of Monforte
That of Monforte is certainly a terroir of the highest vocation.
The Barolo produced by Gramolere is garnet red in color, with a characteristic, ethereal and intense aroma. In the mouth it is dry, austere, but still harmonious and velvety.
It is a very persistent and long-aging wine that tends to improve in color, aroma and taste over time.
Produced Wines
Barolo DOCG, Barbera d'Alba DOC, Dolcetto d'Alba DOC, Vino rosato Isabella
Vineyards Extension
4.5 Ha
Vineyards Location
Monforte d'Alba
Agricultural Method
Traditional
Prices & Services
Wines selling prices
Wine prices
Barolo DOCG a 20€
Barbera d'Alba DOC a 7€
Dolcetto d'Alba DOC a 5€
Rosato Isabella 5€
Services
Pets Allowed Direct Sales Parking Lot Garden
Accepted Payments
Visa / Cartasi Mastercard
Az. Ag. Cascina Gramolere, Castelletto, Monforte d'Alba, CN, Italia
Discover ↝

Località Bricco del Gallo, Sinio, CN, Italia
Discover ↝

Via Loggero, 28, 12050 Sinio CN, Italia
Discover ↝


Frazione Annunziata, 38, 12064 Annunziata CN, Italia
Discover ↝

Via Vittorio Emanuele, 19, 12051 Alba CN, Italia
Discover ↝


For information and reservations fill out the following form, you will be contacted as soon as possible