Summer and barbecues go hand in hand. There is no escaping this existential axiom.
Meat bbq, vegetarian bbq, fish bbq or with unlikely products – for us carnivores – as seitan.
Grilling with charcoal, with wood, with a smoker, with gas or on stone….
No matter which type you choose, the important thing in summer is to set up a barbeque on the lawn (or on the balcony), strictly in the sun, light a flame, arm yourself with tongs and forks, and pour yourself a glass (of wine if you're a real man, beer if you're a hipster, or cedrata Tassoni if you're a teetotaler).
And then bake. For hours. While your friends guzzle in the shade.
Given my love for this summer ritual, as well as my dedication to its preparation, I take the liberty in this article to give you some advice on which dishes to try, and which wines to drink with them.
Starters
A barbecue that is a barbecue needs to begin in a graceful, discreet manner.
Stomachs and spirits need to be prepared for what comes next, so it is good to galvanize them with a few appetizers.
Bruschetta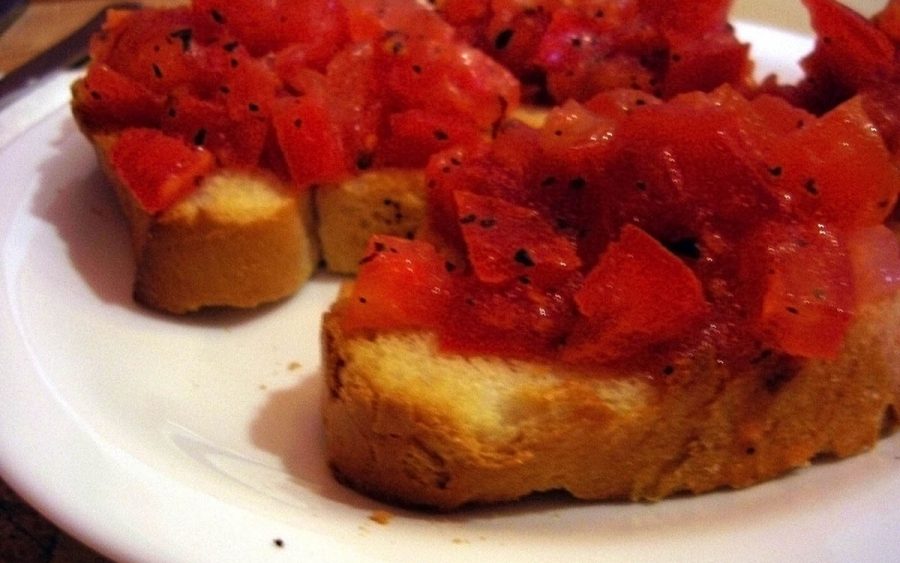 Bruschetta is synonymous with the grilled appetizer, and besides being an excellent opening dish, it can also serve as a 'degreasing' accompaniment for fattier dishes, such as ribs.
Moreover, its almost disarming simplicity of preparation makes it truly within everyone's reach.
The traditional bruschetta dressing consists of fresh tomatoes cut into small cubes (please buy real tomatoes, not the rubber balls from the supermarket), seasoned to taste with garlic, raw chopped onions (perhaps red or Tropea), basil, oil, vinegar and salt. You should let it sit for at least an hour or so before serving, so that the tomato takes on the taste of the garlic, onion and basil, and at the same time makes a bit of a 'wetness'.
Given its banality, I want to propose here a tastier variant of the bruschetta: the "PanMorando".
Variant "Morando"
The true origin of PanMorando is lost in the mists of time, and nobody is sure how it was first prepared, or for what reasons.
However, the recipe that reaches us today has been handed down for generations (one), in the Morando family, and Corrado is its proud custodian today.
Prepare an emulsion of oil, vinegar and salt. Slice the bread thicker than you would for the usual bruschetta. Dip the bread in the emulsion and let it absorb the liquid well.
When the bread is nicely soaked in seasoning, it is ready to be placed on the not-too-hot grill, where you should leave it until it has reached the optimum level of crispness.
Finally, the Bruschetta Morando can be garnished with the traditional tomato.
Optional: before the tomato, give the bread a good 'sfertà' (rub) with a clove of garlic.
Matching wine: Demarie's Roero Arneis DOCG or a Sylla Sebaste's Roero Arneis.
Grilled Sardines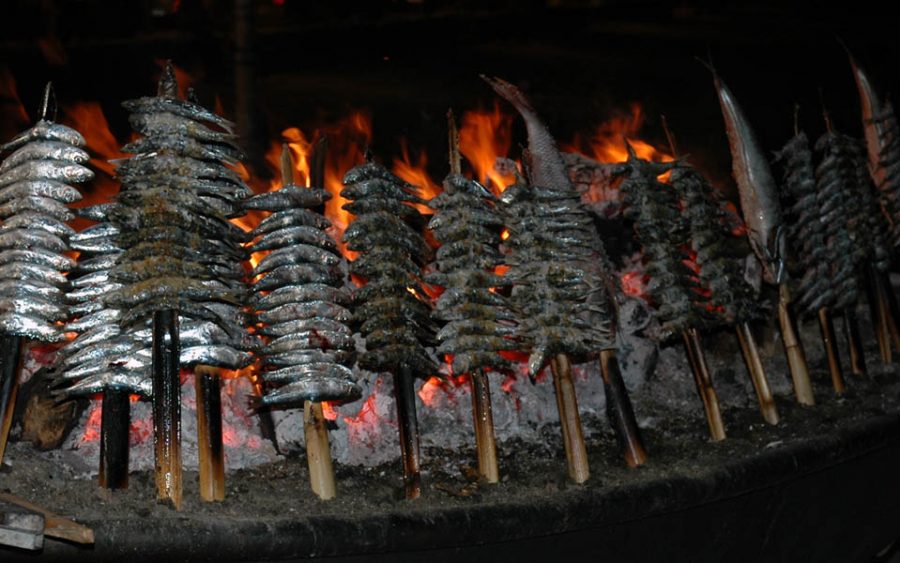 Sardines are delicious and, they say, also a particularly healthy dish from the cuisine of the poor.
Grilled, they are even more delicious: this type of cooking allows, in my opinion, to preserve much of the fish's taste, without covering it with unnecessary sauces and seasonings.
Tip: remember to grease the grill before cooking them.
Matching wine: an Alta Langa DOCG, the bubbles produced here in Langa.
Main Dishes: Meat
Meat, or "carnazza", as it is called in some fontamentalist carnivore circles I frequent after work, is perhaps the dish par excellence to be served grilled.
And it is my opinion that the grill is the best tool for cooking this food: as with fish, grilled meat keeps its taste intact and pure, without being adulterated by concoctions of dubious origin.
Ribs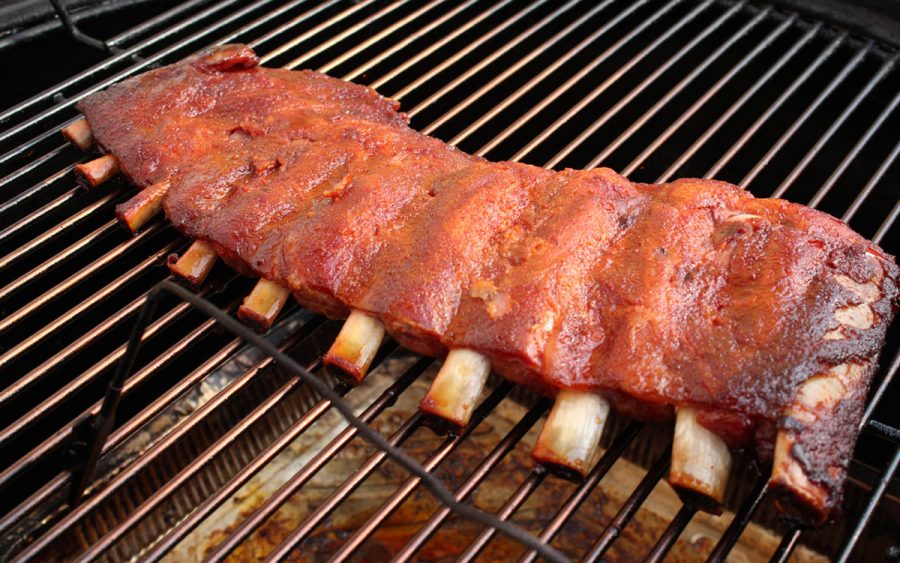 Ribs are so popular that their grilled variant has earned a name all its own: rib-eye steak, a term that is even used from time to time as a synonym for grilling.
Although I prefer them cooked "natural", you can possibly prepare a small gravy in which you let them sit for 30-40 minutes before cooking them (chopped herbs, oil, salt, pepper, and maybe a little wine).
Tip: I belong to the school of those who "pork should be cooked slowly and for a long time". Raise the grill as high as you can to keep it away from the coals, put the ribs on, and forget about them for a good 30 minutes (or even longer). The result should be unburnt meat, slightly crispy on the outside and tender and juicy on the inside.
Tip 2: After removing them from the grill, let them rest for a few minutes on a hot plate so that they regain tenderness, and adjust the salt if necessary.
Matching wine: Rabino Luigi's Grignolino, Francesco Borgogno's Barbera d'Alba or a Pelaverga from Verduno.
Chicken Wings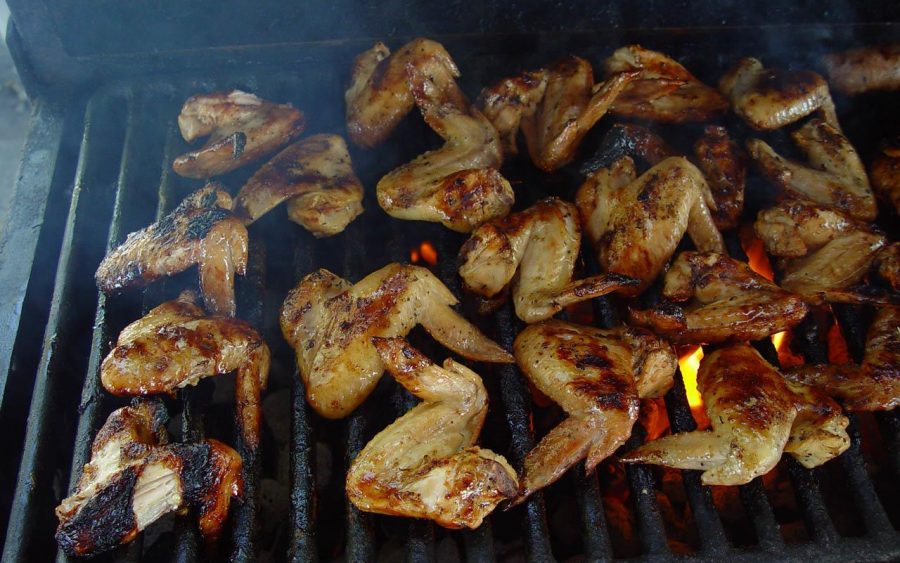 Another dish that cannot be missing from your barbecue is chicken wings (or thighs – preferably open and not whole). As with the rest of the meat, I recommend an extremely minimal garnish: chopped garlic, rosemary, thyme, mint and marjoram (fresh I recommend), with which to massage the chicken before cooking.
Tip: as with pork, chicken prefers, in my opinion, slow and long cooking. If your grill cannot be adjusted in height, leave a corner with less coals, so that the temperature can be lowered.
Matching wine: Nebbiolo d'Alba by Battaglino, or a Pinot Noir-based wine.
Steak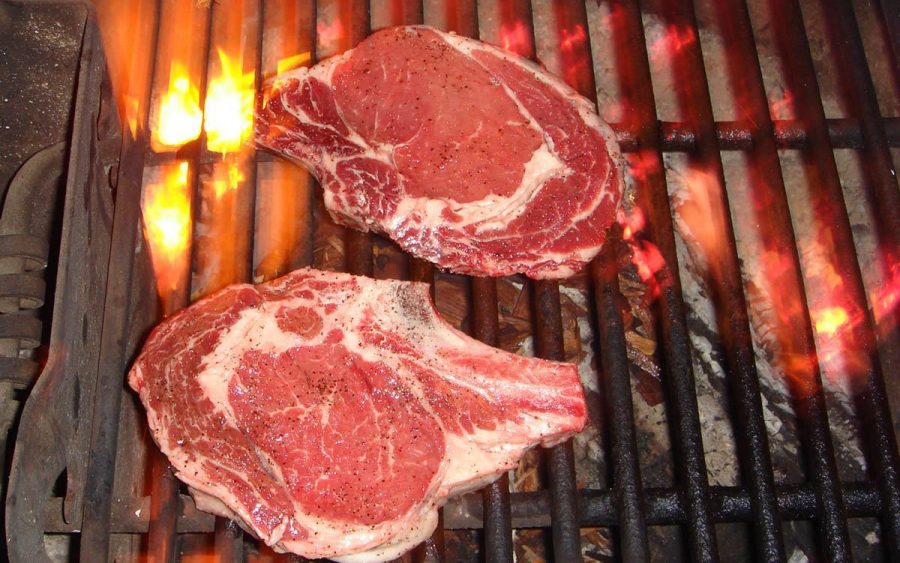 Veal steak is by far my favourite dish.
Whether rib-eye, sirloin, fillet or rump, for a perfect steak it is absolutely essential to put avarice aside, and buy cuts from the best butcher in your town or city.
Bad meat always brings mediocre results, but in the case of rib-eye steak, it is a sure recipe for disaster of biblical proportions: nobody wants to eat a tough, stringy, dry steak.
If the steak is very thick, you must equip yourself to have two cooking zones: one very hot, and one less hot. You can also adjust the height of the grill to regulate the heat.
The first 'bang' of cooking should be given at the highest temperature so that the meat makes a very thin crust and keeps the juices inside that keep it tender.
In the case of thick steaks, after an initial cooking at high temperature, you have to move them to a less hot area of the barbeque (or raise the grill) so that cooking can proceed inside without burning our precious steak.
There are many myths about cooking steaks, and I would like to dispel the three most common ones:
you must not salt the meat before cooking it because otherwise it dries out!
Not true: the outside of the meat dries out during cooking anyway. And indeed, salt helps to form the tasty outer crust (which helps to keep the steak tender as it 'seals' the juices inside). Just don't salt the steak 10 hours before cooking it, but just before cooking.
the steak should be turned many times!
False: the steak should only be turned once. Ask any master steak maker in the land, and they will tell you so. A single 'turn' helps to create a better crust
the steak is turned with a fork!
Untrue: never stab your steak with a fork to turn it! That's the best way to dry it out. Turn it with tongs instead!
Matching wine: a Barbera from Cascina Gramolere, or a Nebbiolo d'Alba from Barovero.
Hamburger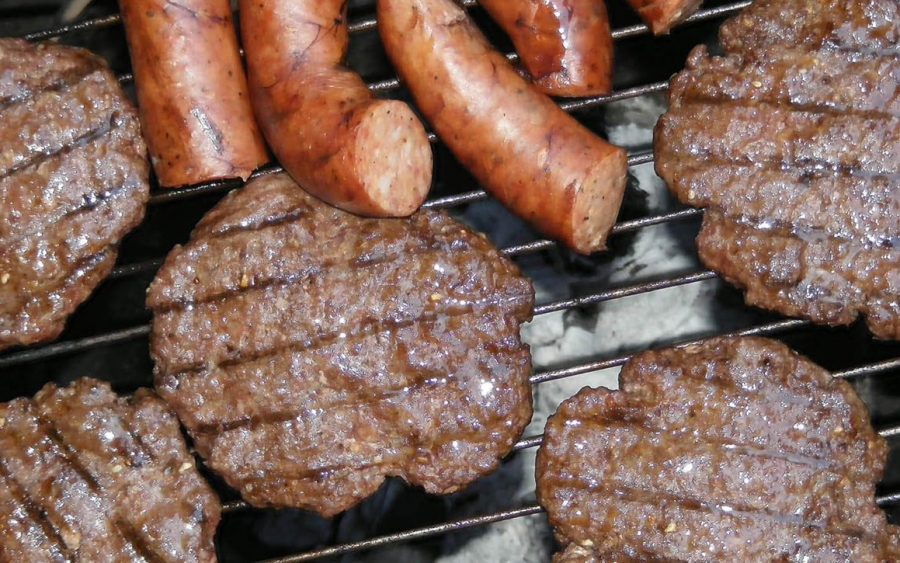 I make the hamburger like this: 500g of prime minced meat, a finely chopped onion, a raw egg. If I'm feeling dirty, I also throw in some bacon cubes (previously sautéed).
From this mixture, I usually make 4-5 meatballs which I cook on the grill at a medium temperature (or using the technique described for steaks).
Tip: don't crush your burgers while cooking them on the grill! A squashed burger is a dry burger, which has lost all its precious meaty juices.
Matching wine: a Dogliani DOCG or the 'Superiore' variant from Ca' Neuva, if you are looking for something more structured.
Side Dish – Vegetables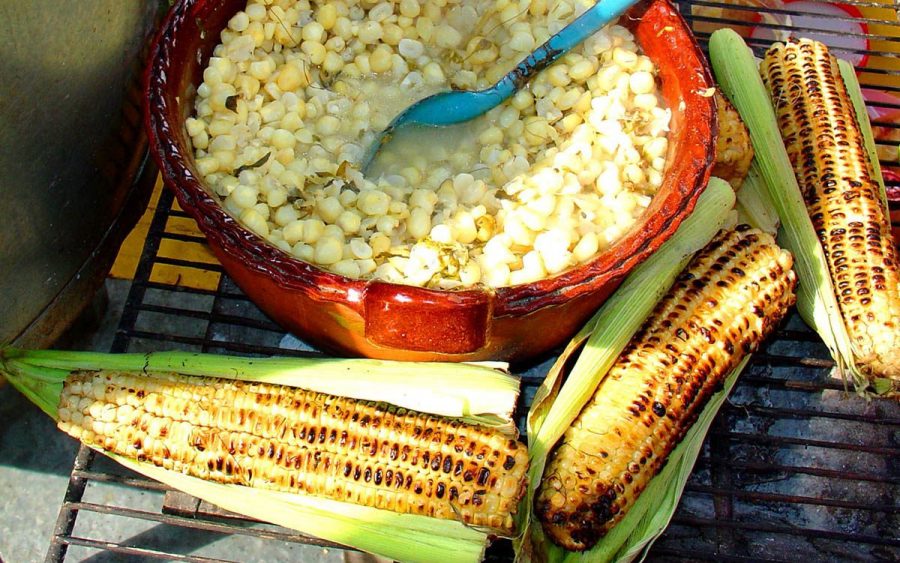 Besides the usual onions, courgettes and aubergines, here are some ideas to make a good impression on your vegetarian friends.
Corn
Take the cobs still wrapped in their 'husks' and place them on the grill at the highest temperature you can.
Give them a quarter turn every so often, and leave them on until the husk is scorched and crumpled by the steam escaping from the kernels.
Serve them spread with a little butter, and a sprinkle of salt and pepper, and you're done.
Matching wines: Demarie's Nebbiolo d'Alba DOC, Ca' Neuva's Langhe Nebbiolo DOC or a Pelaverga DOC.
Endive
Another very interesting vegetable to grill, if you like its slightly bitter taste, is endive.
Cut it in half, grease it with oil and give it a pinch of salt. Cook it over a medium heat.
Matching wines: given the particularity of the flavours, a Rabino Luigi's Grignolino, a Dolcetto d'Alba DOC or a Calosso DOC.
Techniques
If you are really "'into" grilling vegetables, watch this video, which will teach you how to grill even salad! I'm not kidding.
To Finish: Dessert
Nothing better than to end a barbecue with a nice dessert… prepared on the barbeque: chocolate bananas.
NOTE: do not, under any circumstances, remove the peel from this banana.
Make an incision running the length of the banana, on the inner side of its curvature. The incision should not open it into two separate parts, but simply create a "pocket" 3/4 of the way down.
In the incision put some dark chocolate cubes (or Nutella, if you are that kind of person).
Wrap the whole thing in foil and place it directly among the embers. Within 5-10 minutes, pull out your precious wrapper.
Open the foil and eat the chocolate banana cream with a teaspoon, straight from the peel, taking care not to melt your tongue.
Wine Pairing: Piemonte Brachetto DOC by Gatti, a Moscato d'Asti DOCG Ghiga, or a Passito di Arneis by Battaglino.
Vino in Abbinamento: Piemonte Brachetto DOC di Gatti, un Moscato d'Asti DOCG Ghiga, oppure un Passito di Arneis di Battaglino.