Sitting down at one of our tables means trying a unique culinary experience.
Originally one of the farmhouses owned by Virginia Ferrero, the hotel-restaurant Tota Virginia still today preserves the typical architecture dating back to the early twentieth century, with exposed bricks and arcades.
Located in a panoramic position in the small town of Baudana di Serralunga d'Alba, it offers a splendid view overlooking the Barolo vineyards, which are dominated by the Castiglione Falletto castle.
The Restaurant
The large windows, round tables, the simple and well-finished decor all create a bright and welcoming atmosphere. The owners enjoy receiving their guests in a homey and comfortable setting, while offering a high quality service.
The outdoor tables are found under the arcades, on the adjacent balcony. While, on the lower floor, the Salone Virginia hosts parties, weddings and meetings of up to 200 people. The portico envelops the garden; a green 'living room' where hotel guests can relax and cool off in the Langa stone pool.
The menu
The Chef, Claudio Cagliero proposes creative recipes, without neglecting the local tradition.
All ingredients are chosen with the utmost care according to what the season has to offer, so that they are always fresh, wholesome and of quality. The dishes were created to enhance the surrounding territory, while paying particular attention to products such as the white truffles from Alba, and Piedmont cheeses.
Guests can choose the dishes found in the 'à la carte' menu or savor the traditional menus and fish.
The Wine List
The modern in-house wine cellar has over 1,500 labels. There's also a wide choice of local wines from the surrounding territory: Barolo, Barbaresco, Nebbiolo and Barbera; along with the spumanti sparkling wines from the Langhe, Roero and Franciacorta regions. There's an interesting selection both national and international, including the best Passito wines on the market.
Along with the tasting menu you can choose wine pairings which will allow you to try each dish with the most appropriate label
Dessert, coffee and spirits
There's a wide variety of sweets; tasty little masterpieces made by the chef, created specifically to satisfy even the most discerning palates.
Coffee is served with little pastries and a rich list of spirits, preserved in the main hall's stone tower.
The Hotel
The hotel's 13 rooms are dedicated to people who wish to spend a romantic holiday immersed in the vineyards.
All rooms come with every comfort and the interior design pays attention to the tiniest of details, with elements and decorations that recall the world of wine.
Business Hours
12:30 → 14:00
19:30 → 21:30
Spoken Languages
English, Italiano
Events
at Antico Podere Tota Virginia
N° Seats
90 di cui 40 all'esterno
Menu Price
45,00€ - 60,00
Menu
In addition to the 'à la carte' menu the Chef proposes two tasting menus made up of 2 antipasti, a first course dish, a second course dish and dessert, of which the following are two examples:
traditional – 45€ per person
Fassona beef Carpaccio with tuma cheese, mushrooms and black truffles
Scalded sweetbreads and peaches
Pappardelle (large fettuccine) made with free-range cockerel offal ragù and passito and ox heart tomatoes
Fassone beef tagliata with marjoram and chive emulsion, crispy potatoes
Bavarian with blueberries in pomegranate sauce and crispy cereal
fish – 60€ per person
Mediterranean red shrimps with tomatoes, burrata cheese and hazelnuts
Traditional gardener's salad with tuna sashimi
Salt cod ravioli with cream of peas and taggiasche olives
Sour fish with vegetables
Dark chocolate Terra, green apples mousse with mint and lime almond brittle
The menus can be accompanied by wine pairings at a cost of 25 € per person.
For information and reservations please fill in the form.
Business Hours
12:30 → 14:00
19:30 → 21:30
Rooms
The Hotel has 13 rooms: 5 comfort, 5 superior and 3 junior suites with a view overlooking the swimming pool and come with a mini bar, satellite TV, safe, desk, air conditioning and wi-fi.
Room types

* single use

01-04/31-08

01-09/17-11

01-01/31-03

18-11/31-12

Comfort

140€

145€

120€

Comfort u.s.*

120€

125€

100€

Superior with balcony

160€

170€

140€

Superior with balcony u.s.*

140€

150€

120€

Junior Suite with balcony

195€

210€

165€

Junior Suite with balcony u.s*

175€

190€

145€

Junior Suite

180€

190€

150€

Junior Suite u.s.*

160€

170€

140€
Prices include room, overnight stay, buffet breakfast and swimming pool use. The visitors tax, 1.50€ per night per person, is not included.
Località Baudana 69, 12051 Serralunga d'Alba
Discover ↝


Via Ferrero, 1, 12060 Novello CN, Italia
Discover ↝





Piazza Vittorio Emanuele, 5, 12064 La Morra CN, Italia
Discover ↝
Antico Podere
Tota Virginia
Antico Podere
Tota Virginia
For information and reservations fill out the following form, you will be contacted as soon as possible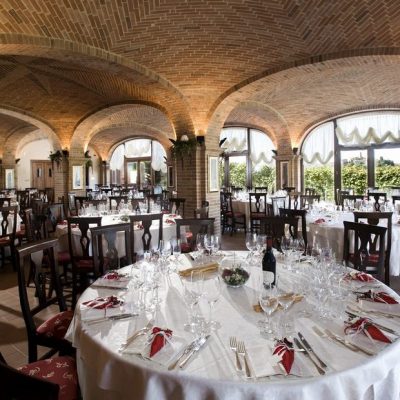 Business Hours
12:30 → 14:00
19:30 → 21:30