Christmas dinner is always an important family event: often it's the only time of the year that the entire family gets together. A special day where we can finally see, once again, grandparents, cousins and far away aunts and uncles.
Aside from the consumerist aspects of the festivities, Dinner continues to represent the true magic of Christmas: a special occasion to spend with loved ones that should be celebrated with an appropriate menu.
We from Piedmont are very traditionalists at the dining table and we try to use recipes that are often handed down from grandparents and that, in many cases, are so important they represent a kind of propitiatory rite for the family.
Alongside tradition, novelties are introduced, especially among the antipasti, so as to offer something different from the usual dishes. So, we're dedicating 2016 to truffles.
Truffles, the protagonist of the meal

Whether Black or White, truffles are an ingredient capable of enriching and enhancing even the simplest of dishes. Just a few shavings of this precious mushroom are needed to exalt the traditional Piedmont raw meat.

The important thing is that the product should be fresh at all times. Truffles should be eaten within 5-7 days maximum after they're purchased and can be stored in a tightly closed jar full of rice. This way, once you've finished the mushroom, you can still cook a risotto with the fragrance of truffles.

The White Truffle from Alba, scientific name Tuber Magnatum Pico, is considered the truffle par excellence because, commercially speaking, it has a significant role.

The Black truffle, scientific name Tuber Aestivum Vitt., on the other hand, is highly appreciated in the kitchen for its taste and aromatic fragrance.

Both are eaten raw and thinly shaved on the dishes when served. The recipes that are best suited for truffles are: antipasti, hand cut raw meat, fried eggs, mushroom caeser salads with ovuli or porcini mushrooms; for first course dishes such as simple risottos and tajarin (fettuccine) with butter.
Suggestions for Christmas dinner

Let's have a look at two complete menus that we suggested in recent years. The 2014 menu begins with a classic, veal with tuna sauce, followed by the famous Piedmont agnolotti (ravioli) and braised meat (veal or duck breast) in Barolo sauce.

The 2015 menu, on the other hand was made up of: Alba raw meat with thin layers of truffles, agnolotti with roast sauce and roast veal. Both dishes ended with a rich platter of cheeses, along with cognà sauce, and of course sweets: bunet, mont blanc or hazelnut and fruit cake.
Our suggestion for New Year's Eve dinner

The menus dedicated to the 'longest night of the year' are rich with dishes that will accompany everyone right up until midnight.

2014's menu began with a bagna cauda, the ideal dish for a dinner with friends, followed by cream of leek and chickpea soup with pork ribs. The second course was a choice between hare civet or braised meat in Barolo wine.

The 2015 menu, on the other hand, was somewhat more sober and offered fewer choices among the dishes. The antipasti: smoked beef with gorgonzola sauce and cardoon flan with bagna cauda or fonduta and truffle.

After the gnocchi al Castelmagno, the second course was a choice between capon galantine and wild boar in Barolo wine. And finally, the cheese platter and desserts: panna cotta, zuppa inglese (traditional Italian pudding), mont blanc and of course bottles of spumante for the midnight toast.
The wines to pair with our menus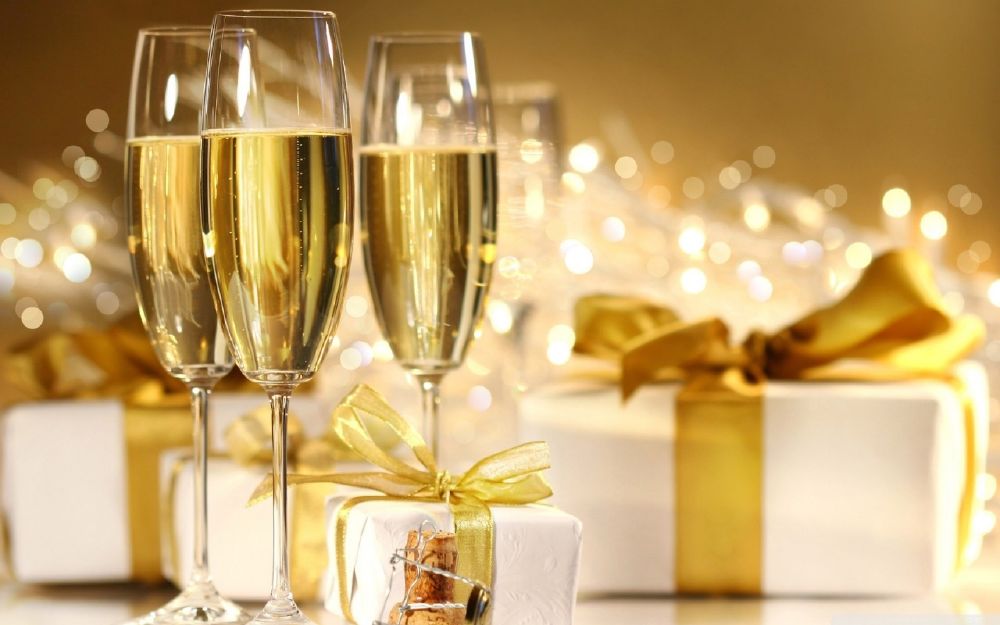 Similar to a menu's dishes, the wines too follow a precise order, in a crescendo of intensity, complexity and aging.
Antipasti
We start with wines that are younger and fresher, the white wines: Chardonnay and Favorita are ideal for accompanying veal with tuna sauce and Jerusalem artichokes cream.
Then come the younger read wines, Dolcetto and Dogliani, ideal for pairing with dishes with a more decisive taste or meat dishes, such as smoked beef and raw meat.
First Course Dishes
For first course dishes, the Christmas Queen is Barbera; a wine with a rather acidic taste and that goes perfectly well with somewhat fatty dishes like agnolotti with roast beef sauce, gnocchi al Castelmagno and chickpea soup and ribs.
Second Course Dishes

And now the moment has come to serve Nebbiolo, and excellent substitute for Barolo when preparing braised meat and ideal for accompanying second courses with meat. Important dishes such as braised meat, hare civet and duck breast are paired with Barolo and Barbaresco.
Dessert
Last but not least, the Moscato; an aromatic wine that is a perfect match with classic festivity sweets, panettone and pandoro above all. At this point there's nothing left to do but decide which dishes and menus to serve for your holiday lunches and dinners and wish you season's greetings.
PS: if you're looking for some Christmas events to help you work off all that food, click here to discover the main events (available in Italian only).