Barolo is the world most popular red wine of Piedmont (known as the "King of wines") for its personality and strenght. It is produced using Nebbiolo grapes in purity (varieties: lampia, michet and rosé) and has to be aged for at least three years, two in oak Slavonian  barrels.
The tannic component, due to the aging in wood and presents in the skin, is remarkable and helps making it a wine with a very good longevity, able to improve over time until reaching 15/20 years.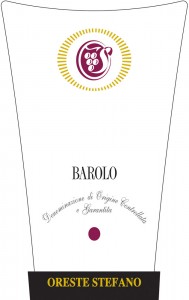 Among the Barolo's production areas in the heart of the Langhe hills, we find the town of  Monforte d'Alba where is the family wine farm of Oreste Stefano that today offers us the Barolo D.o.c.g. 2008.
Tasting notes
Garnet red in colour with orange nuances, it is quite thick (look at the wine "tears" on the glass) and bright.
The aroma is ethereal and elegant with typical spicy hints which remind of tobacco, leather and violet with vanilla perfumes as well.
Full-bodied and dry in taste, very warm (14,5%) with soft fruit flavour. We can see a good balance among sapidity, tannins and alcohol that contribute the improvement and the strengthening of aromas over time.
Let's tasting this Barolo in its proper balloon glass, after two hours decantation, at the middle temperature of 18/20 degrees and let's combine it to very tasty and rich plates based on red meat, game, well aged cheese and cold cuts such as wild boar with Barolo, braised with polenta, truffle fondue, mushrooms roast, mixed boiled or Castelmagno, Raschera strong cheese.
Have a good tasting!