Close to Alba (Cuneo), on the beautiful Langhe hills, there is the family wine-farm Manera that since generations vinifies the best wines from Piedmont such as Barbera, Barbaresco, Dolcetto and Nebbiolo d'Alba d.o.c. 2009, the wine we are about to taste today.
It is one of the most loved wine ever, known all over the world, which name comes from the Italian word "nebbia" (fog), as the Nebbiolo vinyards on the Langhe areas are usually surrounded by a deep and intense fog during the harvest at the end of October.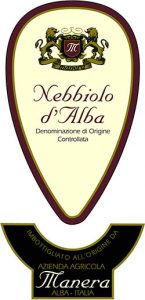 It is vinified only using Nebbiolo grapes and aged partly (70%) in oak barrels and steel silos (30%).
Tasting notes
It is red ruby intense in colour with light garnet nuances and clearly shows those typical arches on the glass due to the alcohol's level.
Its aroma is ethereal and full of fruity notes like currants and black cherries with floreal hints as well (geranium), apart from the nice spicy and vegetal sensations (cloves and green pepper).
The taste is dry and slightly bitter. It is quite warm (13.5 degrees) and well structured with a good acid and tannic component that gives this wine complexity and longevity.
Let's serve it in the right decanter and make it breathe for a while into its ballon glass in order to spread the parfumes properly.
Combine it with rich and fatty dishes based on red meat and game like wild boar stew, roasts, brased and mixed grilled. Or try it with well aged cheese of both goat and cow milk.