The Gabutti Boasso wine farm of Serralunga d'Alba (Cuneo), since the 70s vinifies the best piedmontese wines such as Barolo Serralunga D.o.c.g. 2006, following those simple and good traditions handed down over time.
Known all over the world as the "king of wines", the Barolo is famous for its complexity of aromas, the very good structure and its typical longevity which allows the improvement  through years (until reaching 20/30 years).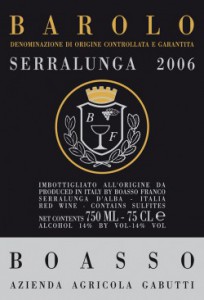 Vinified with Nebbiolo grapes in purity, it is aged three years in Slavonia barrels and refined six months in bottles.
Tasting notes 
Let the wine breathe in the decanter for at least 2-3 hours before the tasting in order to allow the escape of aromas and the deposit of any remains.
It is red ruby intense in colour with garnet nuances and runs thick in the glass, showing those archs (tears), due to the alcohol level.
The bouquet is clean and very fruity (blueberries and blackberries) and slightly spiced (black pepper, cocoa and leather). It presents mineral and grassy hints at the end.
Full bodied and warm in taste (14 degrees), it is dry and very persistent with a strong sapid note which, raising the salivation, get a right balance with the tannic component (it makes it astringent, on the contrary).
It is perfect when combined with rich and tasty plates of red meat or game in general like roasts, wild boar with polenta, boiled and stews. Good as a sipping wine or served with well aged cheese and cold cuts.
Enjoy it!