If you want to amaze your friends during dinner with a simple table wine but well structured and elegant at the same time, then do serve the Barbera d'Alba D.o.c. 2009 (red piedmontese wine of ancient origins) from Giacomo Vico canteen in Canale d'Alba (Cuneo).
The winefarm, on the beautiful Roero hills, vinify this wine in purity (only using Barbera grapes), aged it in steel silos for 4 months and then in bottles, allowing it to achieve great results up to five years from the production.
It is of an intense red ruby colour, quinte dense and well bodied.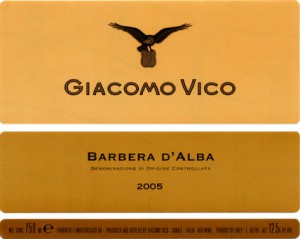 Its perfumes, very aromatic and deep, remember the small red fruit (blackberries, ripe cherries and currants) and sweet spices (cocoa and vanilla).
The taste is fruity and well balanced in all its parts. It is dry and warm (13.5 degrees) and has a good sapid, tannic and acid levels.
This Barbera is ready to be drunk and it adapts well to any situation. Let's combine it to cold cuts and middle aged cheese or with risottos and fresh pasta with meat sauces (ragù) and mushrooms. Try it also with dishes based on red meat such as roasts, stews and boiled.
Serve it at a temperature of 18-20 degrees.
Have a good taste!