The Abbona family, owners of the Cantina Cà Neuva di Dogliani winery, is celebrating its 90th anniversary by presenting a new exuberant wine: the Langhe Doc Excelso.
A red wine of great structure with soft and intense tannins, assembled using three vine varieties (Barbera, Nebbiolo and Cabernet) of which we will never know the exact proportions; this is Sergio's secret recipe and he guards it jealously.
Curious name, Excelso, which has a double meaning: a tribute to Celso, the company's founder, and a reference to its excellence, from the Latin word excelsus.
Production method
Winemaking method: fermentation with medium-long maceration on the skins in stainless steel tanks. Followed by a six month period of refinement in wood.
Temperature: between 25° and 28° degrees.
Tasting the wine
The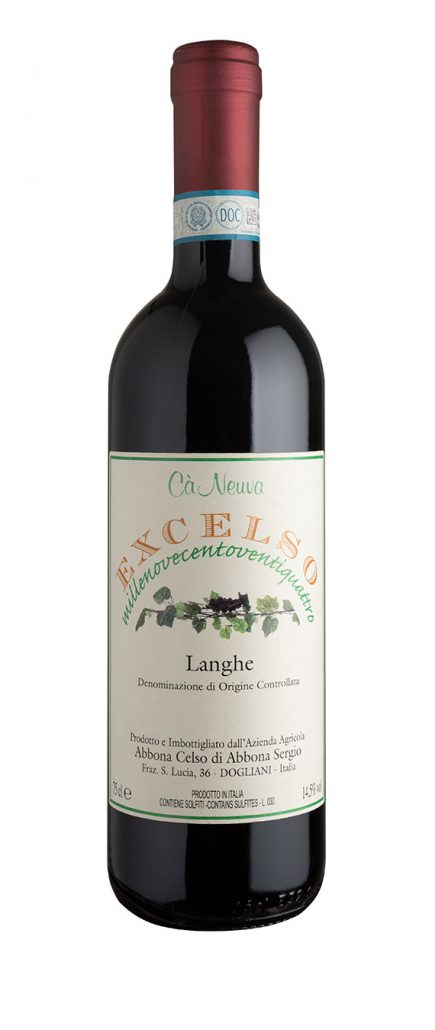 ruby red color of this wine arouses freshness which in fact can be found both in its fragrance and in the mouth thanks to the percentage of Barbera.
In fact, the nose perceives red fruit notes, spices and jams as a result of the splendid combination of the three grape varieties: Barbera, Nebbiolo and Cabernet. This combination of grapes emanates sensations of fresh, ripe fruit with pleasant persistence.
Grapes: Barbera-Nebbiolo-Cabernet
Alcohol content: 14,5%
Color: light ruby red
Bouquet: very ripe red fruit, slightly spicy and intense aromas
Taste: when tasting it you immediately get a sensation of freshness given by the Barbera, the slightly spicy Nebbiolo and the Cabernet's vegetable flavor
Pairing: goes well with vegetable dishes and selections of cold cuts and medium-aged cheeses.
You can find the Langhe Doc Excelso di Cà Neuva on ShopLanghe, sold directly by the producer.