The typical products of the "I Tre Poggi" farm, the DOC wines, follow the biological disciplinary specifications (the Codex Certification) and the biodynamic specifications (the Demeter certification).
Biodynamic agriculture is a cultivation system based on a spiritual and anthroposophic vision that stems from Rudolf Steiner's theories.
It entails sustainable systems for agricultural production, particularly of food, that respect the terrestrial ecosystem, including all its components and lifecycles.
The main area of the Freisa wine, an ancient Piedmont vine variety, widespread all over Monferrato and Asti, is found in the territory north of the province of Asti.
The Freisa d'Asti wine can be produced in various versions, with or without aging in wooden barrels and, if it comes from a careful selection of grapes and remains in the cellar for at least one year, it can be placed within the "Superior" category.
In rural tradition it was also produced as a sweet wine used for accompanying fruit-based desserts.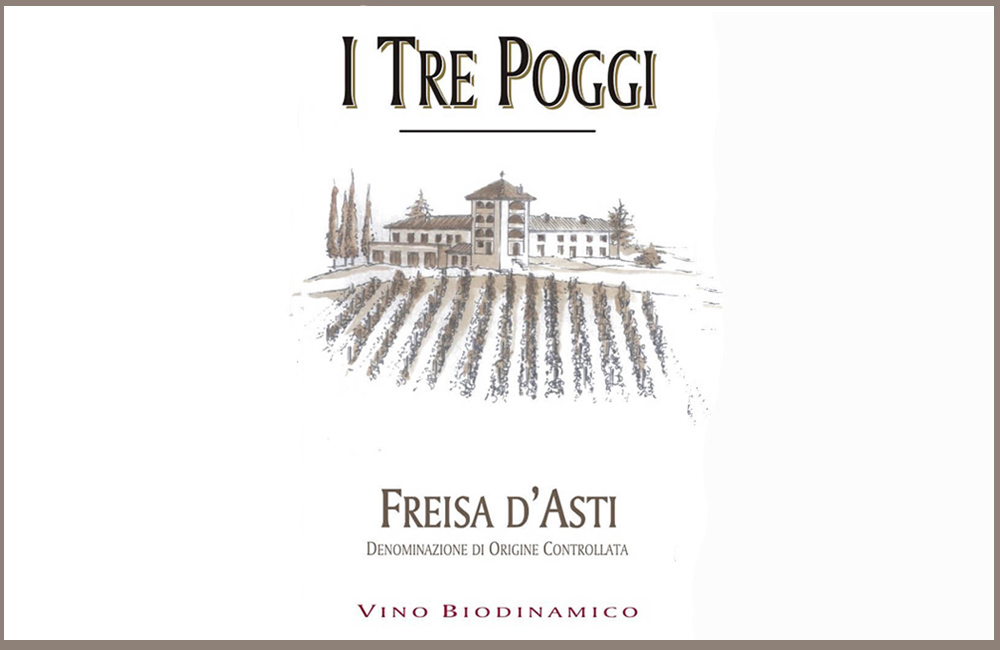 The "I Tre Poggi" – Freisa d'Asti DOC 2010 color is ruby red tending towards garnet.

What prevails in its scent is the delicate aroma of roses and raspberries, which evolves into a pleasant musky fragrance with aging.

It is dry to the palate, with a pleasant and typical tannic sensation that aging completes and harmonizes.

Grapes: 100% Freisa

Alcohol content: 13%

Color: intense ruby red with pale garnet reflections

Bouquet: fruity notes and delicate hints of rose and raspberry.

Taste: it is typically tannic and fruity to the palate

Pairings: it accompanies well pasta dishes with meat sauce or complex sauces and lengthy cooking meats.

More info on the producer's website itrepoggi.it