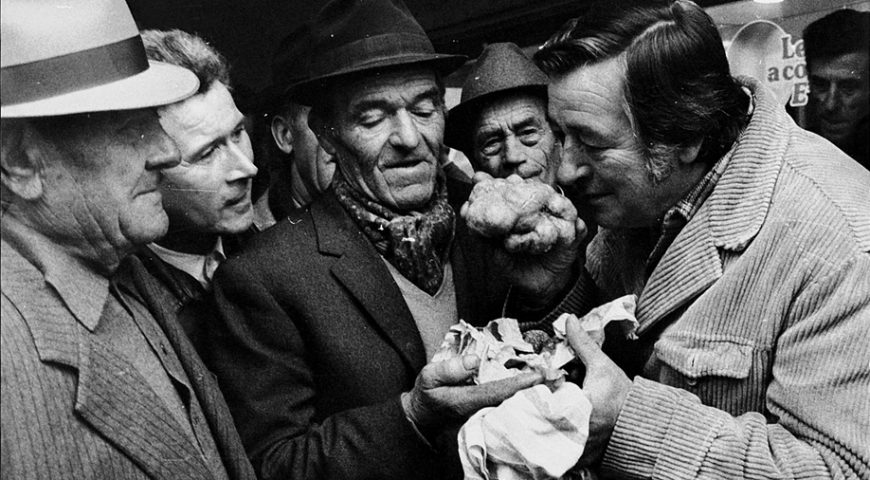 The Truffle fair was first held in 1929 as "competitive fair of the famous Truffles of the Langhe", as a part of the Harvest fair. Truffles, that were usually sold for 120-150 lire/kilogram, on that particular day were sold for up to 200 lire/kg. It was a teacher's monthly wages.
In 1932 the fair was already in full bloom and the following year it officially acquired the name of "Truffle fair"; then, the matching during the fair of truffles with wine and gastronomy started.
Suspended in the war years, the Fair started again in 1945, as a sign of Alba's desire to re-establish the old habits. It lasted three days and had a huge success: the price of a truffle had grown up to 2700-3000 lire/kg, the quality was good and so was the quantity available.
Seeing great moments and difficule ones, the Fair has been held for sixty years, and it's been an important event for the promotion of the territory and its products; it's accompanied the changes in the city and its people, and has been helped by their enthusiasm, fun, culture.
Program of 84° Fiera Internazionale del Tartufo Bianco d'Alba: 11st October 2014 – 16th November 2014
The market
The Truffle fair has givenworldwide prestige to this mushroom and promoted the image of this area and its products.
The truffle market is extremely mysterious in its development. At the beginning all the trifulaus (the truffle searchers) stand still, hiding their findings in the big pockets of their moleskin jackets.
They talk of dogs and rain, of seasons and findings, and wait for the market to start, for the buyers to become impatient. Then slowly, carefully, they take their little treasures out of the pockets, kept in big linen cloths: the smallest ones come out first. The bigger and most precious ones are to come out at the end, for the patient ones. They act as if they were jewelry sellers, rather than mushrooms searchers. And while the scent of truffles is so strong to become intoxicating, the smart trifulaus close their best contracts.
http://langhe.net/wp-content/uploads/2017/01/Tartufo-1.jpg
687
918
Redazione Langhe.net
http://langhe.net/wp-content/uploads/2014/10/Langhe1.png
Redazione Langhe.net
2013-09-09 09:00:16
2014-08-14 12:47:48
The national Truffle fair and the market