Lower Langa
Cortiletto d'Alba
Hotel and restaurant
Hotel Restaurant in Alba
Cortiletto d'Alba Hotel and restaurant
Holidays
27th of July — 18th of August
Just a short walk from the center of Alba and 200 meters from the train station, this inn is the result of a careful renovation of historic premises and old cellars, built on the old rampart of Alba thanks to the passion and enthusiasm of the owners.
There is a family atmosphere, with owner Marisa and her daughter Elisabetta taking care of the management of the establishment.
It is the ideal place for the business client or tourist who will have the pleasant feeling of feeling at home, but with some extra attention!
The small restaurant offers you Piedmontese menus and mouth-watering aperitifs for all budgets, and the facility also has 5 rooms for those who plan to spend several days in the capital of the Langhe.
The Restaurant
The cuisine on offer is strictly Piedmontese, with the great traditional classics
The cozy indoor hall features exposed brick, and the kitchen is designed to offer a gastronomic panorama of local products.
All dishes offered are rigorously prepared in their own kitchen, the care and passion of the owners is geared toward recreating the pleasant feeling of "eating at grandma's"
Marisa and Elisabetta have come up with 1 tasting menu with dishes that cannot be missed on a visit to the Langhe.
Barolo tasting menu
Appetizers from the Inn
Knife-braised Battuta di Fassone
Classic "VitelTunè" with a pink heart
Tajarin with Veal and Sausage Ragout or Plin Butter and Sage
Bites of Veal with Barolo or Roast Loin with Toasted Hazelnuts with side dish
Grandmother's Bunet or Hazelnut Cake with Muscat Cream
Price: €30.00 with water, cover charge, 1 glass of white wine, 1 glass of red wine and coffee.
You can also choose from the a la carte menu, with items changing periodically.
Specialties
Tajarin with Veal and Sausage Ragout
Tasting Menu
Starting at 30€
Wine by the Glass
Not available
Special Menu
Vegetarian: No
Vegan: No
Celiac: No
The Rooms
The five rooms, modernly furnished with care, are bright and very cozy.
Il Cortiletto is in a location very convenient to all services and the historic center of Alba, ideal for experiencing the full atmosphere of the city.
The property is also an excellent starting point for exploring the UNESCO World Heritage area and the food and wine riches it has to offer.
Double Room
Starting at 85€
Single Room
Starting at 60€
Prices & Services
Contact the Cortiletto to check room availability
Prices according to season
Low season from 1/1 to 14/9 and from 1/12 to 23/12:
Single room 60.00 €
Double room 85,00 €
Triple room 110.00 €
High season from 15/9 to 30/11 and from 24/12 to 31/12
Single room 65.00 €
Double room 95,00 €
Triple room 130,00 €
Services
Air Conditioning WiFi Elevator Minibar TV
Accepted Payments
Visa / Cartasi Mastercard American Express
Locanda Cortiletto d'Alba, Corso M. Coppino, 27, 12051 Alba, CN, Italia
Discover ↝


Località Bricco del Gallo, Sinio, CN, Italia
Discover ↝

Piazza Canonico Borgna Don Pietro, Verduno, CN, Italia
Discover ↝



Castello di Benevello, Via Scuole, Benevello, CN, Italia
Discover ↝

Cortiletto d'Alba
Hotel and restaurant
Hotel Restaurant in Alba
Cortiletto d'Alba
Hotel and restaurant
Hotel Restaurant in Alba
For information and reservations fill out the following form, you will be contacted as soon as possible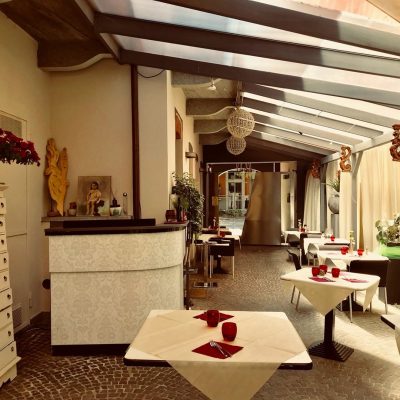 Cortiletto d'Alba Hotel and restaurant
Holidays
27th of July — 18th of August