The truffle is a precious commodity, constantly discussed, but always surrounded by an aura of mystery.
The enthusiasts learn to distinguish the main varieties, including the characteristics of the White from d'Alba, the Black and the Scorzone truffle, but few know the facets of this rough diamond of the earth.
The question is very similar to that of wine under several points of view: there are the different vines, and there's no escaping that, but each of them creates different hints in different lands.
And so, just like the popular subject of the terroir, even truffles are differentiated by the most influential criterion: the land in which they grow.
The landscape of the "Rocche"…
From Pocapaglia to Montà, until you get to Cisterna d'Asti, the landscape of the rocche of Roero extends, a long rift of the earth characterized by steep cliffs and pinnacles of sand in slow erosion, which take on a singular beauty.
This spectacular interweaving of valleys is covered in the valley floor by a wild and colorful vegetation, which grows wild and lush.
However, this vegetation is very different from the one in which truffles are usually sought, as it originated from a poor soil, a mix of sand and tuff: an insufficient structure for trees like oaks.
These factors might seem, to a distracted eye, to misrepresent the area to the growth of hypogean mushrooms: they create instead the optimal conditions for the development of a white truffle at its best.
In fact, sand and tuff form the perfect symbiosis: the first, in case of rainy years, ensures good drainage, while the second protects from drought when the rain is scarce, retaining moisture and giving the truffles of the rocche its quality mark, the characteristic yellow color.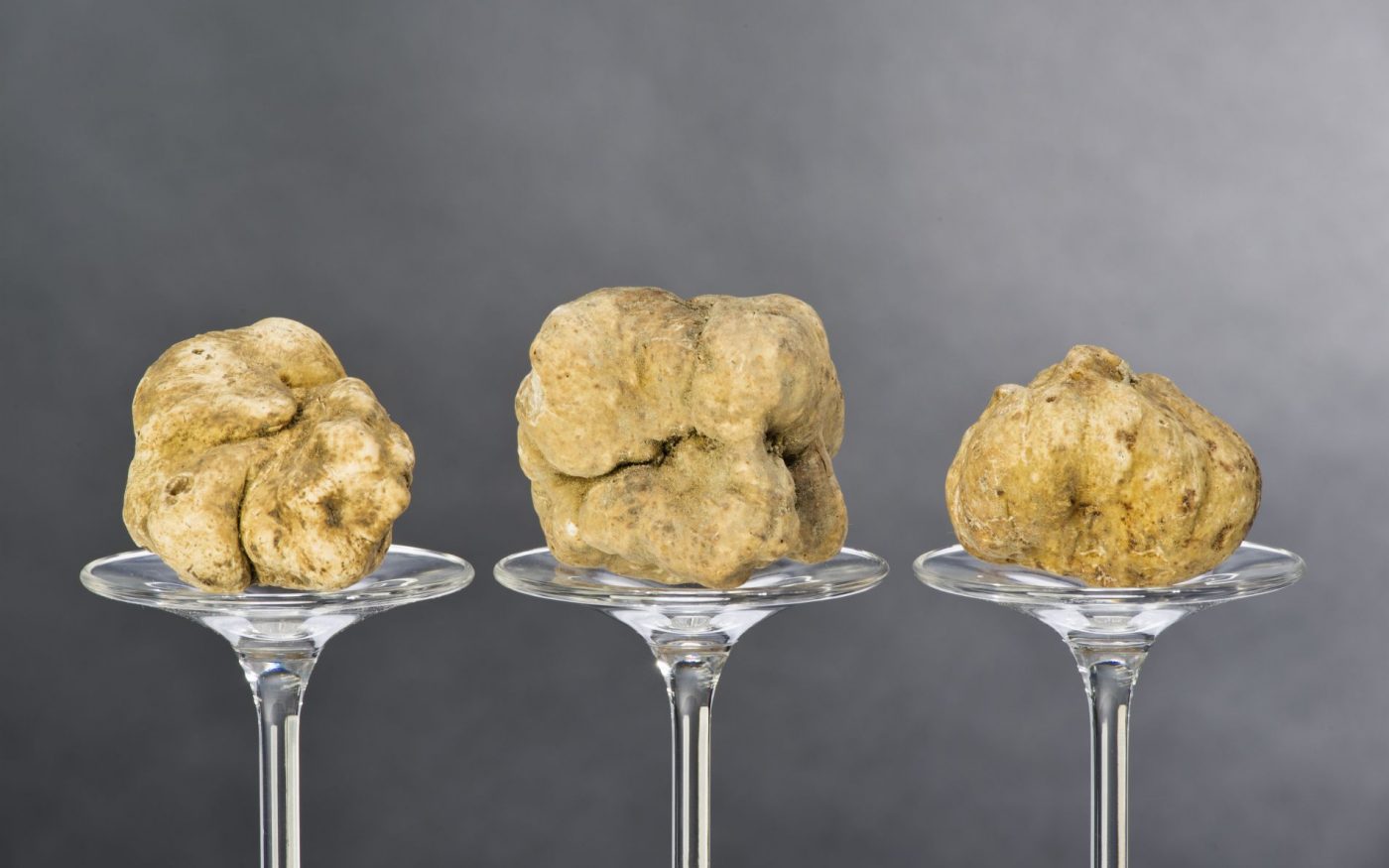 …and its truffle
Another similarity between truffle and wine is the contact: in both cases, when you approach a new product, the path is made of sight, smell and taste.
You start by observing the color, the appearance, the softness and the nuances.
You are then struck by the scent, trying to recognize the influences and classify it in a category.
Finally, but only after an external study, you taste it, completing the evaluation.
The Rocche truffle reaches excellence in every step above: the aspect is the first criterion to give it an added value, with the particular color already described and the spherical shape.
The latter is due to the composition of the soil, which thanks to its softness makes it smooth and clear.
But the appearance is not enough to make a truffle more precious: the scent of the product of these lands is intense and delicate at the same time, a sweet persistence far from being exaggerated.
The taste then takes away any doubt from even the most experienced mouth, guaranteeing it its fame, and placing it among the most sought after and expensive truffles of the entire world market.