Served and revered: let's all go to a restaurant for Christmas and New Year's 2016
December 22, 2016

If cooking isn't your thing, but you don't want to give up celebrating in company on Christmas and New Year's, then you have to place your trust in expert restaurateurs.
Excellent cooks and waiters will pamper you with tasty dishes made specially for the holidays.
So here's our recommendations for four restaurants with menus to satisfy all tastes and all budgets.
Matteo Morra Restaurant
Matteo Morra is a young chef with extensive experience. For Christmas, we suggest a tasty menu made up of local raw material combined with fish.
His dishes are light and delicate, all rigorously cooked on the spot to guarantee freshness and taste.
In the dining room, you'll be treated with the utmost care in a sophisticated and refined atmosphere.
A perfect choice if you want to feel pampered and savor dishes that are slightly different from the typical Langa cuisine.
The menu
Welcoming entrée
Octopus And Potatoes
Hazelnut bread with pepper ice cream and anhydrous anchovy
Antipasti
Marinated beef carpaccio in Barolo with wild fruit sauce
Seared codfish with tomato sauce
First Course Dishes
Chestnut ravioli with goat cheese sautéed in butter and thyme
Pumpkin risotto, Cervere leeks and scallops
Second Course Dishes
Langa kid roast
Dolce
And we mustn't forget chocolate, the sweet par excellence (ed. note: this isn't a typo, it's the name of the sweet that Matteo actually chose for you ;-)
Price 65€, excluding wines. Click here for more information (available in Italian only).
Il Vigneto di Roddi
If you're looking for local dishes from our land, but you don't want to give up trying an innovative cuisine, then Vigneto di Roddi is the restaurant for you.
Seasonal raw materials and new interpretations of grandma's recipes await you in an elegant and welcoming atmosphere.
Manolo and Rossano Allochis, respectively chef and dining room manager, have created a Christmas menu that will awaken your senses. From sight to taste, you'll be pleasantly satisfied.
The menu
Welcoming entrée
Welcoming snack
Antipasti
Marinated salmon with spiced bread and chives cream
Meringue egg with black truffles and fondue
First course dish
Ravioli del plin with pork sausage, potatoes and cabbage with braised meat
Second course dish
Capon stuffed with chestnuts and lard
Sweets
Meringue sphere with nougat and warm chocolate
Panettone, mandarins and hazelnuts
Price 50€, excluding beverages. Click here for more information (available in Italian only).
Dei Bersaglieri
For those of you who love a basic traditional cuisine, and aren't interested in innovative dishes, book your Christmas dinner at the Ristorante Dei Bersaglieri.
This restaurant's savory food, fresh produce and a typically regional menu will make you feel at home.
All you need to worry about is enjoying the meal and making room for all the dishes the owners created for you and your loved ones.
Beginning to savor the food? Wait till you read the menu!
The menu
Antipasti
Pork sausage with creamed leeks
Crepes with cheese
Slice of trout meunière
Langa raw meat
Autumn salad with duck, peppers and pomegranate
First Course Dishes
Plin agnolotti pasta with butter and sage
Tagliatelle in ragù sauce with sausage from Bra
Second Course Dishes
Veal stew with Dolcetto
Stuffed capon with hazelnut sauce and side dishes
Sweets
Christmas log
Chilled dessert with cinnamon
Dried and fresh fruit
Price 28€, excluding wines and beverages. Click here for more information (available in Italian only).
Ristorante I Castelli
In addition to an excellent New year's menu which offers typical holiday dishes and fish, the Ristorante I Castelli will surprise you with its dining room.
This room, placed thirty meters high and entirely surrounded by windows giving access to a panoramic terrace, will make you live magic moments.
You'll be amazed by the 360° view over Alba'a historic center and the Langhe and Roero hills and, weather permitting, you can celebrate New Year's eve with the lights from the nearby towns.
The menu
Antipasti
Peppers and tuna tile with artichokes salad
Small octopus stewed
Pork sausage and mashed lentils
First Course Dishes
Plin ravioli stuffed with three roasts with mountain butter and rosemary
"Carnaroli" risotto with leek from Cervere, nuanced in Arneis
Lemon-sage sherbet
Second Course Dish
Sea bass with pureed olives
Sweets
Hot savory pie with red fruit sauce
Dried fruit
Panettone with a glass of Moscato
Price 80€, excluding wines. Click here for more information (available in Italian only).
Other restaurants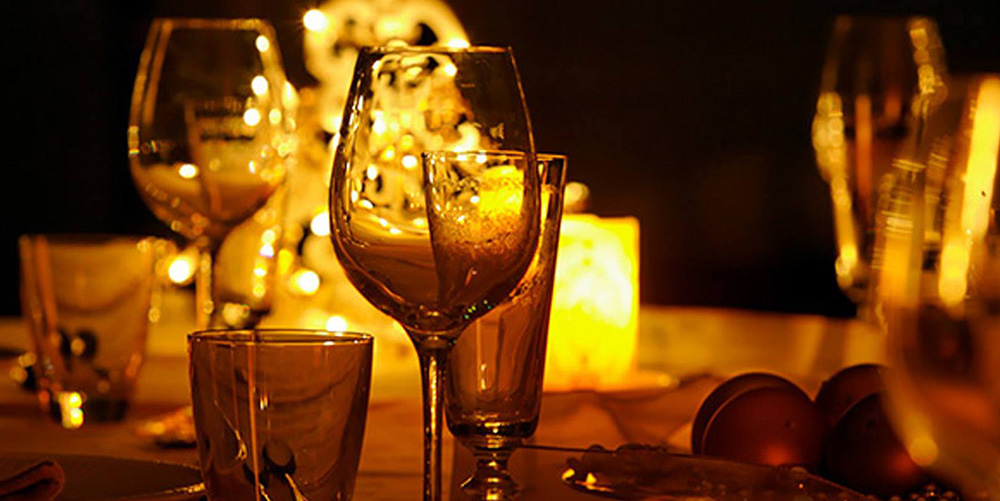 Satisfied with our recommendations? If you're still skeptic and want some more alternatives, here's a few more tasty menus created for your holidays.
For your Christmas
Discover what's on offer by other restaurants that are ready to welcome you with their equally tasty dishes for Christmas Day (available in Italian only).
For your New Year's
If you've already decided what you're doing on Christmas, then organize New Year's eve dinner. Here's more tasty suggestions (available in Italian only).