The century-old Cantina Fratelli Ferrero in La Morra today is run by Renato, his wife Nina and their two children, who represent the family's third generation. Today the family still retains the Manzoni cellar, which takes its name from the adjacent vineyard where the precious Barolo comes from. The building is quite old, dating back to 1750 and was built using  a special technique: a pit was dug from the ground where the load-bearing walls were built, while the vault was placed on the ground. Once the construction was completed, the cellar was emptyed from the inside.
During your visit to the winery you'll see the barrique barrels where our Manzoni ages and uncover the mystery of the Moet et Chandon magnum.
Production Method
The limestone and clay ground produces wines of great structure and exceptional longevity, capable of surprising after a long aging period.  When young, they have quite pronounced and harsh tannins and pungent and persistent aromas.
Winemaking: in stainless steel tanks through pumping, manual crushing and carbonic maceration which takes place only in the best vintages when the grapes ripen perfectly. This  allows for greater complexity.
Ageing: the high concentration of tannins, due to the vineyard's limited production, is finalized in French oak barrels, thus making the wine darker.
Tasting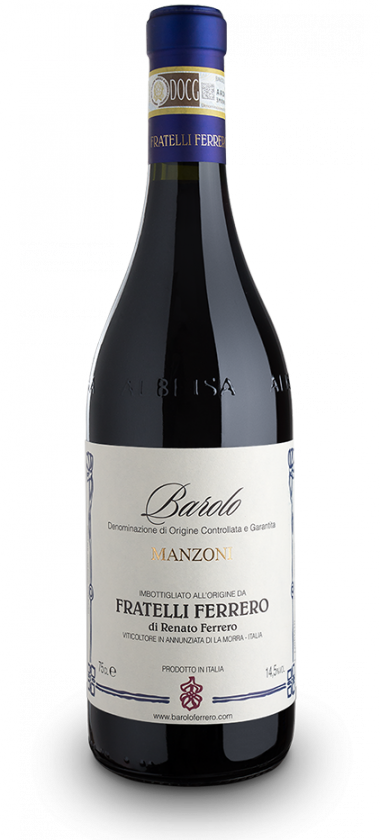 The Manzoni Barolo has a ruby red color with shades ranging from grenade to orange as the refinement of the product increases. The aroma is intense and complex: notes of ripe fruit, spices, cocoa and tobacco attract your attention. In the mouth one can taste extremely ripe fruit accompanied by pronounced tannin sensations and notes resulting from aging in wood.
Grapes: 100% Nebbiolo.
Alcohol content: 14,5%
Color: ruby red with garnet reflections.
Bouquet: one can taste a strong hint of ripe fruit, tobacco, cocoa and spices.
Taste: in the mouth the tannin is quite strong and persistent with intense and persistent notes.
Pairings: it goes well with all second meat courses and game if drunk after appropriate aging.
You'll find the Barolo Manzoni Fratelli Ferrero on ShopLanghe, sold directly from the producer.