Langhe Rosso D.o.c. 2008 is a still red wine obtained through the separated vinification of Nebbiolo, Dolcetto and Barbera grapes, subsequently assembled.
The typical peculiarities of the three grapes are really well balanced among themselves, making the wine soft and pleasant in the mouth (e.g. the tannins in the Nebbiolo grapes appears quite delicate thanks to the acid component of the Barbera grapes).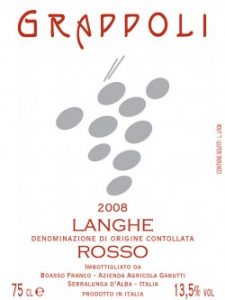 Produced by the Boasso family near Serralunga d'Alba (Cuneo), on the beautiful Langhe hills, this good piedmontese wine has to be aged in Slavonian oak barrels for a year, this contributes to give it personality and structure.
Tasting notes
Of a red ruby intense colour, with slightly darker nuances.
The fragrance is clear and very pleasant. There is a light alcoholic hint that is going to disappear with a good oxigenation (a decantation of minimun a hour before tasting it), giving space to an elegant wood presence, spices and red fruit such as the red cherries.
The tannins explode gently in the mouth, balanced by a good acidity and persistency of taste. Important are the wooden hints which release spices as licorice.
The presence of Nebbiolo grapes offers here a nice and mature base, allowing the spread of the vivid structure and slight acidity of the Barbera with flavours of dry fruit and cherries.
Let's serve it at the temperature of 16-18 degrees after the decantation and combine it to simple but tasty dishes as appetizers in general like baked vegetables filled with meat or roastbeef with tuna mayonese, middle aged cold cuts and cheese, fresh pasta with meat or mushrooms sauce, risottos etc…
It is perfect also with roasts, stews or mixed grills.