Among the beautiful Langhe hills, the Gabutti Wine Farm of Serralunga d'Alba (Cuneo), not only vinifies the most important red wines from Piedmont (such as Dolcetto, Barolo and Barbera), but it also has an excellent production of Roero Arneis.
This fine white wine, originating in the Roero area and formerly known as "white Nebbiolo", is produced with Arneis grapes in purity.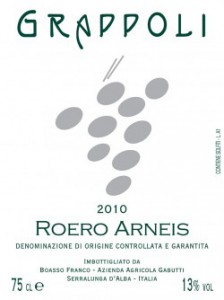 The Roero Arneis Grappoli 2010, which I suggest you, is perfect as an aperitif wine, because of its fragrance and freshness.
Aged in steel barrels for the first two/three months, it has to be consumed young or within two years from its production and be served at the right temperature (8-10 degrees) to taste fully its properties.
Tasting notes
Bright straw yellow in colour with golden shades, it has a fresh and very aromatic fruity parfume (pineapple and green apple) and flowers (jasmine) with almonds hints.
The taste is delicate, dry and well balanced in its acidity and sapidity level. It is quite warm to be a young white wine (13 degrees).
Serve it fresh combined with aperitifs or starters in general such as: salty vegetable pies, omelettes, cold cuts and softy, middle aged cheese. It also goes very well with seafood or a delicate asparagus risotto or white meat dishes and rabbit with sweet peppers.
Enjoy your tasting!