Barbera d'Alba is a still red wine from Piedmont always considered as a simple "table wine" of everyday use. Today, however, it has a great success due to better winemaking techniques.
Exemplary is the  Barbera d'Alba 2008 of the Gabutti wine farm in Serralunga d'Alba (Cuneo) that we are about to taste.
Vinified in purity (only using Barbera grapes), it strikes for its variety of scents and the pleasant softness of its taste which reduces the typical acid component of the vine.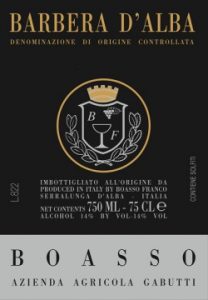 Let's analyze it in detail then:
Tasting notes
Of an intense purple red with evident ruby nuances.
The nature of its bouquet, complex and with a good persistency, is variegated with fruity notes which reminds of black cherry and black berry in particular, beside spicy hints such as cinnamon and green pepper.
The flavour is full and rich, dry and quite warm (14 degrees).
It has a good acidity level thanks to the 10 months aging in Slavonian oak barrels. It is a well balanced wine, very drinkable and digestible.
It is a longevity wine since it can reach a 8-10 years aging.
Open the bottle a few hours before the tasting to let it breath and serve it at the middle temperature of 18/20 degrees.
Combine it with aperitifs and appetizers, middle aged cheese and cold cuts, fresh pasta such as agnolotti and tajarin (typical piedmontese pasta), risottos or white and red meat in general like roasts and mixed grills.
Enjoy it!