Dolcetto d'Alba d.o.c. from the Gramolere's Farmhouse is a red dry table wine for everyday use, grown in the heart of the Langhe hills, near Monforte d'Alba (Cuneo).
It's a well structured young wine (year 2013) that has to be tasted after breathing to let acidity and sapidity get softer in order to find the right balance.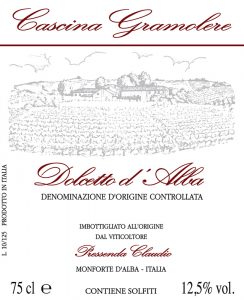 It's an intense ruby red wine with light purple shades, due to its young age. It is vinified using esclusively Dolcetto grapes.
The fragrance is nicely winy with soft herb and spicy hints (hay and almonds) accompanied by a dry acid taste with a bitter ending.
It is perfect if combined with simple dishes, starting from aperitifs or appetizers such as cold cuts, soft medium bodied cheese, omelettes, salty pies, raw meat…or with not too complex main courses like fresh pastas, risottos, legumes soups, roasts, stews or white meat scallops.
Served at a medium temperature of 18 C.
Have a good taste!