On celebrating the 150th anniversary of Italian Unification, the Castle of Grinzane Cavour is hosting the temporary exhibition Italia o Enotria: la vigna del Risorgimento (E: Italy or Enotria: the vineyard of Risorgimento), untill December 2011.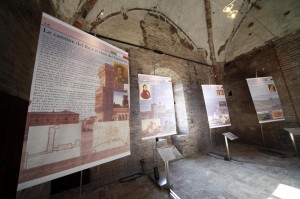 Grapevine and wine have always been synonyms of Italy. Even the name Italia finds its origin from wine. The ancient Greeks tell Italo was king of the Enotrians and was the first to teach his people how to grow vines and make wine. Since then the Enotrians left off their roaming and chose a fertile land where to settle and live on their work.
Not only by chance the history of Italian wine in the XIX century seemed to share the Nation history: from the very beginning when the many vineyards spread all over the Peninsula were unable to produce good wine up to the end when the Unity of the Nation was fulfilled together with the Risorgimento of Italian wines.
The exhibition has three sections:
The Wines of the Patriots: showing the relationship of the main Risorgimento characters and the history of wine: Garibaldi in his sunny Caprera vineyard, a thoughtful Cavour in his cellar, Carlo Alberto and Vittorio Emanuele II on purchasing vineyards, estates….
The vineyards of the Kingdom: explaining the hard struggle against the three vine diseases and treatments the young Italian Kingdom had to face.
The wine of the King: celebrating the history of Nebbiolo and Barolo vines and wines which more than any other owed their fortune to Camillo Benso Count of Cavour.
Opening hours and tickets:
9.30 – 19.00 from April to end October
9.30 – 18.00 February, March, November and December
Weekly closing : Tuesdays (Always open from 1st September to 15th November)
Tickets: 4,50 €
 Credits
Scientific curator and exhibition curator: dott. Marco Mozzone, he worked in scientific committee of Wi.Mu., Wine Museum in Barolo, m_mozzone@libero.it
Designer: arch. Alberto Grimaldi, Ph.D. technology and innovations
Speaker: Emanuele Buganza
carrying out by: a.p.s. Ambiente & Cultura
Press agency: Enoteca Regionale Piemontese Cavour
project with the contribution of Comitato Adele Alfieri di Sostegno
contacts: ambiente-e-cultura@libero.it; 3397349949; REG. VALLE RUBIAGNO 23, Vezza d'Alba (CN), cap 12040