The beautiful scenery where the 10 hectares of land are situated in perfect synergy with the charming Monferrato hills, make the "I Tre Poggi" – Biodynamic Agritourism a unique and pristine location; with a particular microclimate and rather uncommon sun exposure.
This harmonious balance creates an unforgettable wine; a wine with a deep red shade reminiscent of the sunset that colors our vines.
The Barbera grape is one of the most representative vine varieties of Piedmont and it makes up for roughly 35% of the 53 thousand hectares of vineyards in the region.
Originally from Monferrato, this grape is grown mainly in the provinces of Asti and Alessandria, where it reaches its highest expression in the Barbera d'Asti wine, which received the d.o.c. certification in 1970 and the d.o.c.g. certification in 2008.
The Superior version, obtained via careful treatment and selection of the grapes in the vineyard, is aged in the cellar for a minimum period of 12 months, during which it must spend at least six months in wooden barrels, supplemented by a period of aging in bottles.
These wines are very enduring; they can be appreciated even after 10 years aging in a bottle.
The color of the "I Tre Poggi" – Barbera d'Asti Superiore DOCG 2010 is ruby red and quite intense.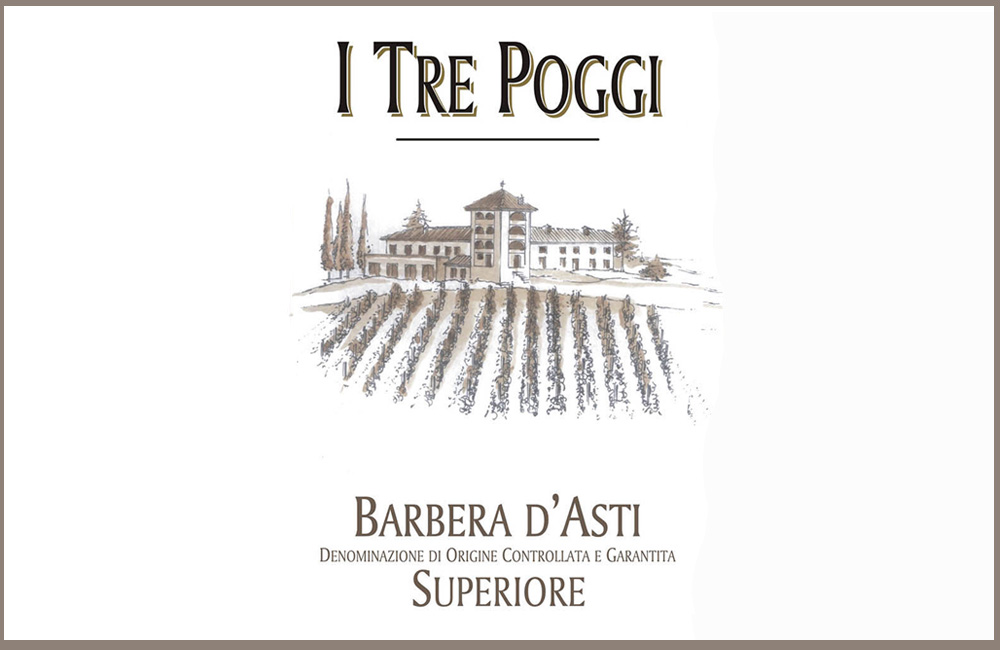 The aroma is intense, vinous when young, and persistent: the cherry, plum and dark berry flavors prevail; these flavors evolve into hints of jam and alcohol soaked fruit and boarder on intense balsamic tones that are spicy and occasionally floral; with aging in wood it develops hints of cinnamon, cocoa and licorice.
The taste is full, reminiscent of great warmth and harmony. The aging contributes to its complexity and richness of sweet and velvety tannins and a long taste-olfactory persistence.
Grapes: 100% Barbera
Alcohol content: 13.5%
Color: intense ruby red.
Bouquet: fruity notes and hints of jam in harmony with spicy scents.
Taste: to the palate it is fresh, with typically harmonized acidity notes through aging in wood.
Pairings: This wine is perfect for accompanying pasta dishes or seconds with lightly-cooked meats  and medium-long aging cheese selections.
More info on the producer's website itrepoggi.it