Business Hours
Winery
9:00 → 18:00

Restaurant by reservation 19:30→23:30
Holidays
Second half of January
Vitae di Langa farmhouse is located between the towns of Grinzane Cavour and Diano D'Alba, surrounded by Dolcetto and Nebbiolo vineyards.
It is linked to theVeglio Romano and Lorenzo Winery and was born out of the need and desire to cultivate a relationship with customers not only through the purchase of wine but also through deeper hospitality.
In fact, the wines produced can be tasted directly among the barrels in the local wine cellar or paired with traditional Piedmontese food and wine dishes at the restaurant.
The facility is managed at family level, Lorenzo the founder, his daughter Elisa and gradually all the staff work in synergy with the property to make visitors feel pampered, show them the natural cycles, attention to raw materials and Piedmontese roots.
The Restaurant
Raw materials of excellence and authentic tastes
The facility has a lounge, which offers a cozy atmosphere, and a charming low terrace, which covers about 15 square meters, ideal for enjoying dishes outdoors, surrounded by the beauty of the Langa hills.
For those who wish to enjoy a breathtaking panoramic view, there is also a 200-square-meter rooftop terrace, from which you can admire the beautiful view of the surrounding vineyards.
Vitae di Langa's culinary philosophy is based on the use of high-quality raw materials, which are sourced from selected farms in the area.
The tasting menu is renewed weekly, offering a varied selection of dishes: traditional appetizers, which include four delicacies to sample, followed by a choice of first and second course and a dessert to close the meal.
Tasting Menu
Starting at 40€
Wine by the Glass
Starting at 5€
Special Menu
Vegetarian: Yes
Vegan: Yes
Celiac: Yes
The Rooms
Several options to satisfy every guest
The rooms have a distinctive industrial style, each with its own character and personality.
"Tramonto" is the most intimate of the rooms, with a smaller size, but makes up for it with a striking shower tub positioned in front of the bed.
From the "Aurora" room there is a breathtaking view of the vineyards: a double room with an intimate and romantic atmosphere and a small garden that extends in front of the room.
For those seeking additional space, the "Sunrise" room can comfortably accommodate three people.
The "Filippo" room is a large solution for larger groups or families who want a comfortable stay. This spacious triple room can easily accommodate a fourth extra bed.
Double Room
Starting at 110€
Single Room
Starting at 90€
Additional Bed
Starting at 10€
Prices & Services
For those who wish to book the stay
Room prices
Single room
Starting from 90,00 €
Double room
From 110,00 €
Additional bed
10,00 €
Services
Air Conditioning Terrace Direct Sales WiFi Kids Games / Playground Parking Lot Garden Caravan Parking Minibar Restaurant Swimming Pool TV
Accepted Payments
Visa / Cartasi Mastercard American Express ATM / Bancomat Bank Transfer Cash
Vitae di Langa - Ristorante e Agriturismo, Via Guido Cane, Diano D'alba, CN, Italia
Discover ↝

Castello di Benevello, Via Scuole, Benevello, CN, Italia
Discover ↝

Piazza Italia, 19, 12052 Borgonovo CN, Italia
Discover ↝


Via D.Vallada, 12, 12065 Monforte d'Alba CN, Italia
Discover ↝

Via Vittorio Emanuele, 19, 12051 Alba CN, Italia
Discover ↝

Via M. Baudana, 5, 12050 Serravalle Langhe CN, Italia
Discover ↝

Via Accademia, 2, 12051 Alba CN, Italia
Discover ↝
For information and reservations fill out the following form, you will be contacted as soon as possible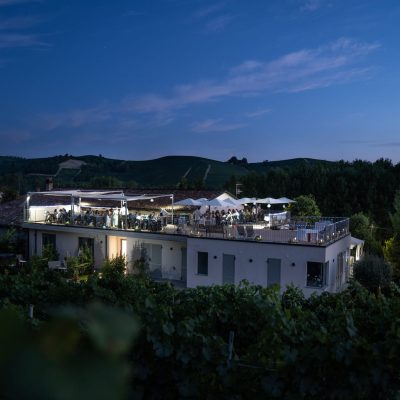 Business Hours
Winery
9:00 → 18:00

Restaurant by reservation 19:30→23:30
Holidays
Second half of January