I want something floral to boost my mood, not too high on alcohol to be a bit euphoric and tipsy, but sober enough to enjoy the summer night.
And bubbles! Gentle and elegant to coat the endless aperitivo's.
Did you get enough hints to recognize the careless child from the hills of Langhe and Monferrato?
It's Moscato d'Asti – a solution to both serious celebrations and casual aperitivo hours.
The privilege of being 'frizzante'
Bubbly, but not too much, or, officially semi-sparkling, it's an effervescent wine that retains its' intense fruit and floral aromas and a balance between sugar, alcohol and acidity.
The difference comes from fermentation – as Moscato d'Asti goes through only one fermentation, while a sparkling wine (for example a metodo classico wine from Alta Langa DOCG) would have a second fermentation.
As a result, there is an around 100 g/l of residual sugar left and low level of alcohol (around 5 % abv).
Because it's sweet but not excessively sickly, and because it's slightly bubbly, but not fully sparkling, it's easily paired with both sweet and contrasting food.
A harmonious, logical pairing is sweet with sweet. Where the presence of CO2 in the wine perfectly suits the soft texture of cakes.
Then the contrasting pairing, although surprising for most people outside of Piedmont, is very typical for locals. Moscato d'Asti was created to be paired with cheese, salami, savoury snacks from the area.
This way, carbon dioxide cleans the grease and mouth, while the sweetness of wine and savoury taste of snacks show a pleasantly remarkable contrast.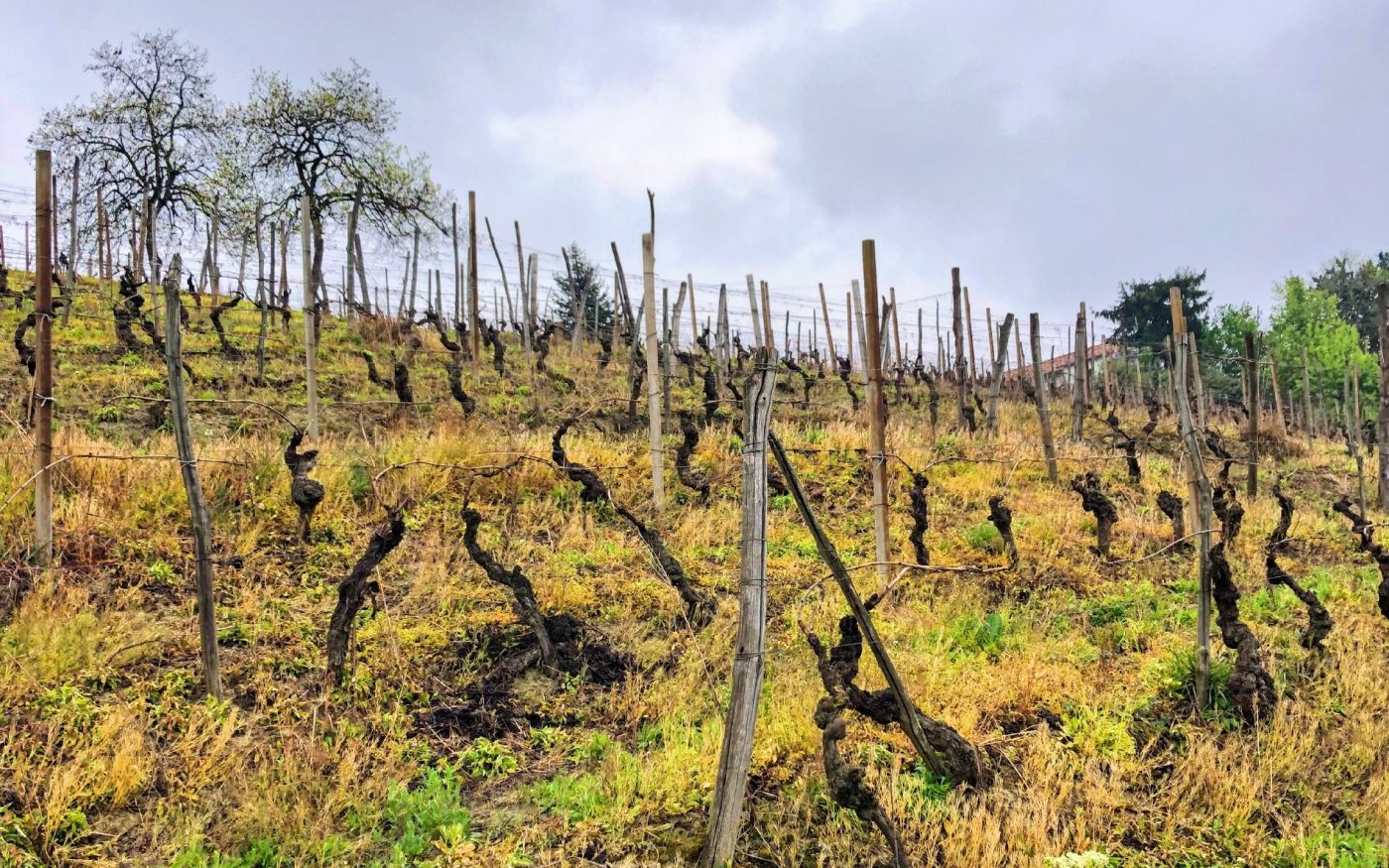 Fun facts from the history of Moscato d'Asti
Have you ever wondered, how comes that someone came up with the idea of creation of this or that wine?
Why would someone make a wine that is a bit sparkling, a bit sweet, a bit floral and fruity? Well, in the case of Moscato there is an answer to it.
Farmers needed a wine to drink during the working day – in the field, or while taking care of the cattle.
Water wasn't quite a popular drink back those times. So the wine had to satisfy two requirements – to be low on alcohol (no labour outages, please!) and able to clean the mouth after the aforementioned snacks.
A perfectly described Moscato d'Asti!
The modern production of Moscato d'Asti begun in 1870, while the grape variety is one of the oldest in Piedmont area, and internationally – around a thousand years older than Cabernet Sauvignon.
Know what to expect when drinking Moscato d'Asti
Winemakers face serious competition when it comes to harvesting Moscato Bianco (the grape variety used for the Moscato d'Asti wine). Bees and birds go crazy about the sweet aromas of the grape – many producers end up covering their vineyards with nets when the grape is almost ripe.
Classical aromas that you will encounter in your glass of Moscato d'Asti are peach, pear, mandarin, linden, sage, orange and jasmine blossom. The top cru wines from the region will be aged on lees – that will add subtle aromas of crust bread and pastry.
Expect also sweetness, that is well balanced with fresh acidity and much lighter alcohol than most of the sweet wines would offer (5 % abv against 12,5 % abv in Hungarian Tokaji, for example).
Know the basics of the Charmat method to value the magic of Moscato wine
Charmat-Martinotti or tank method normally (in the world of sparkling wines) means that the second fermentation is done in autoclave insulated stainless steel tank. However, with our frizzante Moscato d'Asti, there is only one fermentation to achieve the bubbles.
After careful manual harvest and transportation of berries in small baskets, the grape juice (must) is kept cool, so that fermentation doesn't start. Moscato d'Asti is made one tank at a time to preserve the fresh fruity aromas and sparkles. This way the wine that is on sale is always fresh and always available.
The grape contains lots of sugar, it's more difficult to control and stop it on time, than starting it. As soon as the wine reaches 5-6 % abv, it's cooled down to stop the activity of yeasts, filtered and bottled. The top cru wines will be left to rest on lees for some months before bottling.
All this ensures that the Moscato d'Asti you drink is:
always fresh, floral and fruity as berries are harvested and transported with lots of care
have the optimal level of bubbles, that's why it's so important to vinify one tank at a time
a light wine, that doesn't have overwhelming alcohol content.
The terroir of Moscato d'Asti DOCG zone
… a weird word to describe why does your wine smells and tastes like Langhe :)
The area was once under the sea and it took millions of years for the water to retreat, leaving behind a very special soil composition. Calcareous sediments, sand and limestone.
The higher you climb up the hills, the rockier it becomes. Thanks to the position between the Alps and Ligurian coast, the climate is very mild here.
Moscato Bianco is a very aromatic variety, most of the aromas we feel in the glass come from the grape itself. However, the combination of limestone and calcareous sediments gives the wine its' refreshing minerality, that well balances its' sweetness.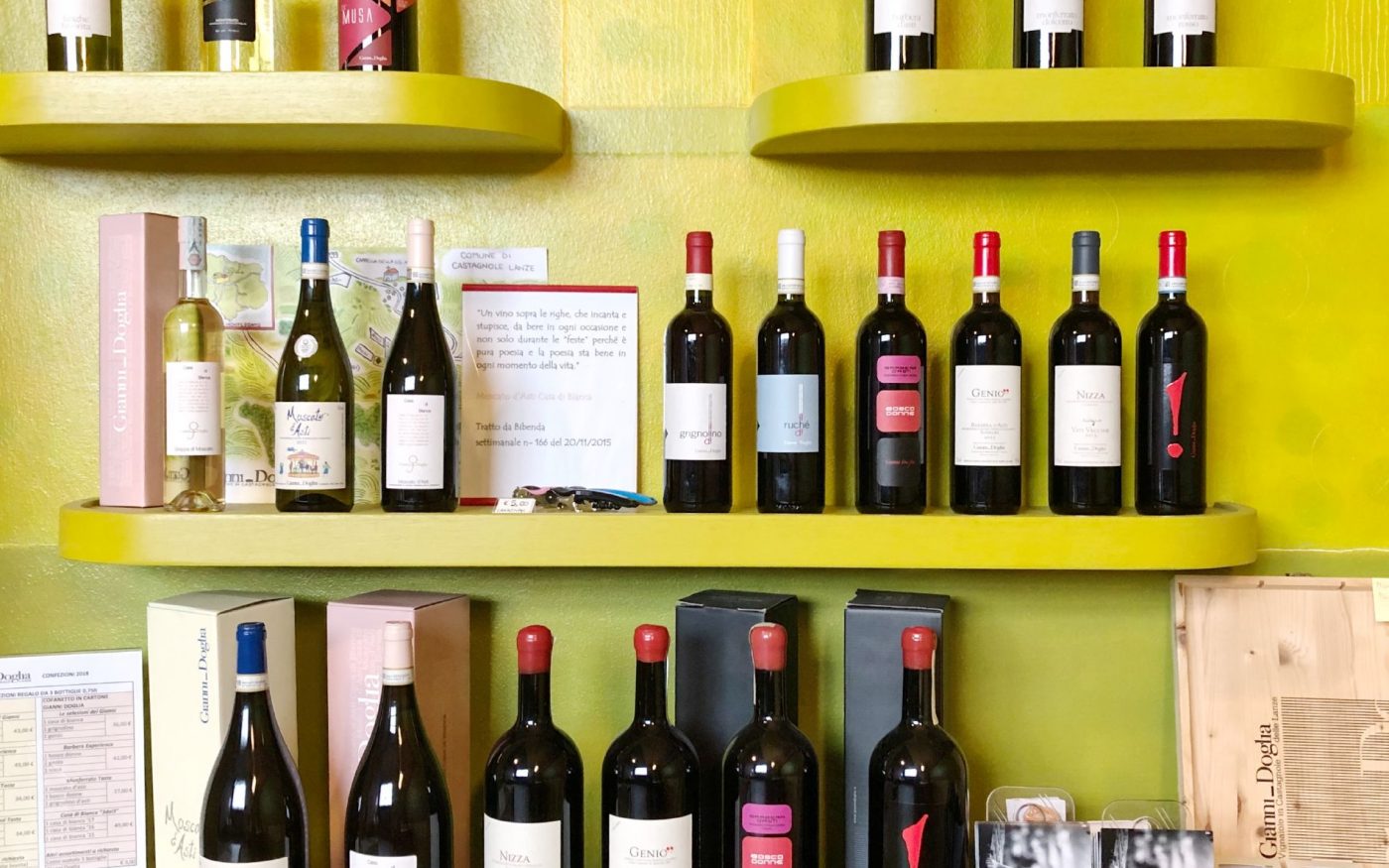 Visiting Gianni Doglia winery
Gianni and Paola Doglia come from a family that has been making wines for a few generations at least.
Well, almost everyone in the area had vineyards, along with orchards, cattle, hazelnuts etc.
The goal in 1995 when Gianni took over was to transform a farm into a winery and then achieve the big goal – produce the best Moscato d'Asti ever.
That's how their two Moscato labels were born – the classical Moscato d'Asti with the carousel on the label and Casa di Bianca, their single vineyard top cru.
Today they have 12 hectares in Castagnole delle Lanze and Nizza, and besides their signature Moscato, produce Favorita (a beautiful and rare white variety), Grignolino, Ruche, Barbera (both from Nizza and Asti).
I fancied booking a hiking tour to the hills, around the winery, all covered with Moscato Bianco, however, the rain that never stopped for a week that I spent in Piedmont adjusted my plans. Instead, I had an extensive portfolio tasting at their cellar and can't regret it!
And by the way, if you are going to get to Gianni Doglia from Castagnole delle Lanze town by foot – be ready for an unplanned hike! The winery is on the top of the hill, so you'll get to see all neighbouring vineyards on your way!